How Flatbeds Can Speed Wide-Format Printing
Hybrids can help when the choice between a flatbed and roll-to-roll is more difficult.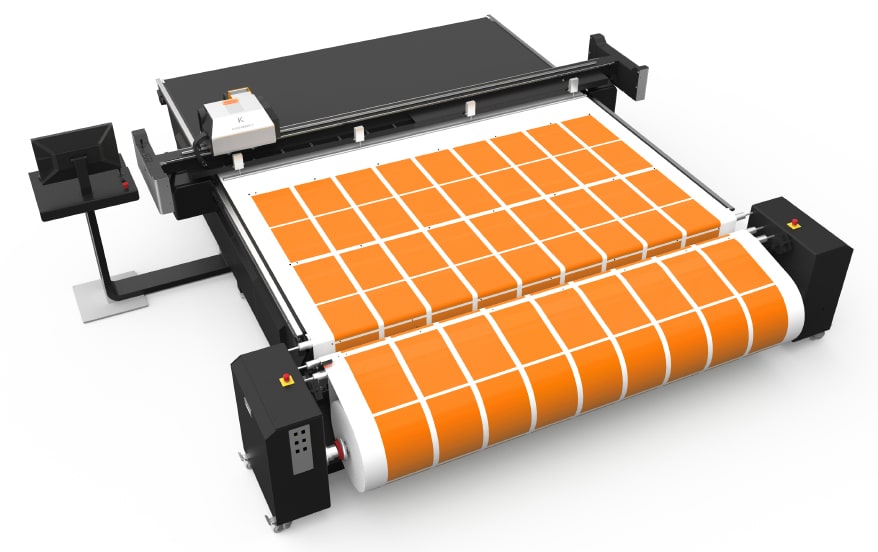 Kongsberg Cutting Tables

Digital finishing equipment for signs, displays, and packaging.
Kongsberg's 126.5- x 126-in. Kongsberg C64 multifunction superwide digital cutting table enables automation for workflow, material handling, and tooling swap processes. With eight vacuum sections and max. speed of 328 ft/min, the digital cutter utilizes an aluminum composite tabletop, rack-and-pinion drive system, and dynamic table mapping for cutting precision and consistency on materials such as paper, textiles, triple-wall corrugated media, fluted board, plastic, aluminum composite, and more. Additional features include feeder and stacker pallet-to-pallet material handling for sheet automation, underside camera with barcode scanning for full registration and correct tooling/production settings, board feeder and motorized roll feeder for soft signage, multi-zone production capabilities, 3kW continuous duty high-performance milling unit, and an assortment of optional tool units. The Kongsberg C series is available in several configurations: 66- x 56-in. C20, 66- x 126-in. C24, 87- x 126-in. C44, 126.5- x 63-in. C60, and 126.5- x 189-in. C66.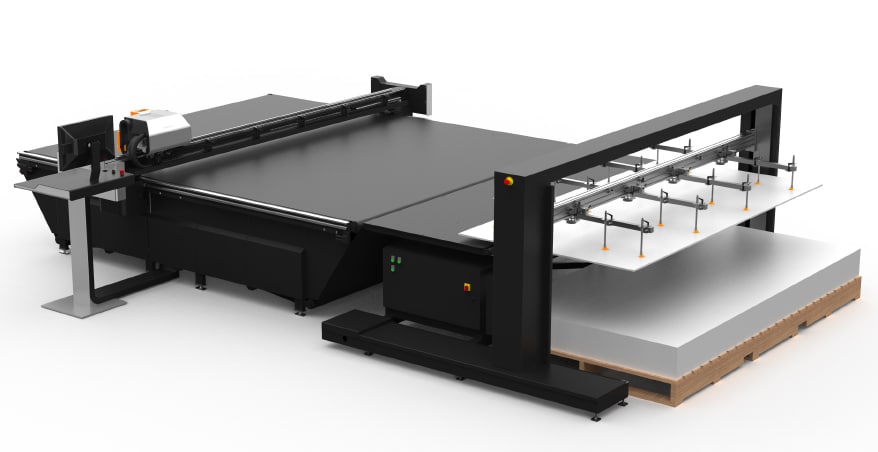 Additionally, the Kongsberg X Series of digital cutting tables offers six configurations: 66- x 50-in. X20, 66- x 86-in. X22, 66- x 126-in. X24, 87- x 126-in. X44, 87- x 189-in. X46, 87- x 258-in. X48, and entry-level, upgradeable X Edge. The flexible finishing tables offer three application kits (short-run packaging, signage and display production, flexo plates, and patches) and can be upgraded with additional units to fit business needs. Available toolheads include the MultiCut-HS/HP for varied materials and applications, FlexiHead for thin and flexible substrates, PowerHead for heavy-duty materials, and Foam Head for foam and thick substrates. Features include print speeds up to 164 ft/min (98 ft/min for X Edge), i-cut Production Console front end, barcode production, the My Job List workflow tool, and multi-zone production capabilities.
POST CATEGORIES
MANUFACTURER: Kongsberg
PRODUCT CATEGORY: Flatbeds + Superwides
---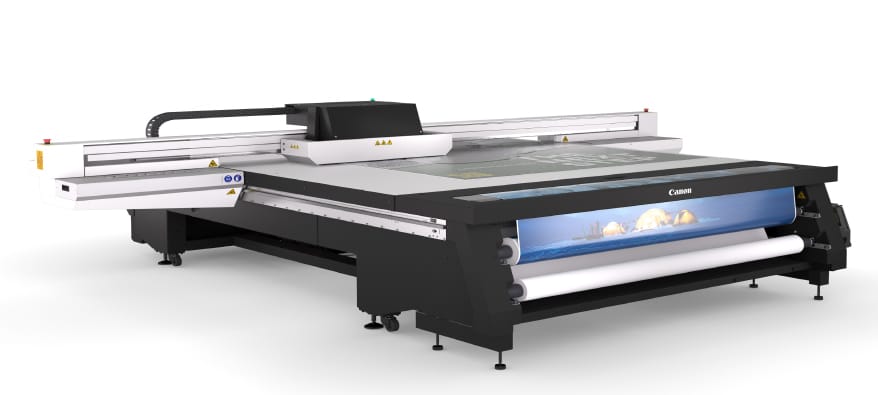 Canon Flatbed Printers

Engineered for rigid or flexible media.
Canon's recent expansion of the Arizona 1300 series includes six new flatbed printers. Additions include the 49.2 x 98.4-in. Arizona 1340 GTF, Arizona 1360 GTF, and Arizona 1380 GTF, as well as three 98.4 x 121.3-in. models: the Arizona 1340 XTF, Arizona 1360 XTF, and Arizona 1380 XTF. The Arizona XTF series replaces the current Arizona 1300 XT series, the company reports.
Designed for retail, interior décor, packaging, and industrial applications on rigid or flexible media, the presses feature multi-board and double-sided printing capabilities and Flow zone-free vacuum technology for simple media handling. Additional features include updates to the Advanced Image Layout Controls user interface for last-minute adjustments, additional pneumatic registration pin for improved double-sided printing, accounting interface for data retrieval, and new print modes including Quality-Smooth, Production-Plus, and Quality-Plus (8-channel configurations).
Canon has also extended its Prisma XL Suite workflow software with PrismaElevate XL, available on the new models. PrismaElevate XL is engineered to enable textured printing, embossing, metallic accents, and raised lettering up to 2 mm.
POST CATEGORIES
MANUFACTURER: Canon USA
PRODUCT CATEGORY: Flatbeds + Superwides
APPLICATION CATEGORY: Retail and Point-of-Purchase; Interior Décor; Art + Photography
---
Agfa Roll-to-Roll Printer Module
Enables quick switches between rigid and flexible substrates.
Agfa has revealed the Flex RTR module for its Jeti Tauro H3300 hybrid inkjet printer series. The roll-to-roll printing module offers a compact footprint and ergonomic, user-friendly design to transition from roll media to boards or sheets or from single- to dual-roll printing with one operator. Dancer rolls control media tension for fast, simple media loading without undocking, the company reports. An integrated camera system enables accurate double-sided printing via QR codes. Capable of single- and dual-roll printing, the module is designed to handle widths up to 130 in. for single rolls and 63 in. for dual rolls with a max. roll diameter of 15.8 in.
POST CATEGORIES
MANUFACTURER: Agfa Graphics
PRODUCT CATEGORY: Flatbeds + Superwides
---
Advertisement
Mimaki Large-Format UV Flatbed

Reaches print speeds up 2152 sq ft/hr.
Mimaki's 98.43 x 51.18-in. JFX600-2513 UV-LED flatbed printer leverages 16 printheads to achieve print speeds ranging to 2152 sq ft/hr, or 67 boards/hr. The press images substrates as thick as 2.36 in., including rigid, flexible, and soft materials for applications such as displays, interior décor, window graphics, and more. The JFX600-2513 utilizes low-VOC, Greenguard Gold-certified UV-LED inks with CMYK + white + clear + primer options.
Mimaki core features include Mimaki Print Controller for job and maintenance control, Nozzle Check Unit and Nozzle Recovery System, Automatic Cleaning Function and Automatic Wiper Cleaner, Mimaki Circulation Technology, Mimaki Advanced Pass System 4 for reduced banding, Waveform Control for image sharpness, Variable Dot Technology for imaging gradations, Mimaki Fine Diffusion for color smoothing, and Mimaki Clear Control for glossy finish.
POST CATEGORIES
MANUFACTURER: Mimaki USA
PRODUCT CATEGORY: Flatbeds + Superwides
APPLICATION CATEGORY: Digital Textile Printing / Interior Décor
---
MultiCam Apex CNC Routers

Offers durable steel construction for improved routing quality.
MultiCam's Apex Series CNC routers includes the Apex1R and Apex3R with EZ Control operator interface. The Multicam Apex1R servo-driven router with spindle and knife cutting capabilities is designed for smaller shops. A steel frame and gantry with cast gantry supports hinders vibration, and helical racks on each CNC router axis improve precision. A knife system with oscillating and non-oscillating capabilities and linear tool changer with capacity for up to 11 knife and spindle tools comes standard, with optional second knife system available. Engineered for applications such as signmaking, fabrication, and woodworking, the router can finish substrates including plastic, foam, nonferrous metals, composite materials, and wood as thick as 3 in. Additional features include four-zone vacuum work surface, optional MultiVision dynamic digital registration, optional dust collection system, and more. Available in three configurations: 49- x 96-in. model 103, 60- x 120-in. model 204, and 83- x 121-in. model 304.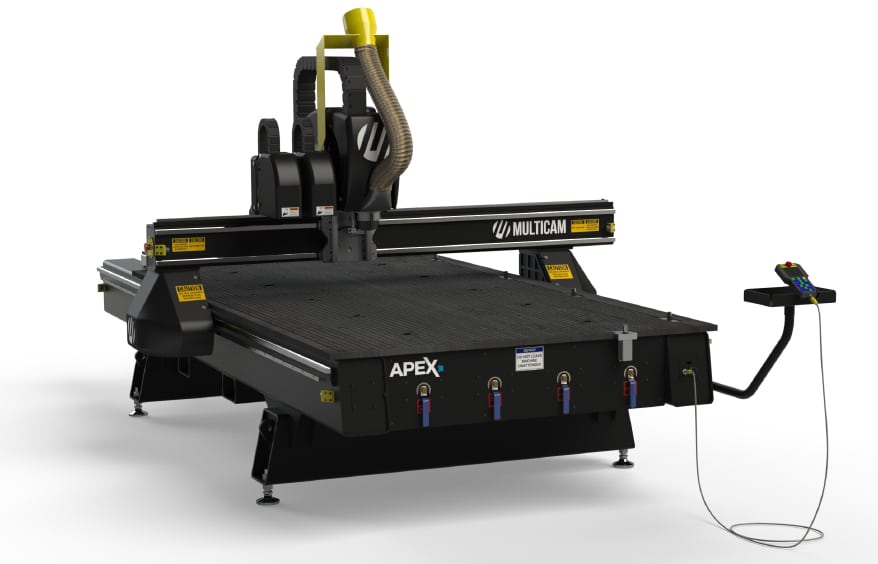 The MultiCam Apex3R CNC router reaches cut speeds as fast as 1950 in./min and features a heavy steel tube frame for durability, reduced vibration, and improved quality. A three-axis motion control system and helical rack-and-pinion design contribute to accuracy and precision. Additional standard features include 25-mm linear ball-bearing profile rails, unlimited file size transfer, brushless digital AC servo drive system, and EZ Suite software. Optional add-ons include vacuum table and pumps, spindle options from 4 HP to 13.3 HP, linear automated tool changer, MultiCam CNC Knife with optional cutting heads, MultiVision Digital Registration System and vision systems for print registration compensation, coolant mist systems for nonferrous metal cutting, dust collection systems with duct work, tangential knife cutters, and more. The routers can finish materials ranging from 4 to 5 in. thick, including plastic, foam, nonferrous metal, composite materials, and wood. Four available configurations include 53- x 100-in. model 103, 63- x 121-in. model 204, 83- x 121-in. model 304, and 104- x 146-in. model 405.
POST CATEGORIES
MANUFACTURER: MultiCam
PRODUCT CATEGORY: Flatbeds + Superwides
---
Kyocera Inkjet Textile Printer

Positioned as a sustainable press that reduces water pollution/consumption.
Kyocera's ForEarth inkjet textile printer is designed to nearly eliminate water usage and pollution from fabric printing, the company reports. The machine leverages inkjet, ink, and printing equipment technology to avoid water consumption and material waste from washing, steaming, and mass disposal of overstocked clothing. ForEarth uses the company's All-in-One printing system with new non-VOC water-based pigment ink, pre-treatment liquid, and a finishing agent that doesn't require the large amount of water of traditional fabric printing, according to the company. The ink offers detailed, color-fast printing on a range of fabrics including cotton, silk, polyester, nylon, and blended fabrics for applications such as fashion, sportswear, and home décor.
Additional features include small print production footprint with streamlined two-step printing and drying workflow, up to 18 Kyocera KJ4B recirculating inkjet printheads, max printing widths of 70.9 in., resolution of 600 x 600 dpi, print speeds reaching 2691 sq ft/hr, and 10-L ink tank capacity with up to 8 ink colors available.
POST CATEGORIES
MANUFACTURER: KYOCERA
PRODUCT CATEGORY: Flatbeds + Superwides
APPLICATION CATEGORY: Digital Textile Printing
---
Roland DGA Fabric Banner

Expands SoftSign line with heavyweight polyester fabric.
Roland DGA has launched RCM-SSFB SoftSign Fabric Banner, expanding its SoftSign textile line. The heavyweight, 15-mil, 10-oz, polyester fabric features an Oxford weave for banner, non-curling retractable banner stand, and décor applications. The banner material is compatible with eco-solvent, UV, and resin ink and available in 30- and 54-in. rolls.
POST CATEGORIES
MANUFACTURER: Roland DGA
PRODUCT CATEGORY: Media + Substrates
---
Onyx 22 Software

New drag-and-drop functionality.
Onyx Graphic's Onyx 22 wide-format RIP and print workflow software features new automation and color tools. The software update offers drag-and-drop functionality for file management and Quick Set automation, new dynamic Onyx Color Reference Library for color matching with any printer, and Adobe PDF Print Engine APPE 5.7 for fine-line rendering.
Additional features include smart job submission from design to print automation, job placement tools for improved nesting, auto-trim for flatbed and DTG printing, automated image cropping using Quick Sets, printer versioning and auto-backup, D65 10-degree observer ICC profile build options for textile printing, snapshot color calibration for contone printers, and more.
POST CATEGORIES
MANUFACTURER: Onyx Graphics
PRODUCT CATEGORY: Workflow + Software
---
Advertisement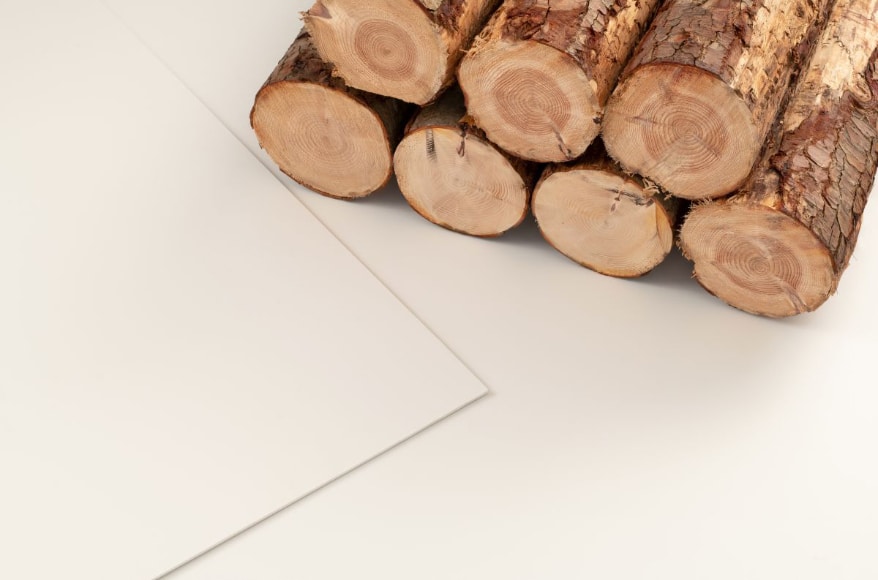 Brett Martin PVC Sheet
Carbon-reduced PVC semi-finished media.
Brett Martin has revealed Foamalux Light Bio, a semi-finished low-carbon plastic sheet made with 25% bio-attributed PVC from wood-based resin. According to the company, the media was produced by 100% renewable energy to reduce carbon emissions. Able to be fabricated, cut, and routed, the 100% recyclable, lightweight substrate offers a bright white, smooth printing surface for indoor and short-term outdoor applications including signage, P-O-P displays, event graphics, and more. Offered in 2- to 10-mm thicknesses in three sheet sizes: 48 x 96 in., 61.4 x 120 in., and 80.7 x 120 in.
POST CATEGORIES
MANUFACTURER: Brett Martin
PRODUCT CATEGORY: Media + Substrates
APPLICATION CATEGORY: Retail and Point-of-Purchase, Event Signage
---
X-Rite NetProfiler Color Matching Software

Cloud-based platform now available through web browsers.
X-Rite and Pantone have partnered to release a new version of their NetProfiler color device optimization software. The release enables users of the eXact series of spectrophotometers to access the cloud-based NetProfiler platform on web browsers. NetProfiler online offers the ability to validate and correct instrument measurement performance to improve color consistency, the company reports. Additional features include modern, secure, and reliable architecture; access to X-Rite Link fleet device monitoring and maintenance software for all profiled devices; and monthly NetProfiler use supporting reduced color variation between devices and standardized color acceptance criteria and quality across global locations.
POST CATEGORIES
MANUFACTURER: X-Rite
PRODUCT CATEGORY: Workflow + Software
---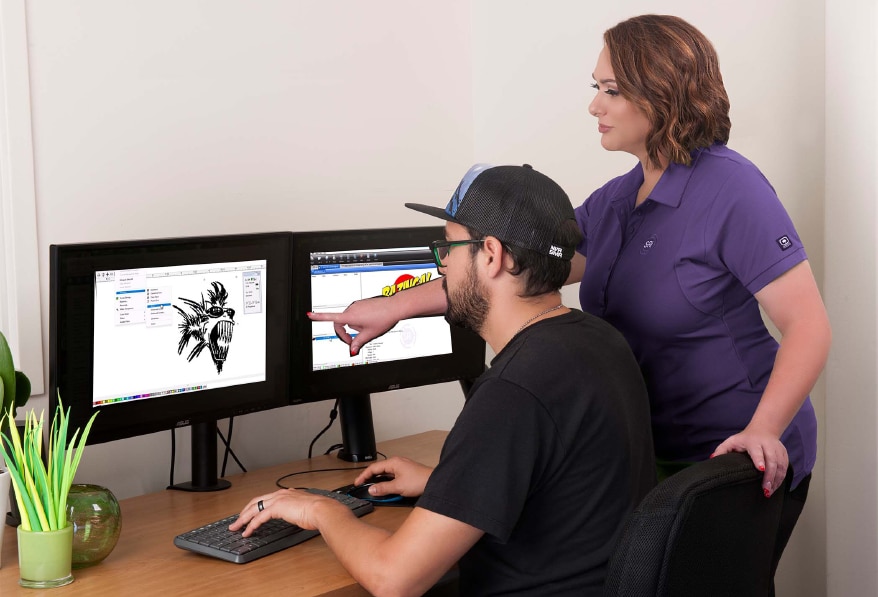 SAi Adendo Training

Offers online, live virtual, and on-site training for Flexi users.
SAi has announced Adendo, a reconfigured professional training program for SAi Flexi design, print, and cut software for sign and print providers users. Training is available online, live virtual, and onsite. Prerecorded, self-paced training modules available online include "Designing Vehicle Wraps in Flexi," "Antivirus Software and Flexi," "Learn Flexi in 3-Hours," "Full Flexi Training with Mark Rugen," and "EnRoute Basics."
Virtual training enables users to book live online training sessions ranging in length from 30 min to multiple hours. Options range from personal instruction and videos to problem solving specific issues with new software versions, applications, and equipment types. Onsite training can be tailored to a PSP's specific needs.
Adendo also offers Flexi User Community, a private, professional subscription-based Flexi user group with access to SAi staff, discussions with other subscribers, downloads, videos, webinars, online course discounts, and more.
POST CATEGORIES
MANUFACTURER: SA International
PRODUCT CATEGORY: Workflow + Software
---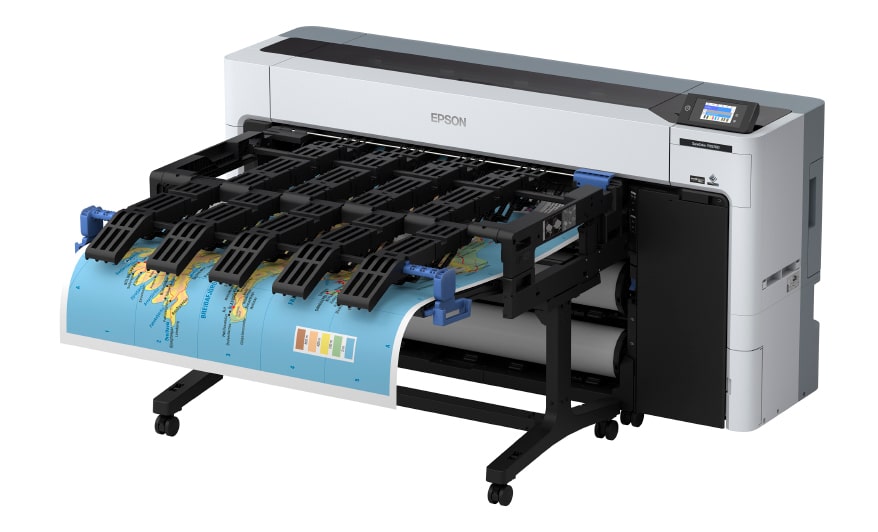 Epson 44-In. Dual-Roll Printers
SureColor photo and technical presses.
Epson's SureColor P8570D dual-roll production photo and graphics printer is engineered for high-volume production environments. With a space-saving flat-top design and front operation, the press offers automated roll loading, integrated dual roll/take-up reel, 2.64-in. PrecisionCore MicroTFP printhead technology, and 6-color UltraChrome Pro6 Ink with gray. Compatible substrates include photo paper, fine art, canvas, and rigid poster board as thick as 1.5 mm.
The 44-in. SureColor T7770D dual-roll technical, cad, and graphics printer is designed to image various media up to 1.5 mm thick. Media options include rigid poster board and glossy, technical, bond, matte, and specialty media for applications such as posters, P-O-P displays, graphics, signage, and more. Reaching speeds of 300 sq ft/hr for posters and 1400 sq ft/hr for technical drawings, the press has a compact, front-operation design, 6-color UltraChrome XD3 inks, and Adobe Embedded Print engine with four on-board Intel Atom CPUs for PDF processing and transparent design layer reproduction, among other features.
POST CATEGORIES
MANUFACTURER: Epson
PRODUCT CATEGORY: Wide-Format Printers
---
Drytac Polar Printable Media

Adds two films to line.
Drytac has expanded its Polar range of printable media with the addition of Polar Transit Air and Polar Smooth 150 Air. Polar Transit Air is a 3.2-mil, opaque matte white, polymeric self-adhesive PVC film designed for surfaces that are smooth, flat, or have a simple curve. Examples include sports arena boards, vehicles, and indoor/outdoor display signage with outdoor durability up to seven years with overlaminate. Offered in 60.5-in. rolls, the film offers gray acrylic removable, pressure-sensitive adhesive with a 90# PE-coated kraft bubble-free release liner for simple application, even in cold weather conditions, the company reports.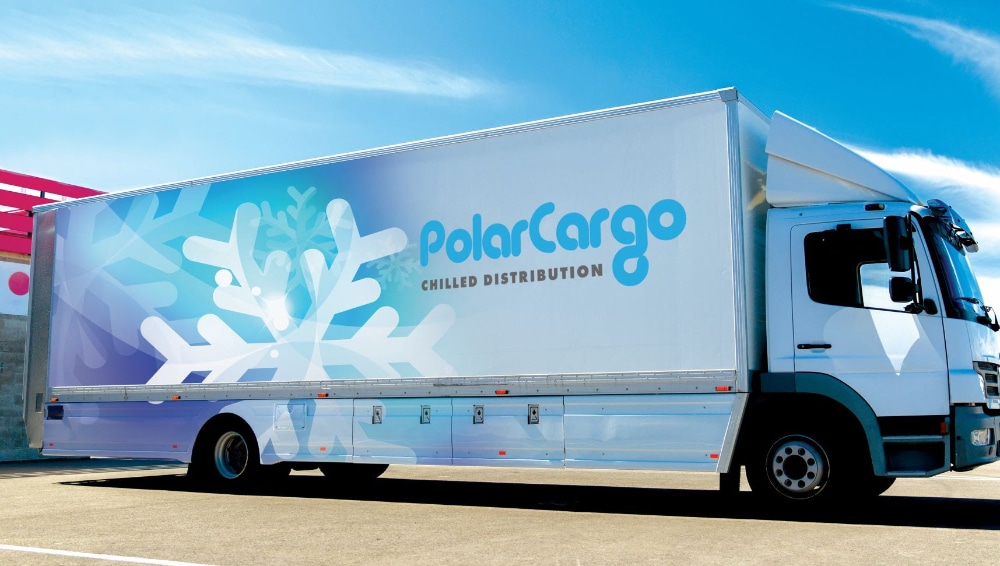 Polar Smooth 150 Air self-adhesive white polymeric matte PVC film offers removable, bubble-free air egress adhesive technology with pressure-sensitive, removable aqueous acrylic adhesive for simple installation and removal without lamination, according to the company. The 60-in., 6-mil media is dimensionally stable, phthalate free, cleanly removable, and can be applied without stretching or tearing for applications such as temporary construction hoardings, P-O-P displays, interior décor, outdoor signage with up to five-year durability, and window, wall, and glass graphics.
POST CATEGORIES
MANUFACTURER: Drytac
PRODUCT CATEGORY: Media + Substrates
APPLICATION CATEGORY: Retail and Point-of-Purchase; Interior Décor
---
Advertisement
SPONSORED VIDEO
Printvinyl Scored Print Media
New Printvinyl Scored wide-format print media features an easy-to-remove scored liner for creating decals, product stickers, packaging labels, and more. The precision-scored liner, with a 1.25" spacing on a 60" roll, guarantees a seamless and hassle-free removal process.