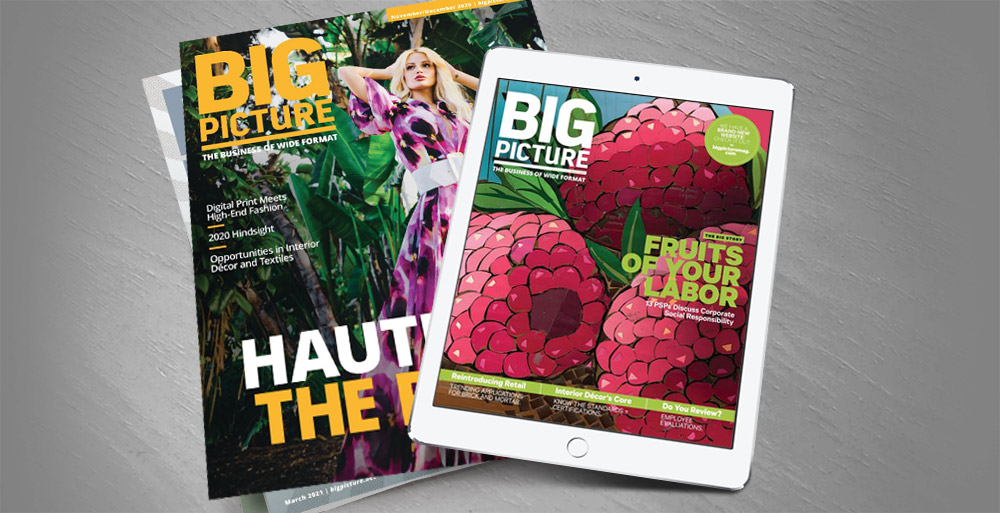 Our Story
Since 1996, Big Picture has been the leading resource for the wide-format digital print market. Big Picture – via its award-winning print publication, website, digital edition, and weekly newsletter, social media outlets, webinars, and awards – provides superior coverage of the hottest products and technologies, late-breaking industry news and events, intriguing case studies, and much more.
The markets and the applications for digital wide-format printing are continuing to expand and evolve, and Big Picture is here to report on the industry's current trends as well as those still on the horizon.
Wide-format presses and related technologies, once primarily in the domain of digital print providers, are now rapidly being adopted by a variety of other types of print operations – from commercial print shops and quick-print operations to screen-printing companies, retail photo businesses, and many others.
These print operations are realizing that they, too, can take advantage of all the opportunities inherent in digital wide-format. Market segment by market segment, they're becoming part of the Big Picture family.
Meanwhile, the applications for digital wide-format printing are also increasing, and doing so at a rapid rate. Yes, retail point-of-purchase graphics and outdoor advertising certainly still rank high when it comes to the types of jobs that print providers are executing. But there are myriad other applications that have now become leading "profit hot spots" in the wide-format arena, including:
We provide our readers with the optimum mix of information to keep up-to-date on all of these applications and areas. Whether the reader is a veteran print service provider, a screen printer looking for a digital solution, or a commercial shop just breaking into the digital arena, we supply them with a wealth of market intelligence and comprehensive data on the requisite technologies, training, best business practices, and more. Big Picture enables them to find success and profitability in the wide-format industry.
See our editorial calendar and media kit.
To contact our staff:
Adrienne Palmer
Editor-in-Chief
adrienne.palmer@smartworkmedia.com
Matt Danford
Managing Editor
matt.danford@smartworkmedia.com
Lou Arneberg
Sales Executive
lou.arneberg@smartworkmedia.com
Big Picture is part of SmartWork Media. Our other properties include these publications: Screen Printing, Signs of the Times, and VSMD.
Recent Articles