Four under-30 print pros share what keeps them coming back for more.
EVERY BUSINESS OWNER'S dream is to operate a sought-after place of employment where young, talented professionals can't wait to get their foot in the door. Your mind may first jump to tech, real estate, or finance, but in reality, you should be looking at your own company. There's no reason these young, talented professionals should overlook the wide-format digital print industry when it comes to their career goals.
Take Legion Graphics in Palm Coast, Florida, for example. The print and install shop is owned and operated by a married couple with a combined age of 60, and they employ seven staff members under the age of 30.

Stephanie and John Denson.
"We started out as an installation company, just from the experience my husband and I had (me as a project manager, him as an installer)," says Stephanie Denson, 28, owner of Legion Graphics. "Once we got married, we were like, 'Let's just combine our experience together and quit working for someone else. Let's start our own thing.'"
That was four years ago. Now Stephanie and her husband John have been running an HP Latex 700W wide-format printer for more than a year and they're loving the business it's bringing in.
"The printing side is new to us, but it's something we're doing more and more of. We joined with an installation perspective. We knew if we could branch out into printing, we could continue to work and make so much more money because the revenues are just as great on the printing side," she says. "We were given a really good opportunity to get into printing with a business partner. We got a printer and materials for less than $30,000 and that will be paid off in no time."
Stephanie enjoys the opportunity to work with large brands, become a part of special events, and chase good business whenever she can.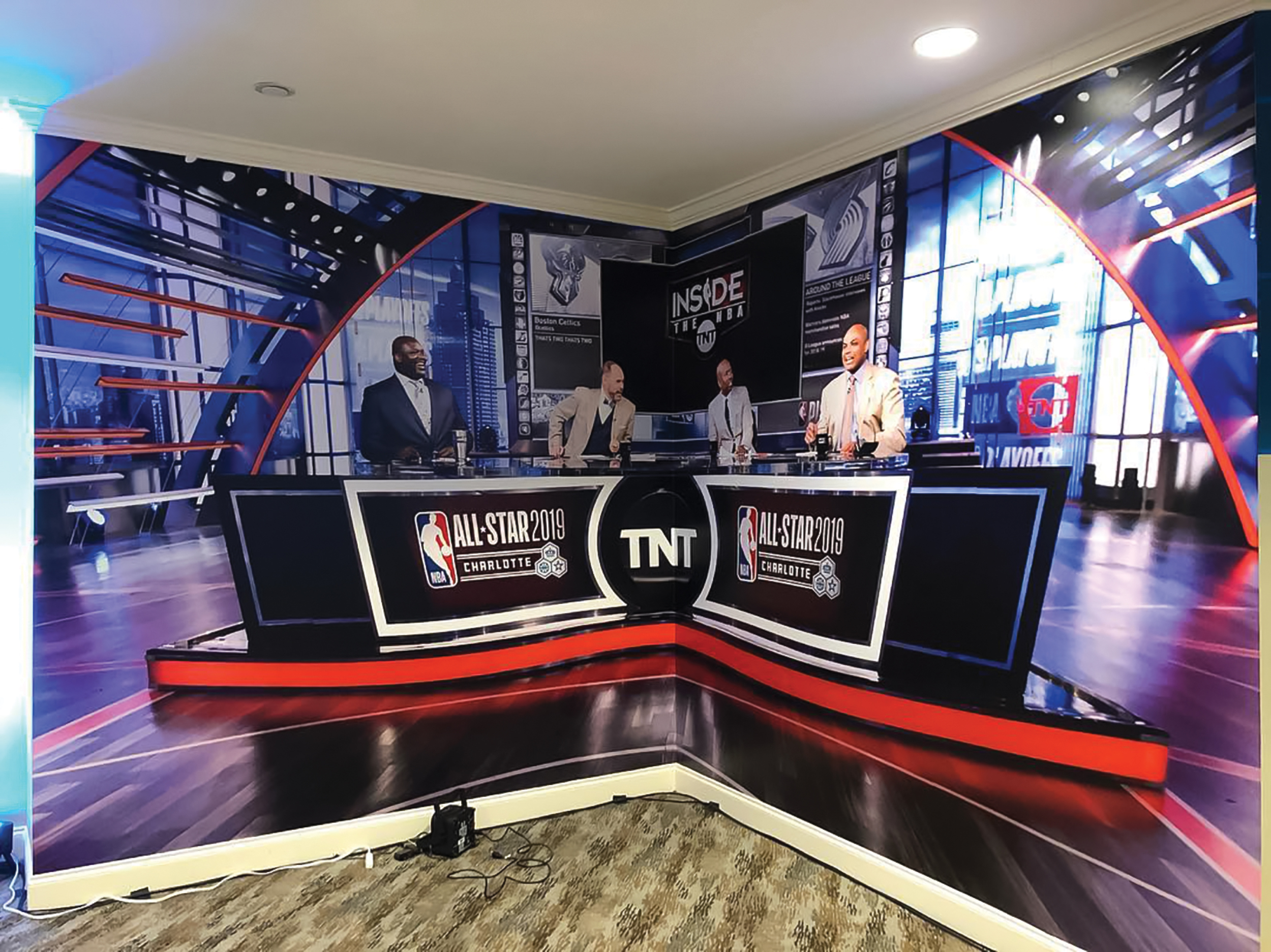 "We work with a lot of cool brands and get a lot of projects you just wouldn't normally think of," she says. "Overall, I feel like it's a great industry with great people."
Leaning into working with big brands and events could very well be the key to landing young talent in the printing industry. McGowans Digital Print in Dublin, Ireland, a PSP with a global footprint, has also found many ways to attract, retain, and encourage young professionals.
Christina Forde, a recent college graduate who works in customer service at McGowans, was an award-winning student with a focus on professional printing while at university.
"The course I studied was 'BA in Print and Digital Media Technology Management' and my final-year thesis was on sustainability in the print industry. It involved reaching out to print companies and finding out what they're doing, both to be more environmentally friendly and to sustain the company's future," says Forde. She won the Ireland Print Graduate of The Year award for her thesis.
"I studied art and graphic design in Ballyfermot College of Further Education when I first left for school, but never followed that up as a career," says Forde. "I don't think I would have found myself in print if it wasn't for those courses, though."
Forde enjoys the fast-paced environment of a customer service job and meeting deadlines on time. She's worked with major brands like Coca-Cola and Paragon in her short career and is thankful for the opportunity. She encourages PSPs to make their presence known at career fairs on college campuses.
Stephen Kelly, another young McGowans employee, started working in the packaging department part-time during school. His mother was a manager at the shop, so he was raised with a familiarity of the industry. After school, he started working full-time as a gluing machine operator, and has since advanced his way to the structural engineering department at McGowans.
"I was offered a position as a motion cutter operator after some time, which I loved because I've always been good working on the computer side of operating," says Kelly. "It was a perfect position for me to learn about the designs we use. Also, I began editing keylines myself, which helps in the position I'm in now. I took it upon myself to amend keylines of the job if it was needed, instead of going back to the designer, which would slow down the process." The initiative Kelly showed led him to advance even further in the company. He's now a structural engineer for the PSP at the age of 26.
"I've loved my current position since I started because it really encourages you to use your mind because you're creating new designs every day, from large floor displays to personalized presentation boxes… the limit is endless really," he says. "From where I started to now, the path I took really helped me understand this industry and I couldn't encourage it any more as a career path for other young professionals like me."
Nathan Bulat of Element Graphics in Mokena, Illinois, feels the same way about the printing industry, specifically the vehicle wrap market. Element Graphics is owned by his father Dan Bulat who encouraged Nathan to follow in his footsteps.
"Ever since I was little, I've just been extremely interested in the fact that you can take a one-dimensional design on a square print and literally apply that to a vehicle and turn it into art," says Nathan. He enjoys the creativity and precision that vehicle wrapping requires. He thinks a good way to bring talent into the wide-format printing industry is by focusing more on the artistic and entrepreneurial aspect of the printing business. "We really have something different to do every single day, and that gets your mind going. I have to be moving around and let my mind run," says Nathan. "I know there are other like-minded young professionals like me out there looking for good work."
This mindset led the father-son duo to also create helpful products for the wrapping industry: MagStrapz, MagGripz, and MagBandz. This equipment for wrappers allows the installer to pin the print, along with straps and bands to hold tools, on the client's vehicle without damaging the paint or vinyl. The installer can also easily keep his or her tools at hand and hold the print in position when getting ready to install the piece.
"It's about creativity, seeing these customers' faces, and just feeling accomplished," says Nathan. "My father started small and worked his way up, and so can other focused, young printing entrepreneurs. If you can get your foot in the door, you can make it happen."
PHOTO GALLERY
(13 IMAGES)
Advertisement