3 Building Wraps That Took the Client's Branding to New Heights
PSPs share tips and techniques for standout production and installation.
BUILDING WRAPS PRESENT a chance to show off your best work while setting up the client for maximum exposure. Whether you're taking over every square foot of the exterior of an office space or installing a banner that highlights the product a local factory manufactures, the client is looking to elevate their brand and you're there to make it happen. Just remember things like weather forecasts or maintenance check-ins.
Take a look at some of the best building wraps submitted by our Brain Squad members.
Travel Wraps Graphics

Franklin, Indiana
Daniel Nava and his team at Travel Wraps Graphics installed this immersive, X-ray-esque view into the Vincennes University PBS station, created by the school's alumni with nearby design studio Ewing Printing. To complete the project, Travel Wraps Graphics used an HP Latex 360 printer onto 3M IJ8624 Scotchal graphic film with a 3M 8524 Luster Laminate.
Tip: Always check the weather! Nava waited for a perfect day in November to begin the installation, but with limited sunlight and cold Indiana temperatures, the pressure was on.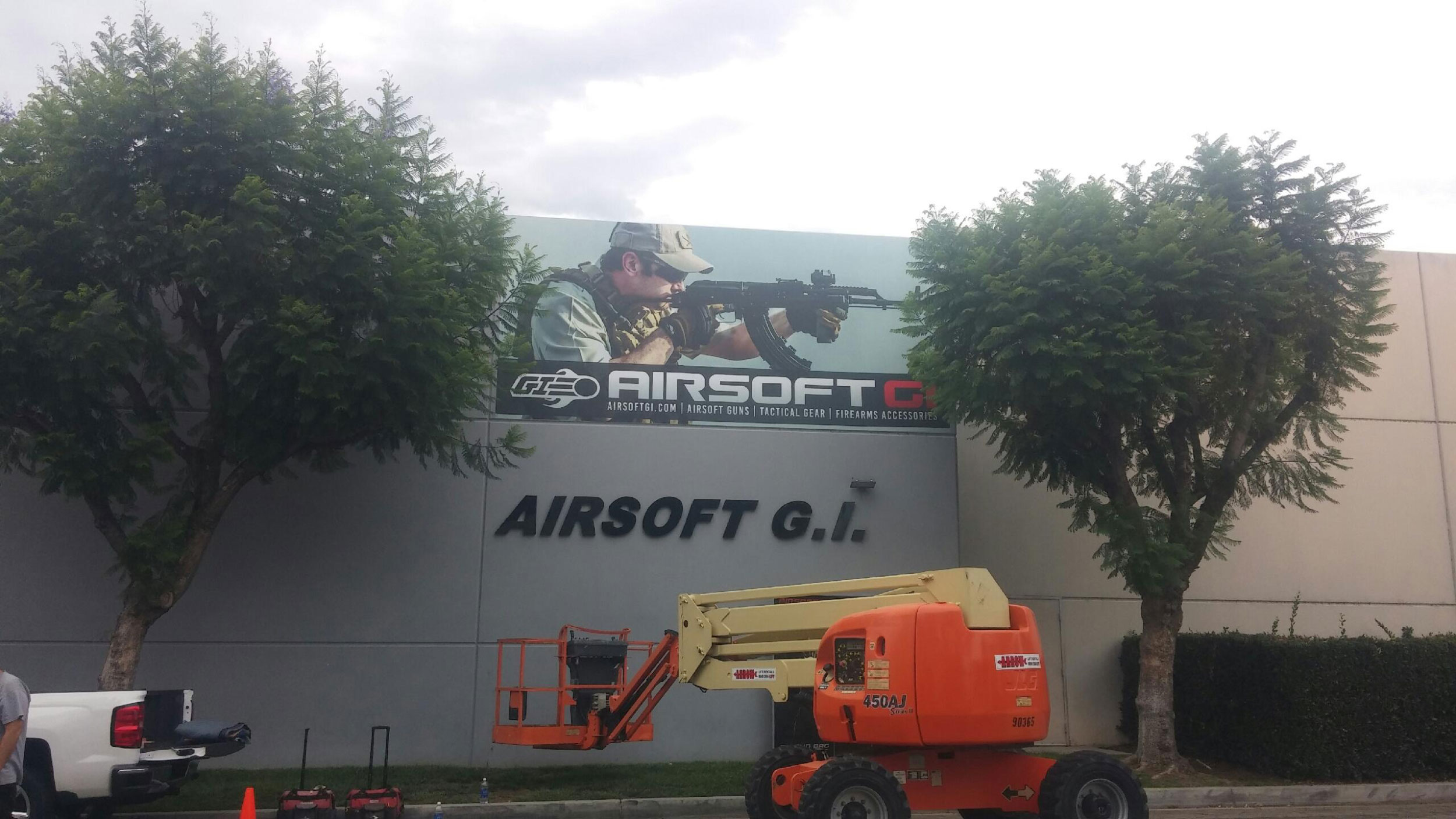 Full Sail Graphics & Marketing

Huntington Beach, California
Airsoft GI in Los Angeles wanted to mark the exterior of their headquarters with a graphic that would show the community their product and build brand legitimacy. Full Sail Graphics & Marketing printed a design featuring a high-definition image of one of Airsoft GI's products in use, along with their website and product information below it. To complete the job, Full Sail used an HP Latex 360 printer onto Arlon 8200 High Tack vinyl film.
Tip: When a client asks for a building wrap on their facility, always recommend including their website, and maybe even a QR code, to make it easy as possible for the community to learn more about the business.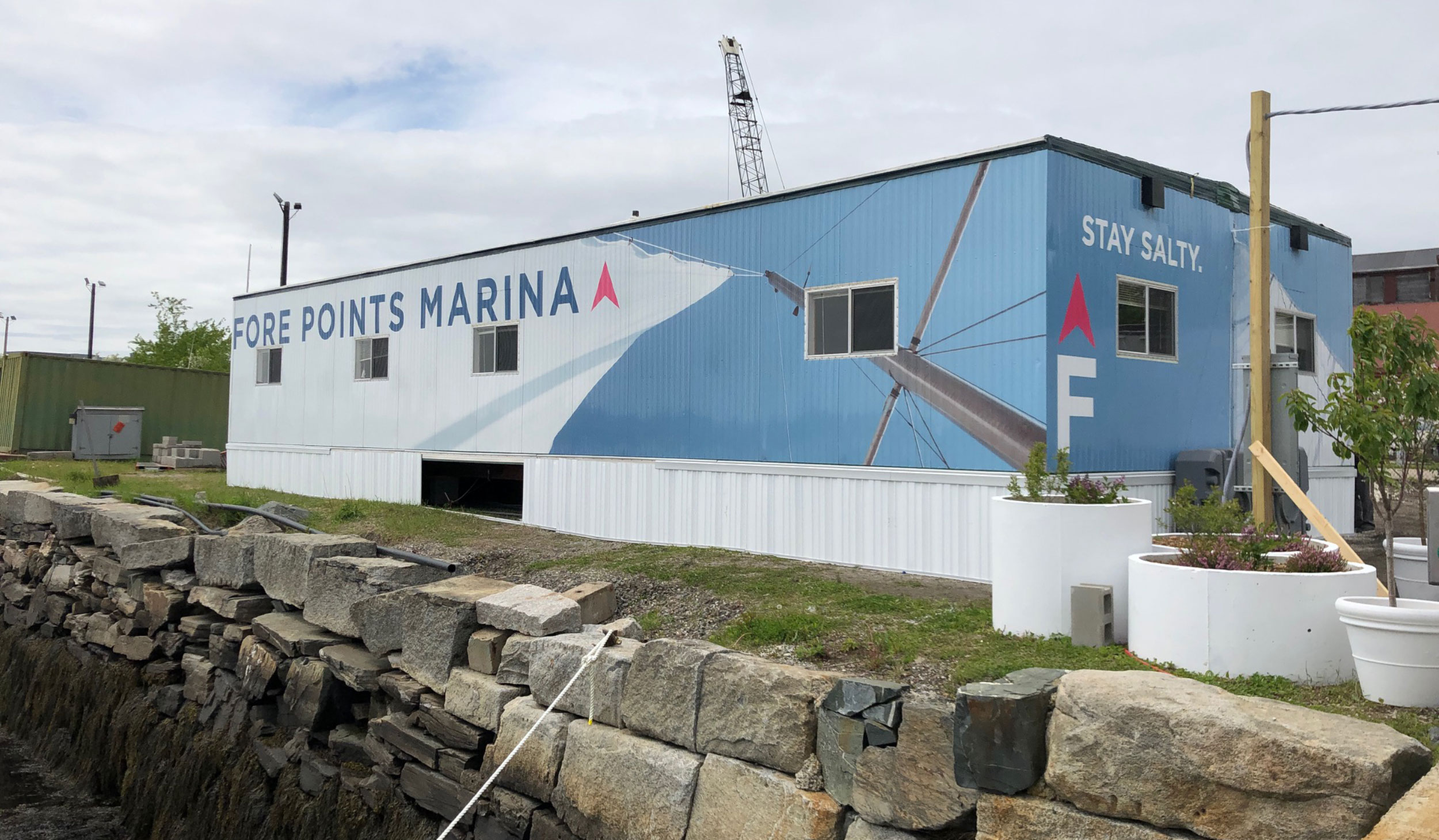 Time4Printing

Windham, Maine
Fore Points Marina in Portland, Maine, needed a fresh look on the exterior of their office building, something that would catch the eye of boaters and make members of their marina proud. Time4Printing in Windham, Maine, answered the call and beautifully installed the graphics around every foot of the building, printing on a Roland Soljet Pro 4 XR-640 eco-solvent inkjet printer onto Avery Dennison MPI 1105 SuperCast vinyl with Avery Dennison DOL 1360Z gloss overlaminate. Not only did they complete the install, but Time4Printing also designed the entire building wrap.
Tip: Offer full install services. Time4Printing was able to secure this job by assuring the client they could handle every aspect of the installation.

Advertisement
SPONSORED VIDEO
Printvinyl Scored Print Media
New Printvinyl Scored wide-format print media features an easy-to-remove scored liner for creating decals, product stickers, packaging labels, and more. The precision-scored liner, with a 1.25" spacing on a 60" roll, guarantees a seamless and hassle-free removal process.