3 Floor Graphics That Effectively Encourage Social Distancing
Once rarely used, floor signage has boomed in popularity as tool for promoting safety.
WHAT WAS ONCE a rarely used application is now taking center stage. Thanks to the pandemic, nearly every public place, including arenas, grocery stores, coffee shops, concert venues, and churches, now requires special social distancing floor signage. Safety aside, floor graphics are here to stay as their effectiveness has been proven. We're looking down at our phones most of the time after all.
Check out three examples of impactful floor graphics below.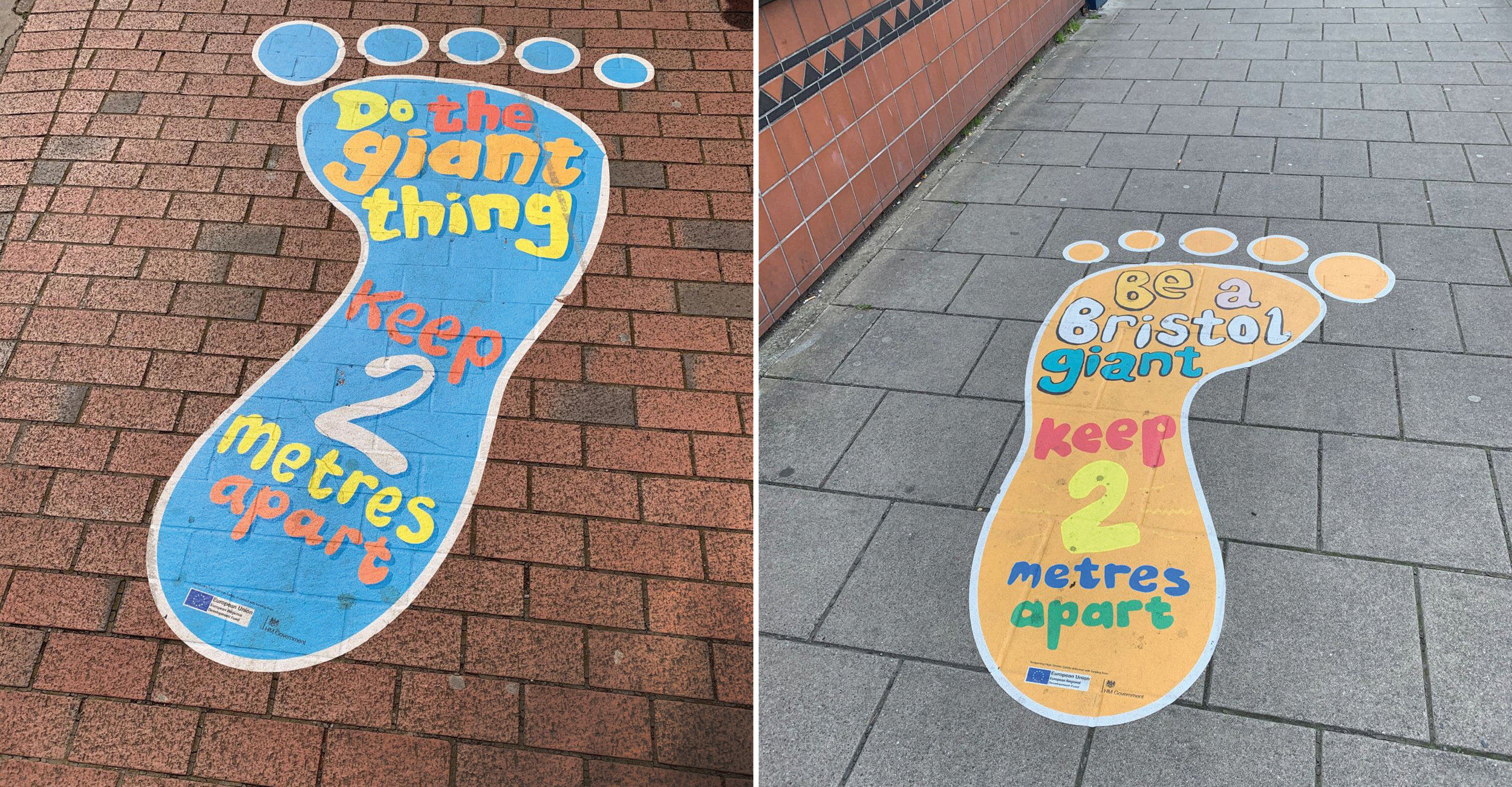 N3 Display Graphics

Bristol City, England
Bristol City Council designed a series of large footprints for high-traffic areas when non-essential businesses began to reopen in the spring. The goal was to encourage social distancing when people were out and about in the city. N3 Display Graphics took on the job for Bristol City and installed the giant footprints around town, printing with an HP Latex 360 printer onto Drytac Polar Street FX slip resistant print media and cutting the graphics into the curved footprint shape via its Zünd cutter with double-edged tungsten blades.
Tip: When installing floor graphics, be sure to check the city's slip rating regulations. By doing this, N3 Display Graphics confirmed the graphics were up to code.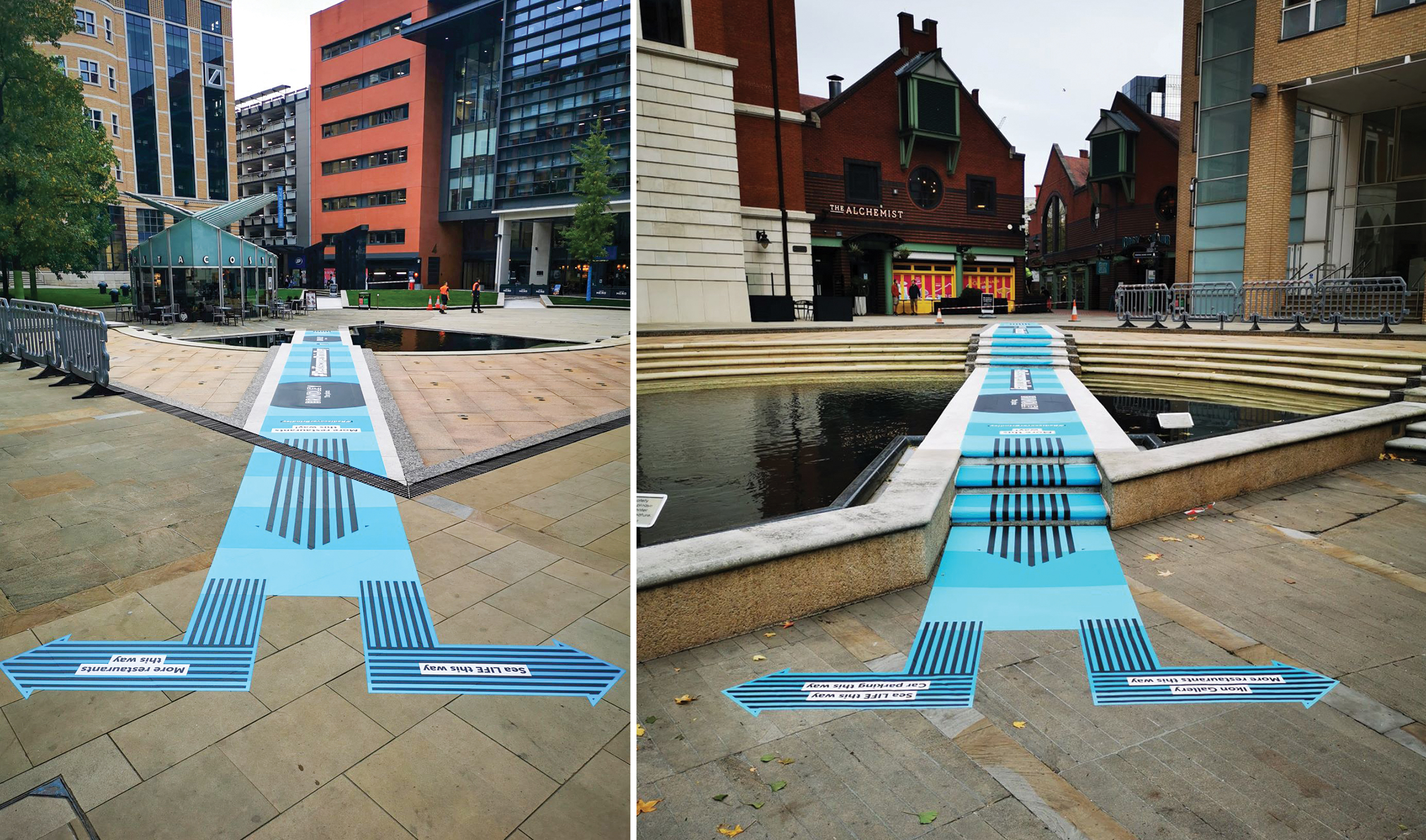 Ollywood

Birmingham, England
Brindleyplace, a busy area in central Birmingham, was transformed via a massive floor graphic installed by Ollywood, a local PSP. The campaign was made to encourage the workforce that surrounds Brindleyplace to "#RediscoverBrindley," while still following social distancing guidelines. The installation had to be done well on the first try due to the heavy traffic and exposure to the elements at the location. The shop printed the graphics, which lasted for months without peeling or damaging, onto Drytac Polar Street FX slip resistant print media with an HP Latex 560 printer and an HP Latex 570 printer.
Tip: Find a local weatherperson to trust and plan your large outdoor installs around their forecast. Ollywood made sure to schedule around the wet, cold Birmingham conditions.
Globe Print

Marlow, Buckinghamshore, England
Globe Print in Marlow, Buckinghamshore, England, recently donated floor graphics to a local vaccination clinic as a charitable gift to the community as vaccines continue to be administered. The PSP volunteered to install the floor graphics that directed people to the specific vaccination zones at a local business park. Internal floor graphics were printed on Drytac SpotOn Floor 200 monomeric PVC non-slip film; Drytac Polar Street FX slip resistant print media was used for the outdoor areas. To print the graphics, Globe Print used three machines: a Roland Truevis VG-640 eco-solvent inkjet printer/cutter, a Mimaki UCJV-300 Series UV-LED printer/cutter, and an Agfa Anapurna M2050 UV printer.
Tip: Consider pitching your floor graphics solutions to local hospitals or pediatric centers. The demand for safety signage is still strong.
Advertisement
SPONSORED VIDEO
Printvinyl Scored Print Media
New Printvinyl Scored wide-format print media features an easy-to-remove scored liner for creating decals, product stickers, packaging labels, and more. The precision-scored liner, with a 1.25" spacing on a 60" roll, guarantees a seamless and hassle-free removal process.