Print Shop Makes Eye Candy for New M&M'S Store
Bold pops of color are seen throughout the 32,000-square-foot space.
LANDOR & FITCH, a global brand transformation company, is no stranger to working with mega, worldwide corporations. Think Amazon, Apple, Nike, and Lego, all looking to drive growth in unique ways. A frequent client of Landor & Fitch is M&M'S. From Shanghai to Orlando, they've designed immersive stores, captivating candy-loving customers. You may have seen their work for the Mall of America in our sister publication VMSD magazine (vmsd.com/sweeterthancandy).
The company's latest endeavor took their Columbus, Ohio-based team to the capital of Germany. "As an American brand launching a store in Berlin, M&M'S needed to prove they understood the ethos of the community," says Kathy Tedorski, design director, Landor & Fitch. "We designed experiences that bring the local culture to life through the colorful lens of the brand."
The 32,292-square-foot space is far from your average candy shop. Each level has options for customers who want to peruse the store's merchandise offerings. Aside from the many varieties of candy flavors, shoppers can buy branded mugs, water bottles, backpacks, and apparel. On the second floor, a personalized chocolate area allows you to fill different types of vessels with customizable M&M'S. Want an assortment of button-shaped chocolates with an edible etching of your face, name, or fun icon? No problem.
Be sure to check out The Experience Pods, created after the underground club scene in Berlin, where "guests are invited into glossy pods to engage in digital experiences that revolve around movement and dancing," says Tedorski. Then head to The Karaoke Garden, reminiscent of Mauerpark Sundays. "The Karaoke Garden brings guests on stage amidst M&M'S branded graffiti, greenery, and the unforgettable karaoke bike where you can snap a photo while singing along with Yellow." Now it's time to make your way to The M&M'S Café to enjoy "new ice cream dips, where you can pick your color and your mix-ins, M&M'S filled cookies, and a variety of hot or cold beverages." Finally, take your sweet treats and enjoy them on the private roof terrace with panoramic views of the city.

"The essential physical tenets of the design are bright whites set against an intentional use of color, rounded forms, and curvilinear paths," says Tedorski. To add those colors, Landor & Fitch called upon print service providers Onder De Plak Zwanenburg Holland and Colorprofile Velserbroek Holland, based in North Holland, a province of the Netherlands.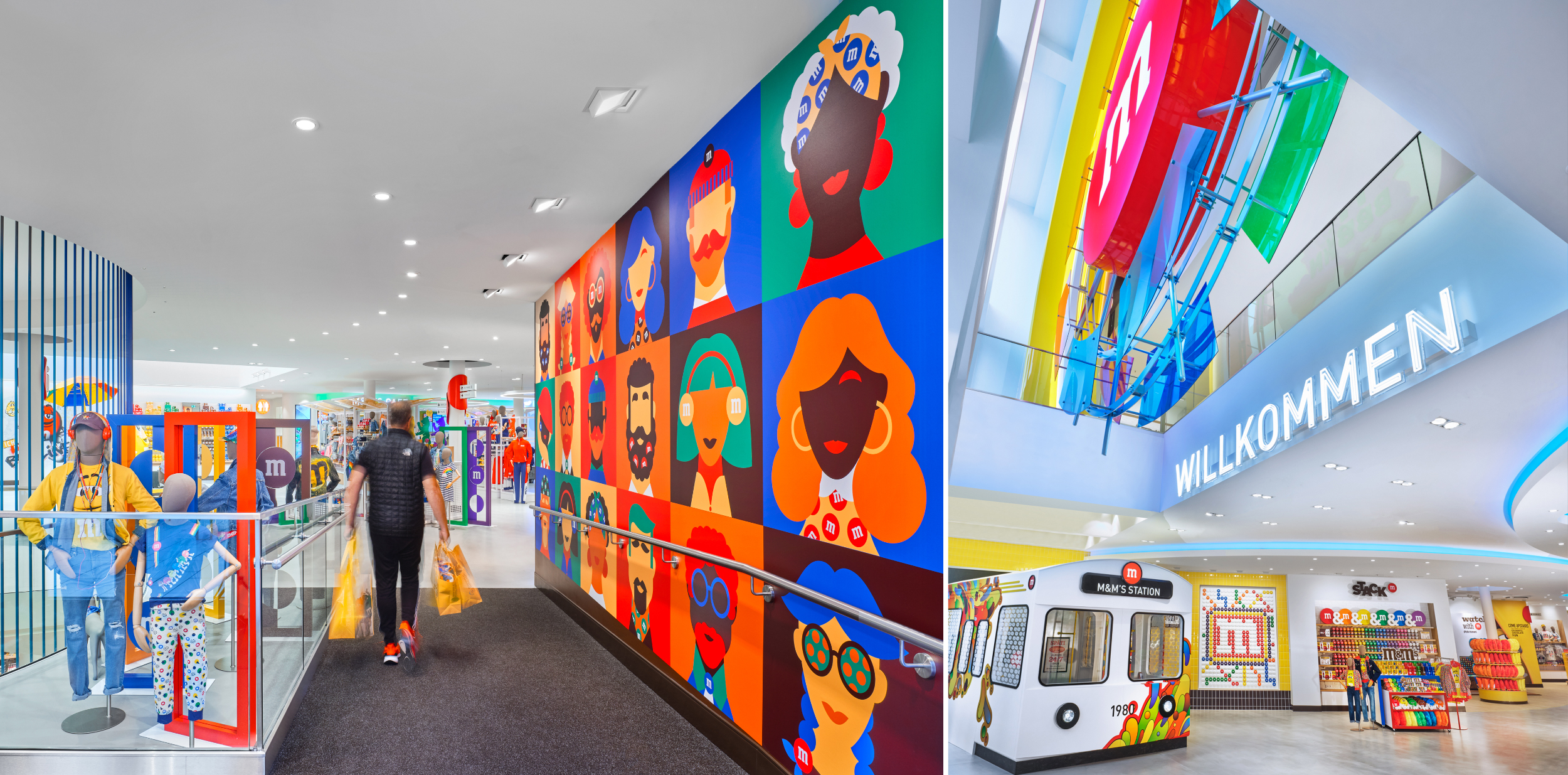 An Epson SureColor S80600 printer and Wit-Color wide-format printer were used for the store graphics. Orajet 3551RA high performance calendered PVC film with satin laminate was used for the flat surface graphics and General Formulations Concept 235 MotoMark 4-mil Grip, a specially formulated premium flexible matte white PVC film, as well as Grafityp wrap film were used for the wall graphics. For the lettering, the PSPs chose 3M Scotchcal Opaque Graphic Film Series 80, 3M SC 80-19 Deep Mahogany Brown film, and a 53-inch Summa S Class 2 D140 cutter.
"The Wit-Color wide-format printer was rebuilt with GreenGuard Gold-certified ink, so the prints can also be used in hospitals and daycares without restrictions of the amount of m2, so it's possible to cover all walls in a room without problems," says Michael Price of Onder De Plak Zwanenburg Holland. "With UV ink this is not allowed."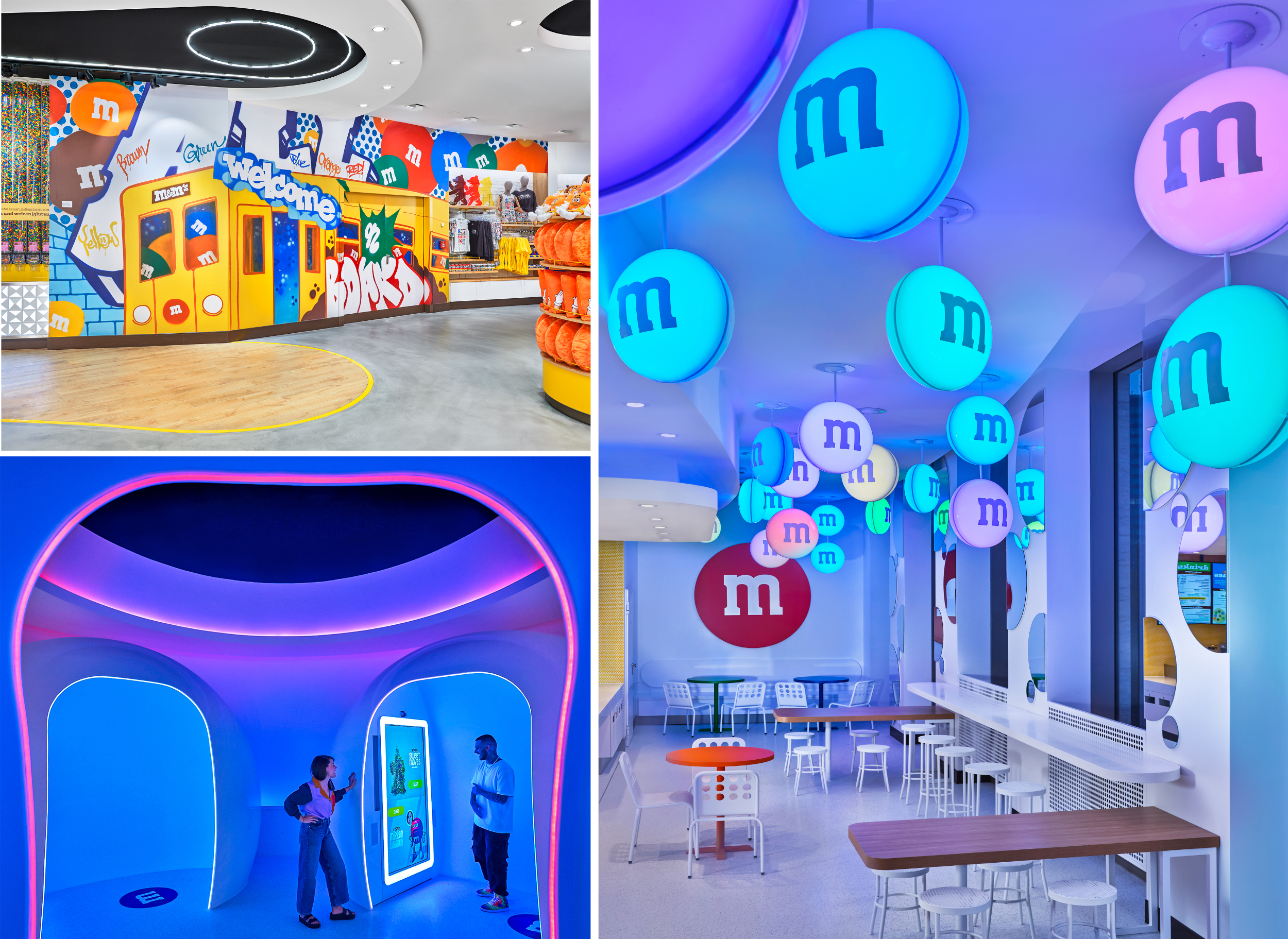 To pair with the wide-format graphics, Landor & Fitch included digital signage "to keep the energy alive within the space, while also directing customers to engage in more levels of colorful chocolate fun," says Tedorski. "There are great digital experiences throughout the store, including M&M'S Street Art and M&M'S Sweet Moves, that beg you to interact, play, and have fun – and then share it with your family and friends." Incorporating interactive elements that pair with social media is a smart way to keep customers engaged while simultaneously sharing their M&M'S adventure with their followers.
"When we set out to design this new, larger-than-life flagship, we wanted every guest to immediately feel the joy of the brand, and see the celebration of our host city, Berlin," says Tedorkski. "A wonderland of indulgence, it is set to attract millions of visitors each year as a destination to make memories and connect."
PHOTO GALLERY
(51 IMAGES)


📷:  Simon Lewis Studio

Advertisement