In Tandem
Beach bicycle business partners with local print shop to draw in tourists.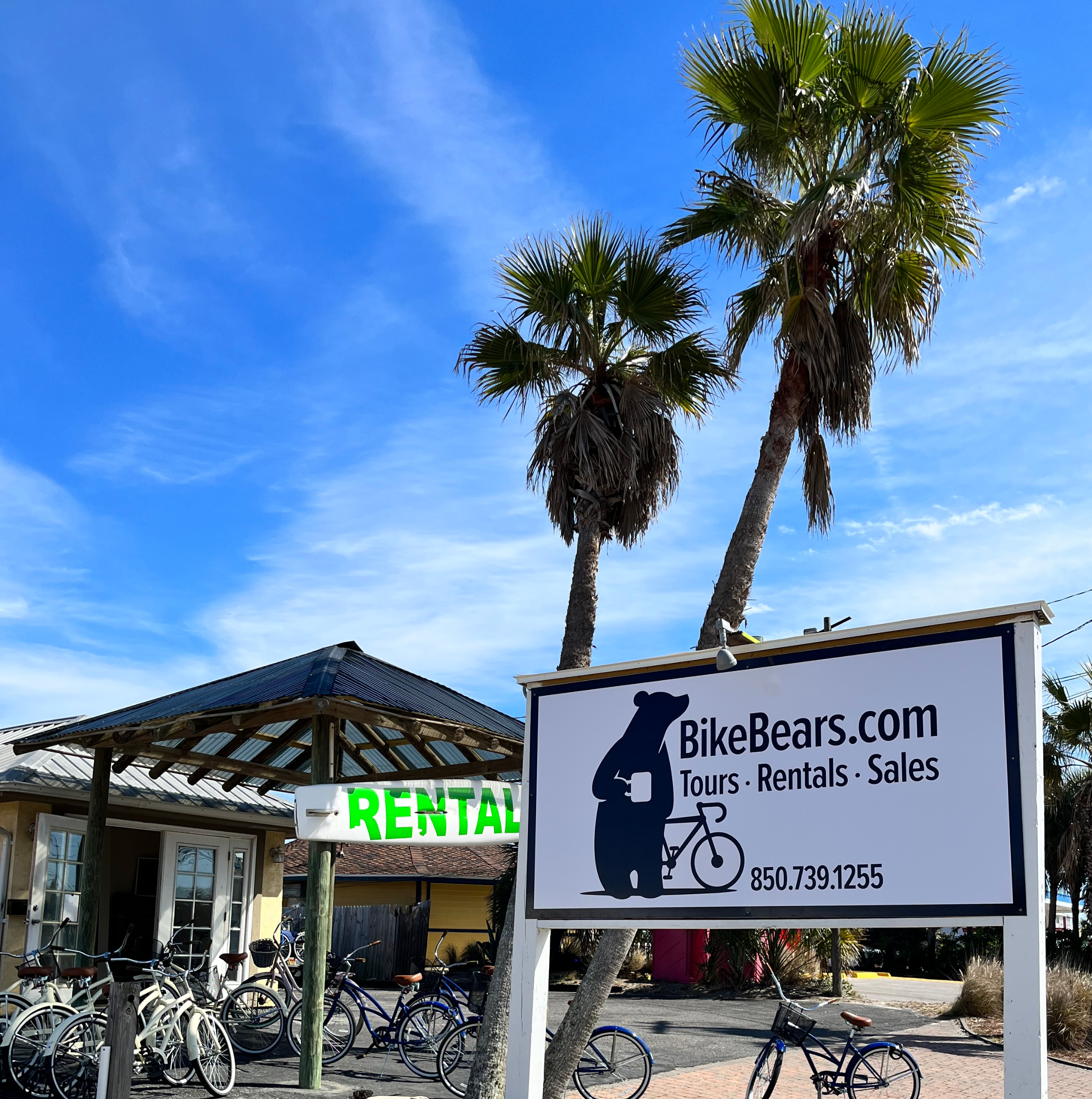 RYAN MEYER OWNS a bicycle business in Panama City Beach called Bikes, Bagels, & Brew (aka B3ars). He rents, sells, and leads an eight-mile bike tour from a brick-and-mortar within eyesight of the Gulf of Mexico. The previous tenant left a white surfboard with neon-green lettering that says RENTALS, giving each passerby a small hint as to what's offered. What he really needed though was a sign to complement the board. Something to grab tourists' attention, leaving nothing to the imagination.
Enter Coastal Impressions, a Panama City Beach screen printing and sign shop. When Meyer called Heather Roach, owner, to get a quote for the job she surprisingly had the dimensions of the sign on file. "I printed the signage for the vacation rental company that was in the space before," she says. Unfortunately for Heather, but fortunate for the sign, the building's landlord had just built a new structure to better hold the print. So, Roach sent her team to measure the new wooden sign holder outside the bike business. Meyer then sent artwork by Randy Palmer to Roach who had a few design suggestions, like adding a black border to make the sign pop.
Once designs were finalized, Coastal Impressions used its Roland VersaCamm SP-540V 54-inch eco-solvent inkjet printer/cutter with Jetbest UV ink onto Oracal 651 vinyl film with Oracal/Orafol Oraguard 200 Economy Soft PVC laminating film. The 4 x 8-foot MaxMetal Lite sign was installed by Shadow Signs.
"Before the sign was installed, all I had were my bikes and the RENTALS surfboard. I hoped people would put two and two together," says Meyer. "But now my shop is easily identifiable and there's no question as to what I offer the tourists of PCB."
SPONSORED VIDEO
Interior Décor and Textile Printing: What Equipment Do You Need?
The First Installment of the new Interior Décor and Textiles Webinar Series, Bridging the Gap Between Commercial Peel-and-Stick Wall Graphics & Professional Home Décor, focuses on the technology used for these applications. Our expert panel of speakers cover topics such as what equipment to purchase, what to look for when purchasing, and the various applications you can offer with the equipment you currently have. Watch the first episode, sponsored by TVF, above.