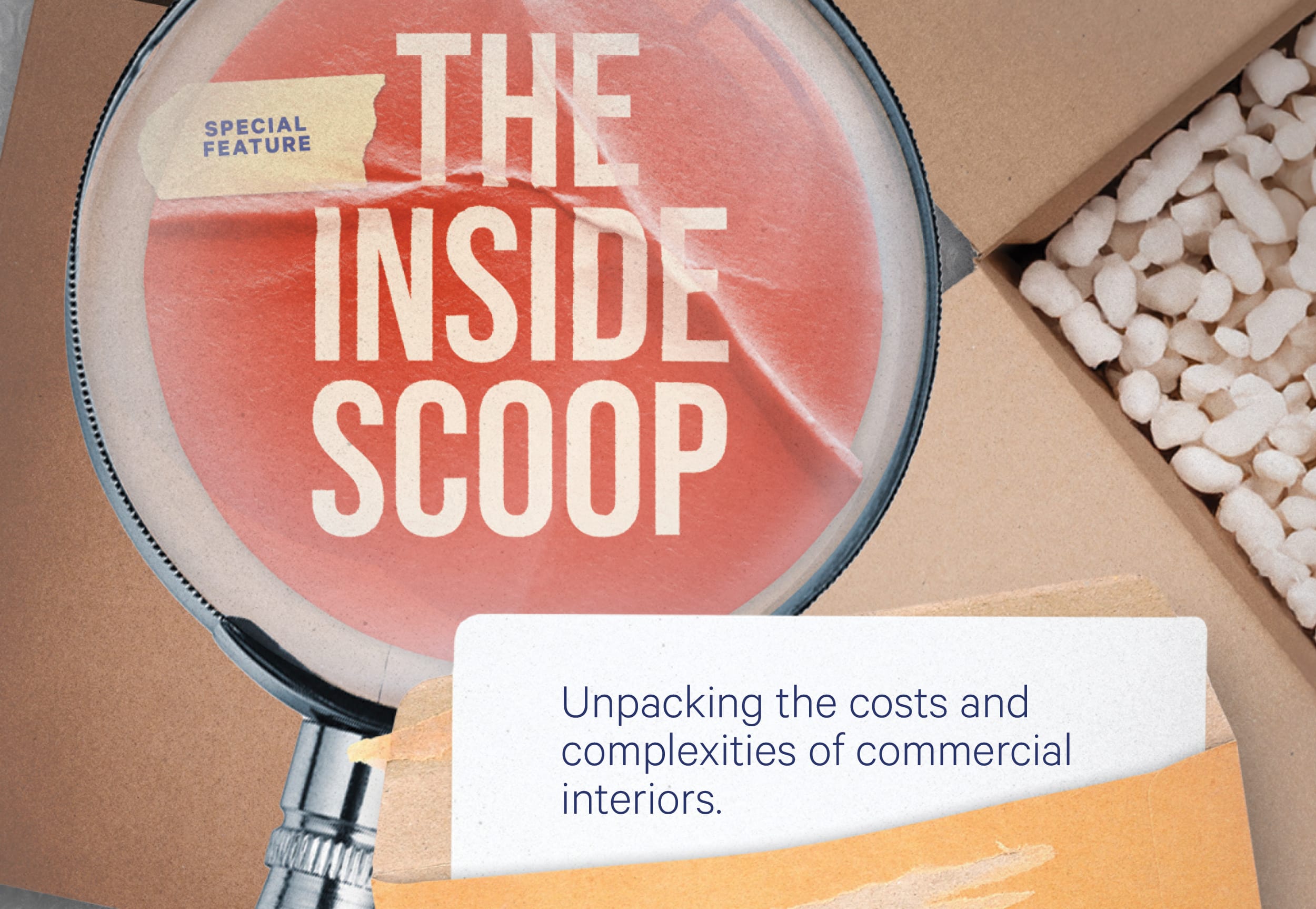 Get The Inside Scoop on Interior Décor
From installation complexities to legal and regulatory requirements, commercial interiors can present unexpected hurdles for specialists in wide-format printing.
HOW DOES A PSP set itself apart in commercial interior applications? In a recent Brain Squad survey, the focus of the collected wisdom was not process or technology, but rather what happens before and after the printing.
In followup questioning, some Squad members zeroed in on installation strategies and techniques. Others focused on rules, regulations, and requirements that can create unexpected costs, particularly for the uninitiated.
Tim Bezner says he and his team at Westmount Signs and Printing tend to have fun with commercial wall graphics, but decorating their own newly built facility provided another level of creative freedom. The images on this page depict just a few examples of what the company's designers came up with after deciding on '70s-inspired décor. As for the trippy massage chair, "Everyone over the age of 40 seems to have a bad back," Bezner says. "We put a lava lamp and some black lights in there along with speakers playing spa music for staff to kick back and relax for a few minutes a day if they like."
EXACTING EXECUTION
Summing up much of the survey feedback, Rick Mandel of Mandel Graphic Solutions (Milwaukee, Wisconsin) points out that any interior application consists of three basic elements: material selection, printing/finishing, and installation. "The substrate and the install are the most fluid and not completely intuitive," he says. "So many of us can print the items … the installation sets you apart."
Proper installation begins with proper planning. For Chris Raleigh of Visual FX (a division of QuikPrint of Tulsa, Oklahoma), proper planning implies a detailed site survey, complete with pictures of the space overlaid with critical measurements. These images help answer questions that might come up and help everyone "get a feel" for the install.
Potential problems to anticipate include lights, TVs or other items that must be cut around. Also watch out for obstructions to placing ladders or lifts – potentially including large, heavy furniture – must be moved. "You'd be surprised at what customers tend to leave out of the conversation," Raleigh says.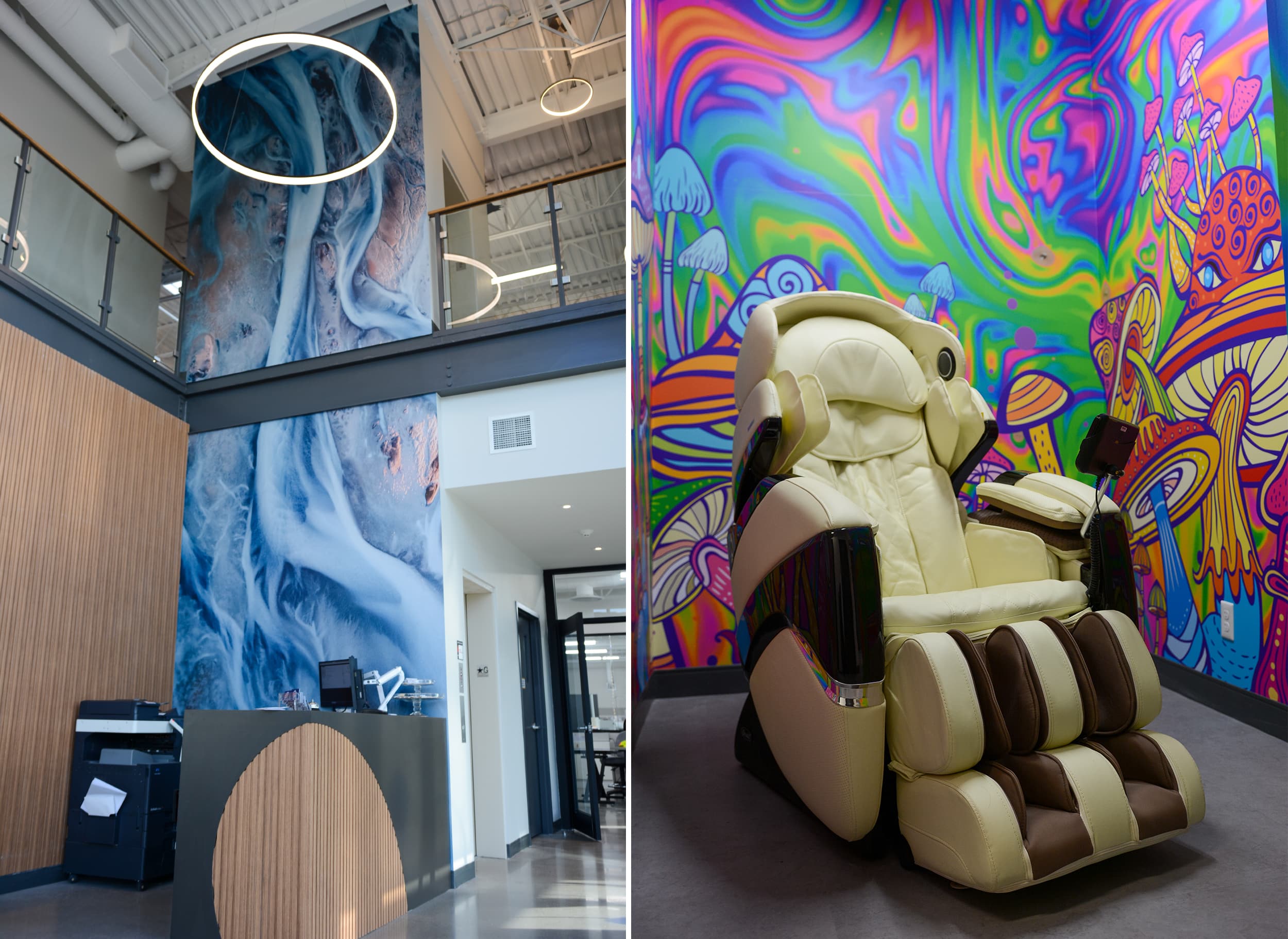 Site surveys can be particularly important for ensuring a preferred material is right for the job. For example, Raleigh commonly uses an older 3M wall-test kit with strips of vinyl with different adhesion levels and a scale for peel-testing. "Textured surfaces require different material than smooth surfaces, and a job that calls for a level 5 finish is rarely as good as it should be," he says.
Other squad members also emphasized the importance of material selection. Tim Bezner of Westmount Signs and Printing (Kitchener, Ontario) says installation is the wrong time to realize that the darker color of a two-tone wall visibly bleeds through a fabric-based wallcovering. Barring a lucky break with repositioning the material or finding some other workaround, starting over might be the only option. "Warranty work can be a killer," he says.
Opaque vinyl might be a better choice for such an application, but not just any vinyl will do. For preventing edge peeling, "what works on one wall seems to not work well on another," Bezner says. "If you have done all your homework and applied the graphics and you still get edge-peeling, then the application of something like Primer 94 by 3M helps to salvage the job."
Advertisement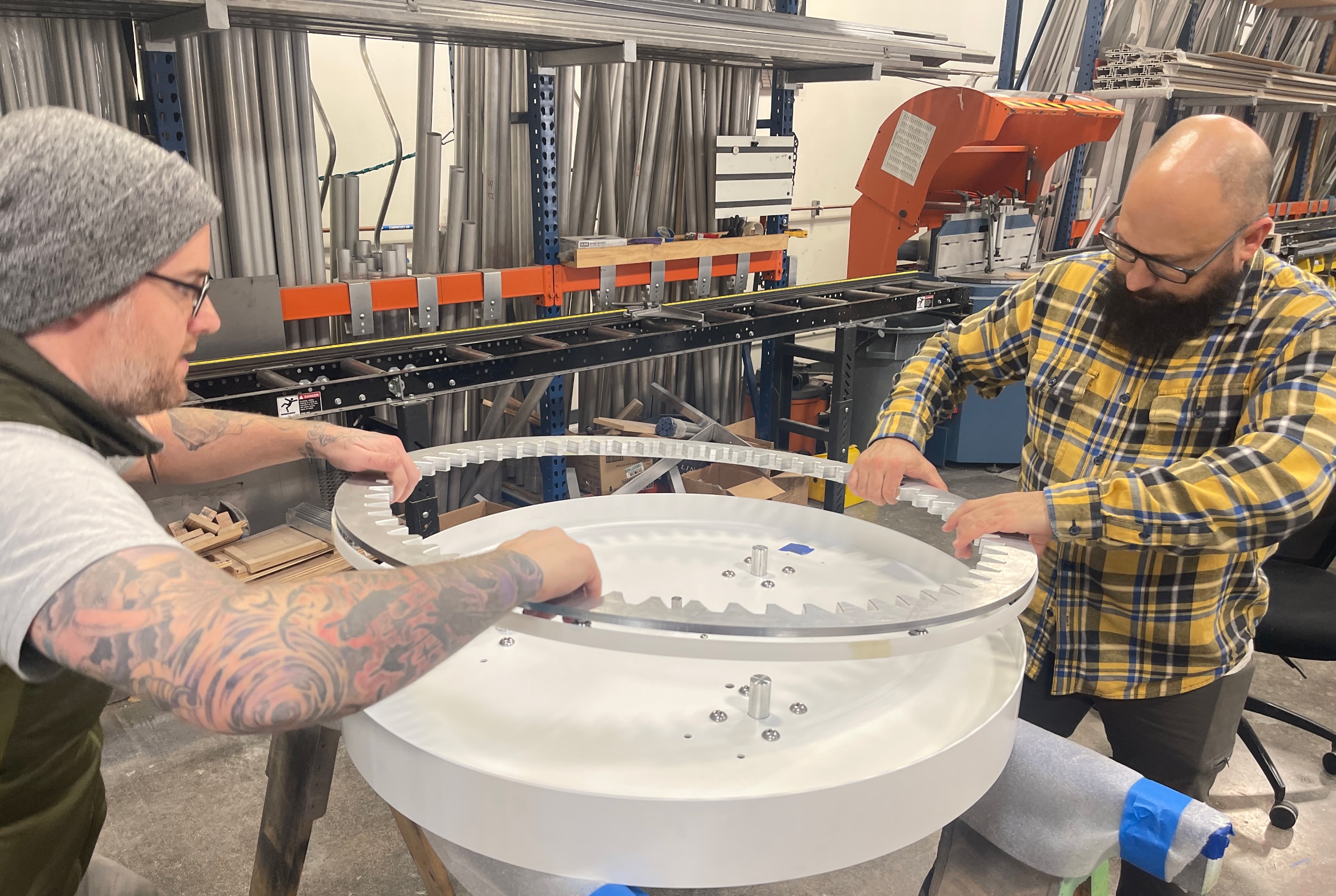 At Image Options, in-house work isn't limited to 3D fabrications like this LinkedIn gear apparatus. For jobs in California, even simpler work like framing must be done in-house for shipping to the install site.
INSIGHTFUL INTEL
Specialized expertise in commercial interiors goes beyond materials and process. Keeping up with evolving rules and regulations is essential to avoid unexpected – and potentially significant – costs and complications, says Brian Hite, cofounder and president of Image Options (Foothill Ranch, California).
For instance, installers must ensure compliance with local building codes related to factors like material flammability, eco-friendliness, and structural integrity. Even a seemingly insignificant oversight could jeopardize an entire project. "This could range from using an incorrect type of fastener to not meeting electrical requirements," Hite says. "Another example might be a company that is not UL-certified installing LED signs or lighting. If such an installation is caught during an inspection, the repercussions could be severe."
To cover a geographically diverse customer base, Image Options holds contractor licenses in multiple states. Maintaining the necessary certifications requires anywhere from 36 to 62 hours of education every one to three years, depending on the state, Hite says. Further complicating matters, different jurisdictions have their own rules distinguishing "building construction" from "temporary decoration." Overall, knowing which licenses or permits a project requires (Glazing? Cabinetry? Painting and finishing?) isn't as straightforward as it might seem.
Anyone new to commercial interiors should also watch out for insurance and bonding requirements before taking on a job, Hite says. Sometimes, the cost of complying can exceed the value of the work. Image Options also relies on understanding of architectural terminology and familiarity with construction blueprints to understand the intent of a project. "On a basic level [reading prints] is pretty simple, but when you get into multi-story commercial projects it gets challenging," he says.
Hite's final advice is to be aware of any labor laws or union contracts relevant to projects in large or public-facing spaces. "We recently worked on a project for a major university that stipulated 30-minute daily safety briefings for all personnel," he says. "Additional contractual conditions included strict work hours, mandatory attendance at meetings, and rigorous site clean-up and material storage requirements."
Advertisement
COLLABORATIVE CONNECTIONS
PSPs with a reputation for interior work offer more than just technical knowledge. They also know what clients want. "I believe that customers in this space aren't looking for single product solutions," says Wade Neff, Strategic Factory (Owings Mills, Maryland). "They are looking to create environments, or branded spaces. A project manager really needs to walk through a space and a project with a client to determine what effect they want their space to have on the people who pass through it."
The earlier you can contribute your expertise, the better. Just ask Trey Matula of Picture This Wraps & Graphics (Mandeville, Louisiana and Gulfport, Mississippi), who says maintaining relationships with local architects and design firms provides opportunities to chime in during the conceptual phase of a project. In the examples on this page – graphics for a Chinese restaurant-turned-barbecue-joint (Smoke House of Mandeville, LA) – he and his team guided the client on matters such as matte versus gloss finishes and even suggested new locations for additional graphics, such as the flying pigs on the ceiling.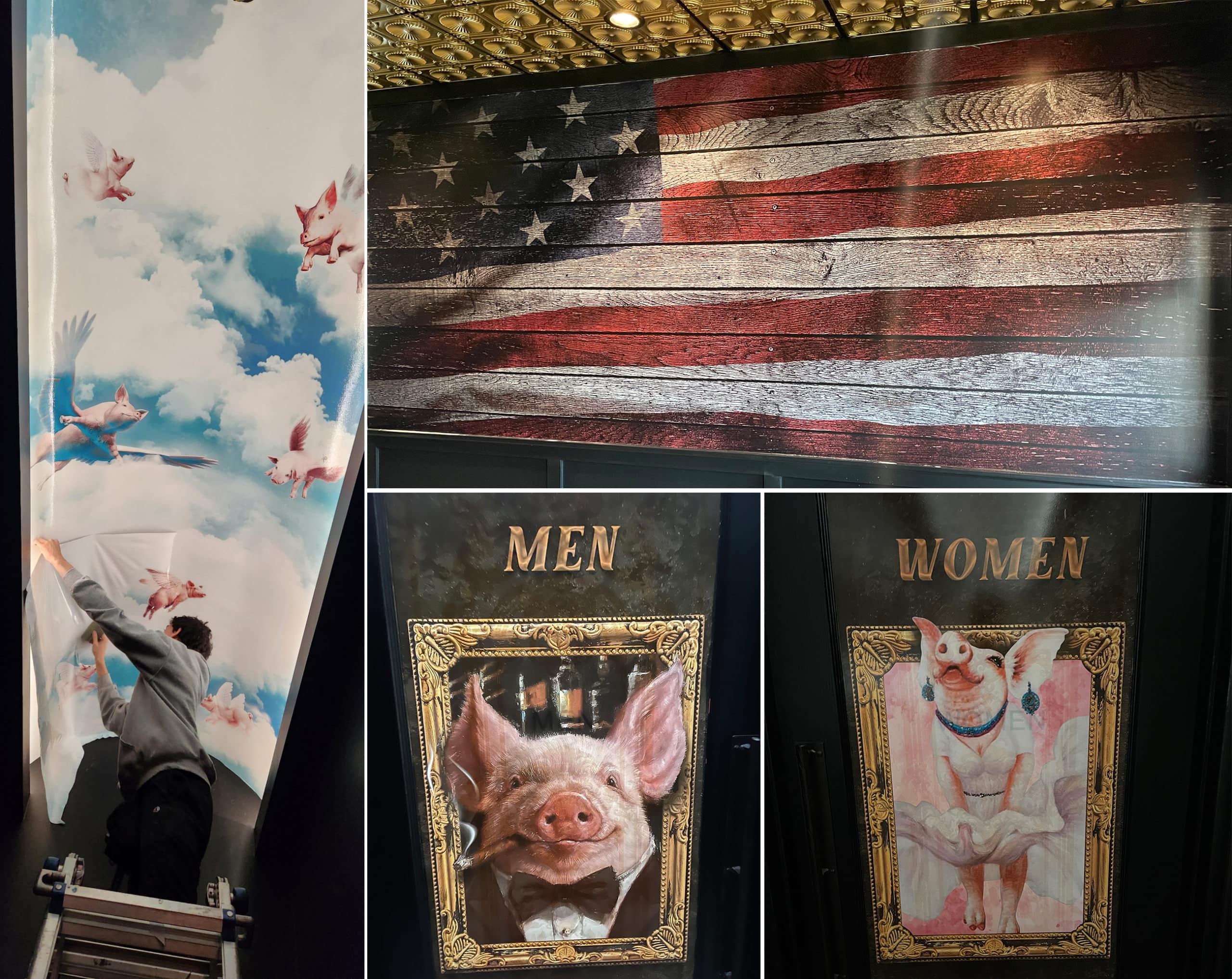 The project for Smoke House restaurant in Mandeville, L.A. was just one example of an architect bringing Picture This Wraps & Graphics on board in the early stages of a job.
For those who have yet to build a name for themselves in commercial interiors, there's nothing wrong with starting (or even staying) small. "We have your basic Phototec film to print murals," says Tommy Melendez of Master Graphics NYC in the Bronx. "It's not a big business, but we know that our competitors in a 5-mile area do not provide in-house capabilities."
From choosing the right material to ensuring you're in line with local regulations, interior décor presents unique challenges. However, even modest capabilities can stand out if potential clients are aware of them. As is the case with any application, reputation and relationships can make all the difference.
PHOTO GALLERY
(47 IMAGES)
Advertisement
SPONSORED VIDEO
Printvinyl Scored Print Media
New Printvinyl Scored wide-format print media features an easy-to-remove scored liner for creating decals, product stickers, packaging labels, and more. The precision-scored liner, with a 1.25" spacing on a 60" roll, guarantees a seamless and hassle-free removal process.