Contest Exposes Fashion Students to Digital Print
Mimaki and the Fashion Institute of Technology collab to show six students the value of digital textile printing.
THE FASHION INSTITUTE of Technology's (FIT) MFA in Fashion Design program in New York City is a four-semester thesis process that gives students "the freedom to experiment and create in a highly structured environment supported by an experienced and dynamic faculty," according to its website. Through courses and guest lectures, students learn about brand identity, legal issues, and the global supply chain to help focus their designs, develop prototypes, and define their market niche. "With the time, resources, and support to innovate in silhouette, construction, fit, and materials, our students thrive."
This year's students received extra support from Mimaki. With the 2023 Mimaki Student Contest, the wide-format printer manufacturer provided a hands-on, digital printing experience that enabled students to "explore the expanded design possibilities offered by custom prints," says Victoria Nelson Harris, senior textile segment specialist. "This collaboration drives the demand for digital textile printing in the apparel industry and supports our efforts to minimize environmental impact for a better future."
Each student contestant created a design for one printed garment. Mimaki provided a selection of seven fabrics. They could pick five yards of one fabric or 2.5 yards of two different fabrics for printing on Mimaki's wide-format digital textile printers. Throughout the process, Nelson Harris provided instructional materials for managing Adobe Illustrator and Photoshop files, answered questions, and provided guidance to FIT, the faculty advisor, and the students.
Collections were judged on design merit, sample quality, market appeal, creativity, and originality. Ashleen Tuteja, the 2023 contest winner, received compensation for as much as $1000 worth of fabric and free printing services for up to 50 yards for her senior thesis collection, both furnished by Mimaki. Runner ups Bryan Barrientos and Yoon Seo Lee received 10 yards. Collections from Valeria Watson (the 2022 first-place winner,) and Lilach Porges (the 2022 runner up) will display at New York Fashion Week in September.
"Mimaki collaborated with FIT to expand education on digital textile printing for aspiring designers, aiming to promote custom designs, environmental sustainability, waste reduction, and localized manufacturing," Nelson Harris says. "Our goal is to make a positive impact on the apparel manufacturing industry."
Nelson Harris says it's "crucial" for vendors in the wide-format space to support higher-education institutions, particularly those that cater specifically to the fashion industry. "It boosts the demand for digital printing solutions in the industry. With digital textile printing, designers can print locally, in any quantity, and with quick turnaround times," she says. "They no longer need to commit to large orders, but can create smaller, unique collections and test them in the market before mass production. This approach significantly reduces waste and lengthy lead times."
"At FIT, we feel our graduate fashion design program prepares students to take the next steps in their careers," says Cathleen Sheehan, chairperson and professor, Fashion Design MFA Program, School of Graduate Studies. "Within the fashion industry, digital printing technology is such an important resource for designers looking to make their collections unique. Brands can create original prints and use digital printing to differentiate, personalize, and customize their collections. With so much apparel out in the world already and with so many brands competing for consumer dollars, digital printing is a way to make products unique and identifiable to a particular brand.
Peruse the following pages to see what six FIT fashion design students have to say about the benefits of digital print, how they used Mimaki printers to create their fashion collections, and the impact the technology has on their future designs.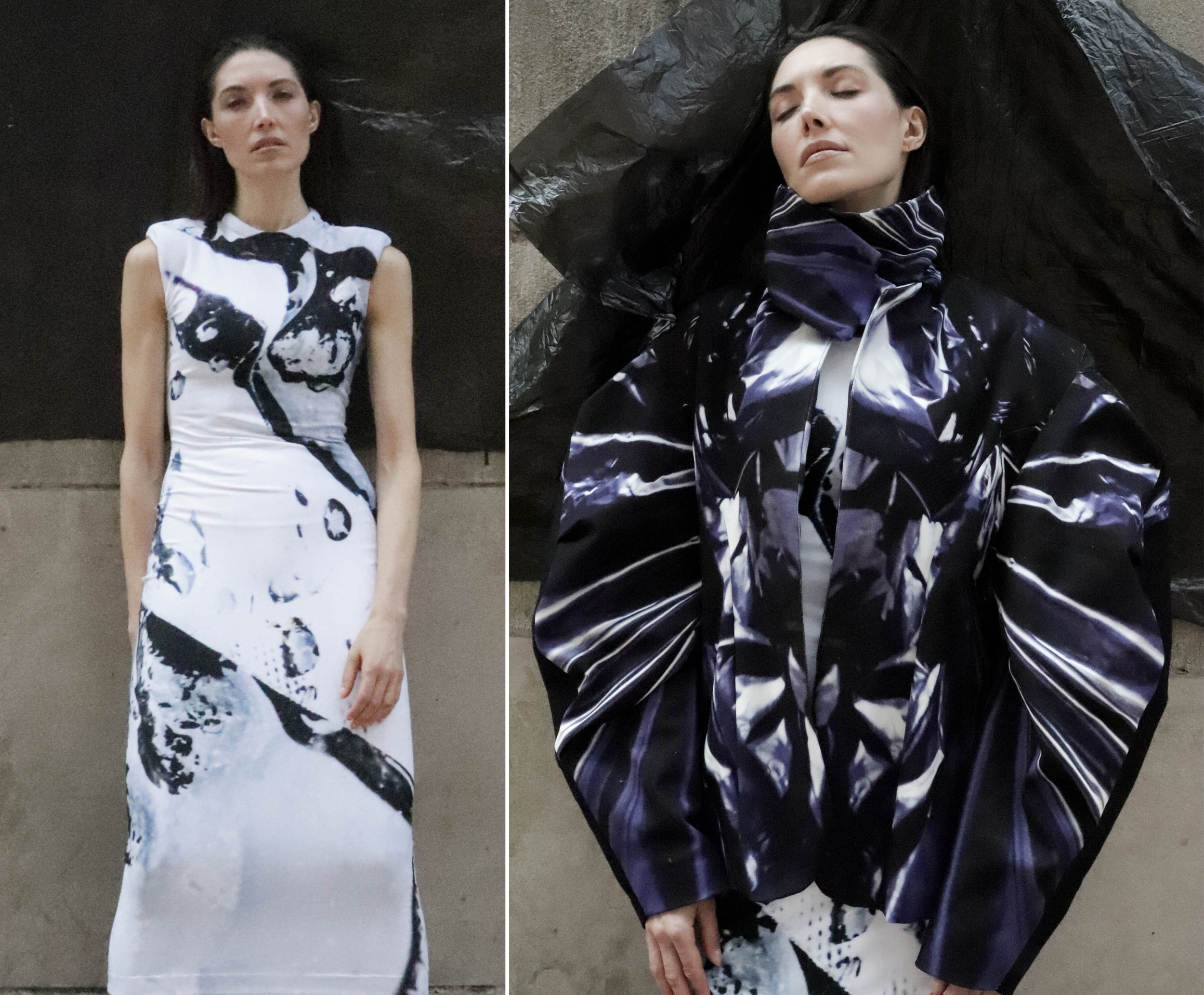 What was your experience with digital print prior to the contest?
I had no previous exposure to digital printing. My only familiarity was with manually transferring prints by acetone onto fabrics, which was a distinct experience compared to using digital printing.
How did you choose your fabric?
Prior to finalizing our designs, we had to select our print and fabric. However, I made my final print choices after creating digital mockups. I had a vision of creating a jacket and a dress that would effectively display the prints. For the jacket, I opted for cotton twill to provide structure. For the dress, I chose poly Lycra to achieve the desired combination of draping and stretch. Once I received the fabrics from Mimaki, I adjusted my final design accordingly, and I'm delighted with the outcome of the finished garment.
Photographer: Eunhae Cho
What are the benefits of using digital textile printing?
The diverse patterns and vibrant colors showcased on a single fabric through digital print provides a fresh and novel touch, elevating both the fabric itself and the overall shape. Moreover, experimenting with various prints stimulated new and innovative ideas during the design process. I found myself intuitively aligning my designs with the prints, as they expanded the creative scope of my work. Furthermore, the print helped me effectively convey my messages through the designs. For example, my garment aimed to expose the reality of overconsumption and waste in our daily lives, utilizing street photos of waste I captured. The prints played a pivotal role in bringing this concept to life, enabling me to communicate my message more powerfully.
Do you plan on using digital print in your future collections?
Absolutely. I highly value the immense possibilities that digital print offers. It serves as an excellent medium for fabric development and creativity. I also appreciate how Mimaki is committed to sustainability in the field of printing by developing eco-friendly technologies such as UV-LED and eco-solvent, as well as their use of Greenguard Gold certified inks. Their efforts align with my own dedication to environmentally conscious practices.
What was your experience with digital print prior to the contest?
I had worked with digital print before for one of my undergrad collections. My experience was overall good. I would make an Illustrator drawing, upload it to a website, and after weeks, I would receive my fabric. It was like online fabric shopping. What I enjoyed about working with Mimaki was that I felt it was preparing me for the industry. I had swatches to choose from, order forms to fill out, and specific instructions on how to send over a file. As a student, having the chance to work with a big company like Mimaki opened my eyes to how it would be in the industry if I had to get a fabric printed.
For Valeria Watson's collection, Mimaki's Ts330-1600 and Ts100-1600 64-inch dye sublimation printers were used for an array of fabrics, including polyester charmeuse, chiffon, and poly/Lycra. The Mimaki Tx300P direct-to-fabric printer was used for printing cotton sateen and cotton twill fabrics with reactive inks.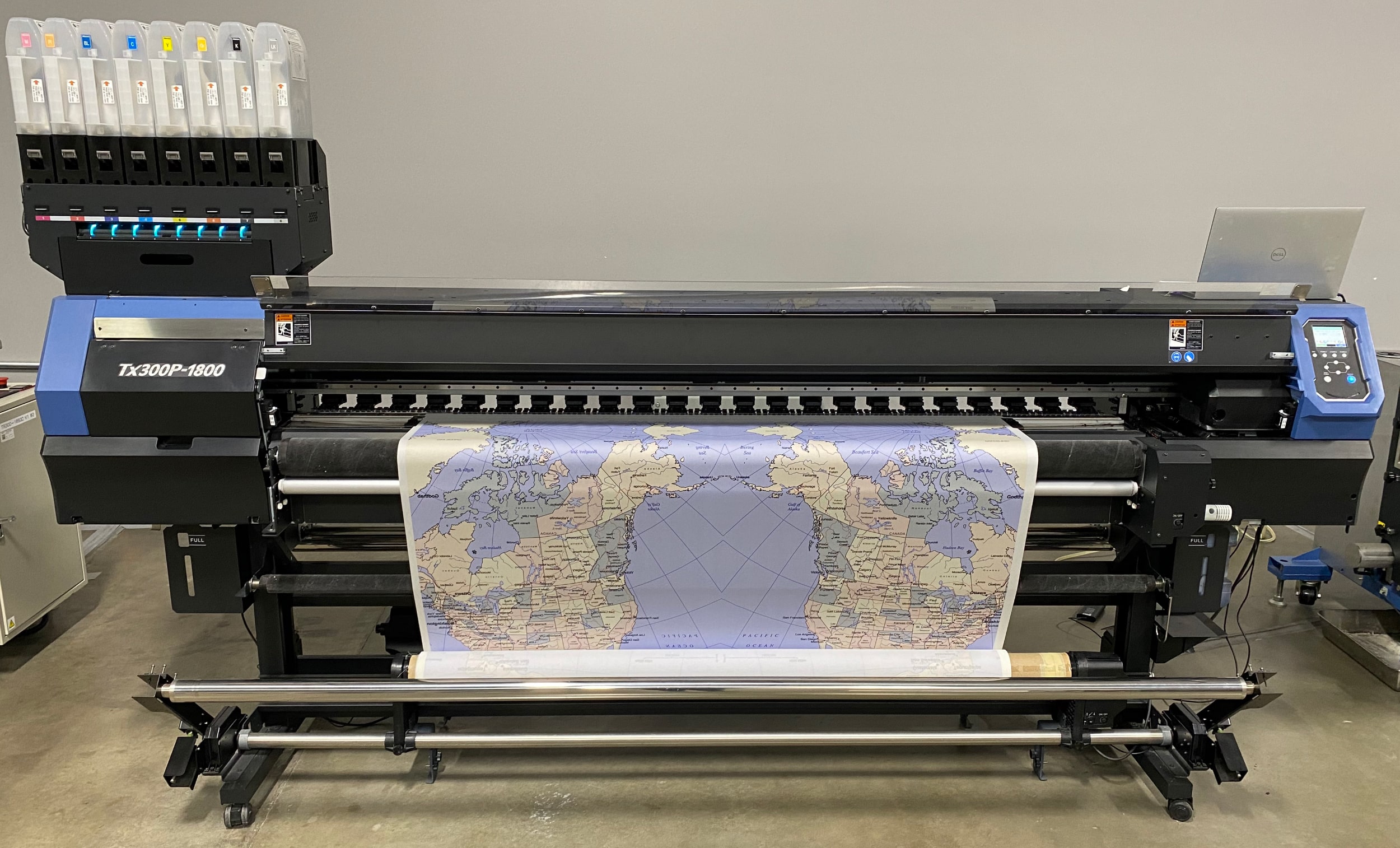 How did you choose your fabric?
I had my sketches already made. Part of my design process is printing images and then collaging them. Some of my collages had a more rigid feeling compared to others. So, to choose the textile I would always go back to the collage. If it is a rigid feeling, for example, I would go for a cotton twill. If the sketch had more of a drape feeling, I would select charmeuse. As I started getting my swatches. I also noticed the different pigmentation of cotton vs. polyester fabrics. So, depending on my vision for the garment or how vibrant I wanted the colors, I would choose either their poly or an organic version of the textile.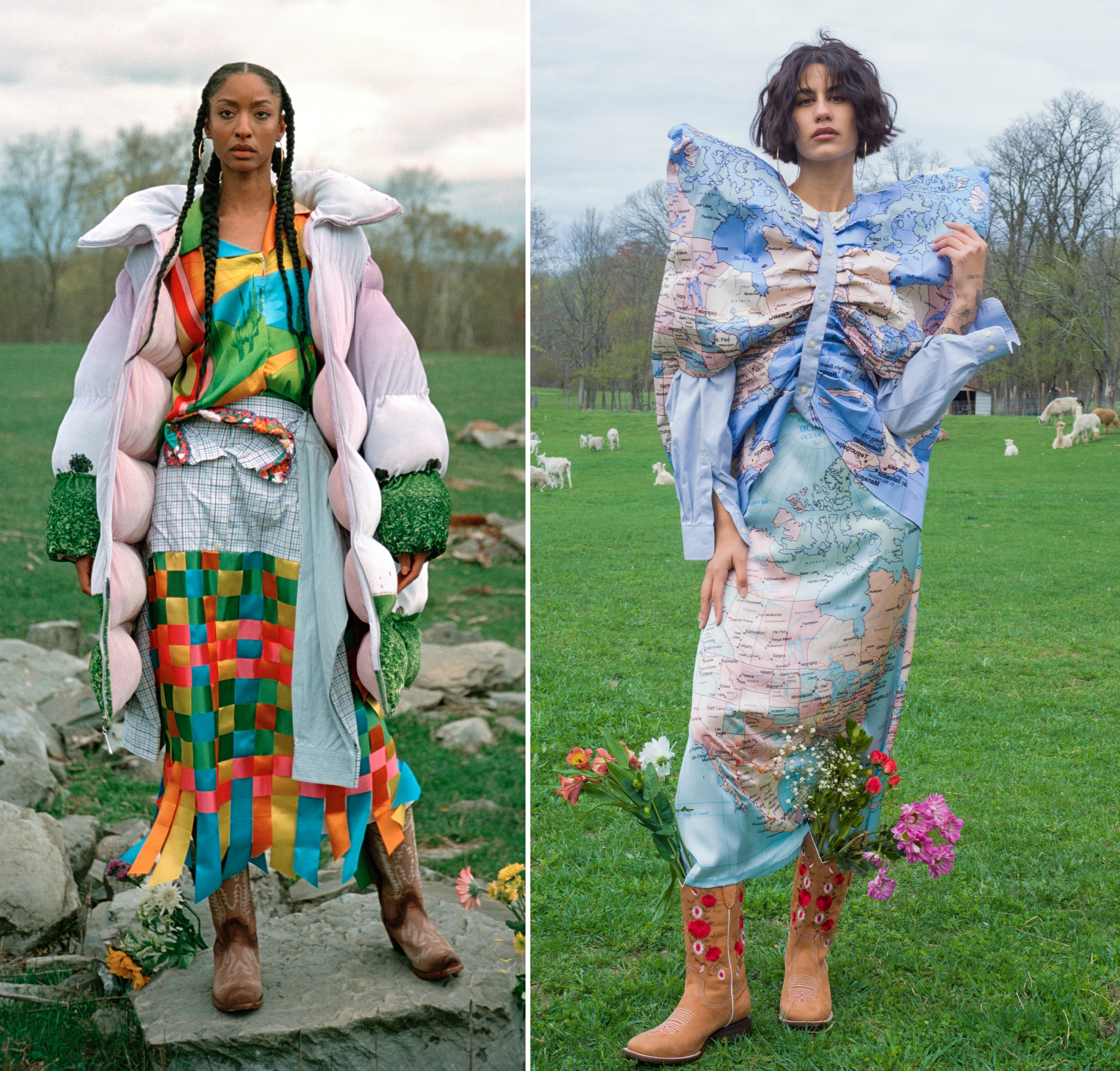 The first-year students utilized a range of fabrics with the Mimaki Ts330-1600 dye sublimation printer and Mimaki Tx300P-1800 direct-to-fabric printer. Fabrics chosen included cotton twill, cotton sateen, cotton/silk charmeuse blend, linen, silk charmeuse, polyester chiffon, polyester microfiber, and polyester Lycra. Photographer: Yoon Seo Lee
What are the benefits of using digital textile printing?
Using digital print made it easier for me to select colors and create place-printing garments. I also work with a lot of gradient colors and photography which is more achievable with digital print.
Do you plan on using digital print in your future collections?
I plan on using digital print for my next collections. Drawing prints and photography prints have become essential to my work. After working with Mimaki, I feel very comfortable working with placement prints and all-over prints, and it is something that I want to continue exploring.
Advertisement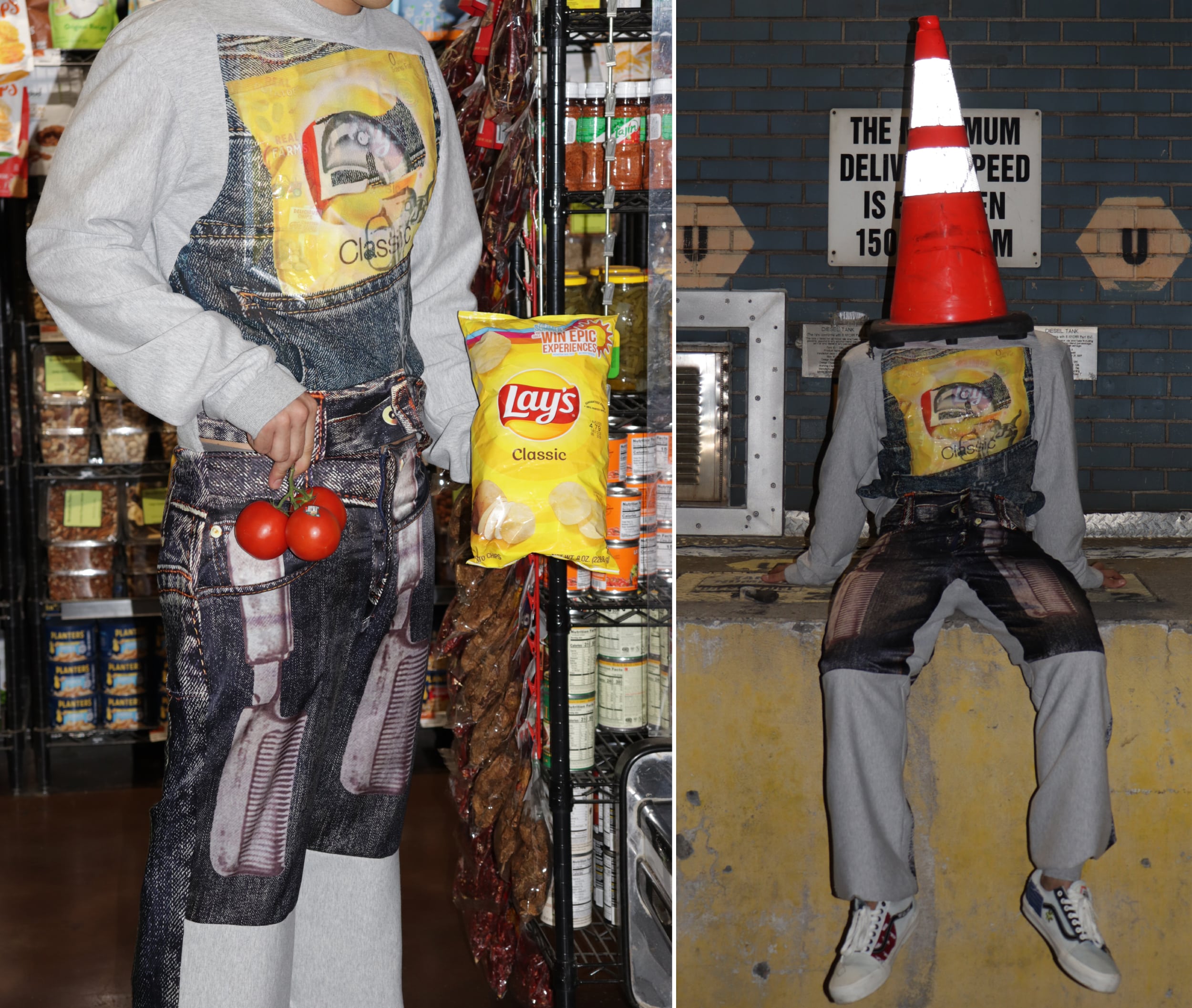 What was your experience with digital print prior to the contest?
I have explored various digital printing applications, from personal projects to professional endeavors. This experience has allowed me to recognize digital print's immense potential in terms of creative expression and visual impact. However, I have also encountered challenges, such as cost considerations and the need for iterative refinement to achieve the desired results. Nonetheless, I remain enthusiastic about the possibilities that digital printing presents, and I continue to explore its capabilities in my design endeavors.
How did you choose your fabric?
I consider two critical factors that can be adapted based on the specific project and desired outcomes. Firstly, I consider fabrics that can produce vivid colors and achieve clear, high-quality prints. It is essential to select fabrics that can retain the intended characteristics and visual impact once the digital design is transferred onto them. This consideration may vary depending on the desired aesthetic and the specific requirements of the design. Secondly, I explore fabrics that offer compatibility with layered printing techniques. This opens possibilities for creating visually dynamic prints by combining different types of fabrics, such as incorporating sheer and lightweight materials like chiffon with heavier and bolder options like the 20s-30s cotton or cotton-poly blends. The choice of fabrics for digital printing can be adapted and tailored to suit the specific design objectives, ensuring optimal results for each unique project.
What are the benefits of using digital print?
Digital print offers a multitude of benefits for creative expression. It provides a direct means of presenting ideas with a touch of humor and aesthetics, allowing for the incorporation of graphic designs, photos, drawings, and collages. The versatility of digital print enables designers to explore unlimited ways of showcasing their concepts, whether through a mixture of collages, draped fabrics on mannequins, or other innovative techniques. One significant advantage is its precise color customization, eliminating the struggle of finding the perfect color by allowing designers to create fabric colors that align precisely with their vision. With digital print, the endless possibilities empower designers to unleash their creativity and bring their ideas to life in captivating and visually stunning ways.
Do you plan on using digital print in your future collections?
The versatility and creative possibilities are highly appealing to me. Having had the opportunity to work with engineered printing and experience the benefits of strike-offs and color refinement, I am even more motivated to explore the potential of digital printing in my future endeavors. As a designer who excels in two-dimensional design, I see digital printing as a powerful tool that can help me innovatively bring my artistic visions to life. In addition, its ability to seamlessly merge various design elements and achieve precise color customization makes it an attractive option for expressing my unique style.
What was your experience with digital print prior to the contest?
I studied the first year of the undergraduate textile design program at Shenkar Collage in Israel prior to graduating with a Bachelor's and Master of Architecture from the Technion in Israel. I learned how to create prints during the year in Shenkar, and I practiced this technique as a fashion designer assistant in Hana Menkes's design studio before I moved to New York and attended FIT.
How did you choose your fabric?
I chose fabrics that were suitable for my collection and had an element of sustainability, such as recycled poly Lycra. I chose the ones that received the exact colors I needed.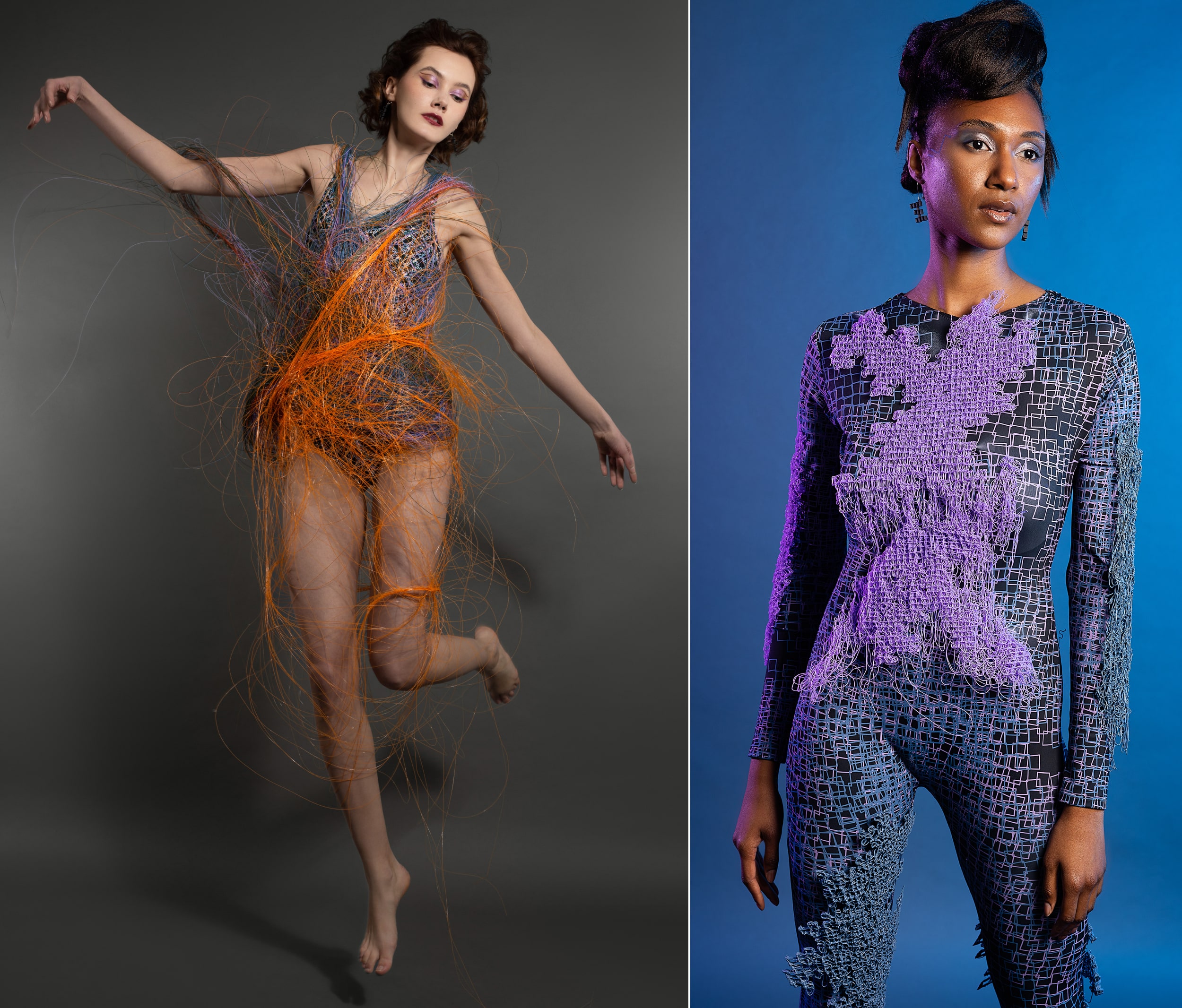 Lilach Porges used a Mimaki Ts330-1600 64-inch dye sublimation printer with poly Lycra and jersey knit, as well as the Mimaki Tx300P direct-to-fabric printer for printing cotton sateen and silk fabrics with reactive inks.
What are the benefits of using digital textile printing?
The benefits are the ability to design the prints in different kinds of software, including Rhino and Grasshopper; using parametric design techniques; and creating an accurate design with the exact color palette of the inspiration for the collection. I designed my prints with code, following mathematical functions such as fractals. I printed them with Mimaki as digital prints on fabric. [I also printed them] with robotic arms as 3D prints to create depth by layering them on each other.
Do you plan on using digital print in your future collections?
Yes. During the MFA program at FIT, I designed the signature prints that I will combine in my future collections. The signature prints are inspired by code from software engineering and created by code with parametric design techniques – perfect for a ready-to-wear collection with digital prints.
Advertisement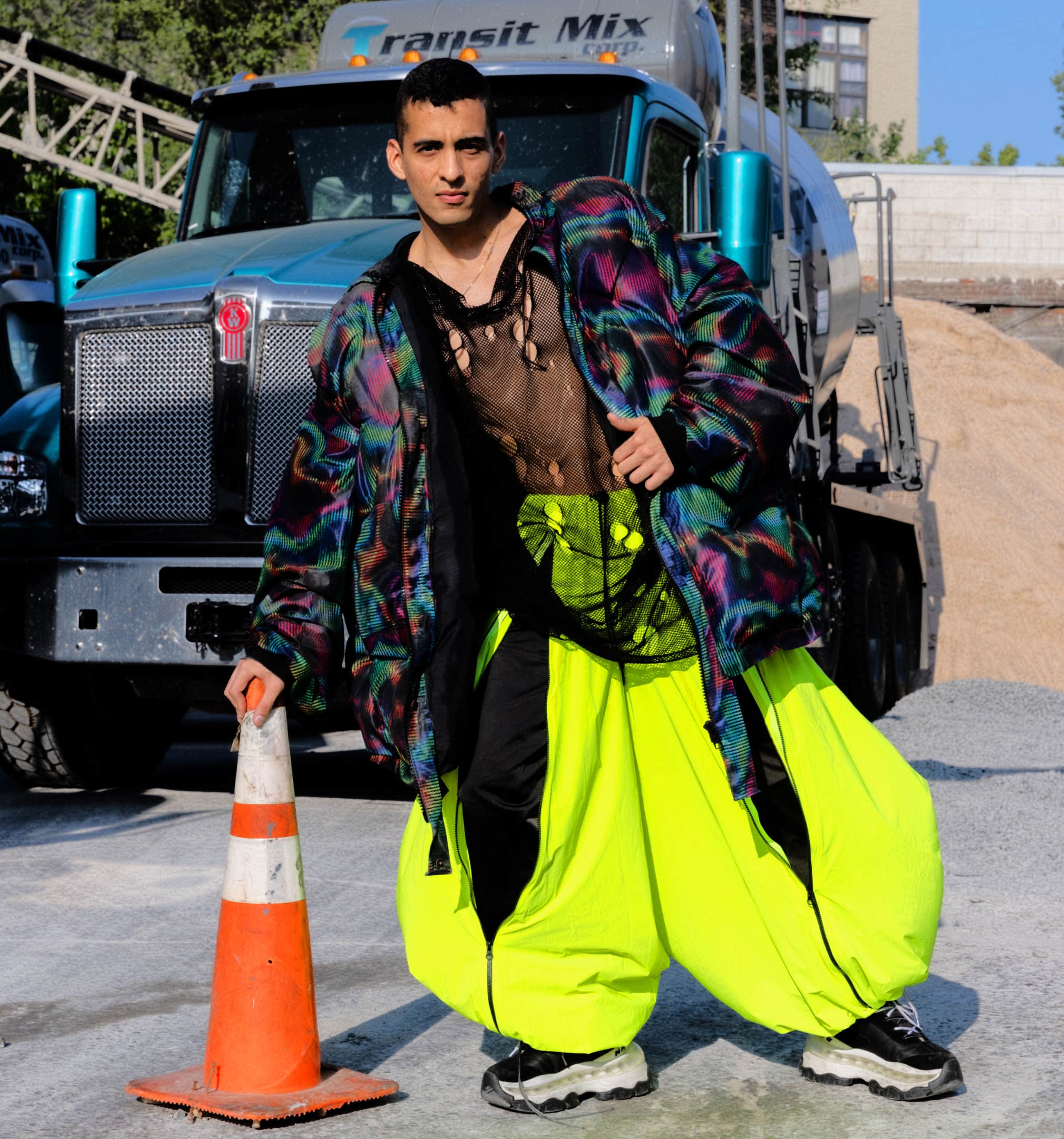 What was your experience with digital print prior to the contest?
I gained experience in working with digital prints during my time at pursuing my associate degree in 2019. During a digital design class, I discovered my passion for Adobe Illustrator and its application in creating digital prints. Following that, during my one-year job as a shirt designer, I had the opportunity to work with my senior colleague in designing prints for shirts sold at Jack and Jones, India.
How did you choose your fabric?
I carefully considered my target market, which in this case was truck drivers, and their specific needs and preferences. Understanding they required clothing suitable for daily wear, I ultimately selected polyester as the fabric of choice. Polyester offers several advantages that align well with the needs of truck drivers. It's known for its ease of care, making it convenient for regular and frequent use. Additionally, polyester has excellent moisture-resistant properties, which can help keep the drivers comfortable during their long hours on the road. By choosing polyester, I aimed to provide a practical and functional fabric option for the truck drivers while ensuring their comfort and ease of maintenance.
Photo Credit: Tommy Wu, editorial photographer, Ziyang Wang, assistant photographer, and Dorian Parquet, lookbook photographer.
What are the benefits of using digital textile printing?
With the ability to customize designs, I created a print featuring small hearts strategically placed and colored to simulate a reflective effect. The intricate details of the print were accurately reproduced, resulting in a visually striking design. The vibrant colors provided by digital printing make the print eye-catching and attention-grabbing. Moreover, the durability of digital prints ensures the design remains intact even after regular wear and washing, making it ideal for the demanding lifestyle of truck drivers. Additionally, digital printing offers time efficiency, allowing for faster production times to meet market demand. Overall, digital print will help me create visually appealing, customized, and durable
garments that cater to the specific needs of truck drivers.
Do you plan on using digital print in your future collections?
Yes, I certainly plan on utilizing digital print in my future collections, particularly for my collection designed for truck drivers. I find inspiration in the vibrant and decorative styles that truck drivers in India often adorn their trucks with. I believe incorporating prints inspired by these decorations will allow me to celebrate their unique workspaces and pay homage to their culture.
Furthermore, using prints as a design element provides an affordable way to bring creativity and individuality to the collection. This allows truck drivers to express their personal style and preferences through the clothing they wear, creating a sense of pride and identity within their profession.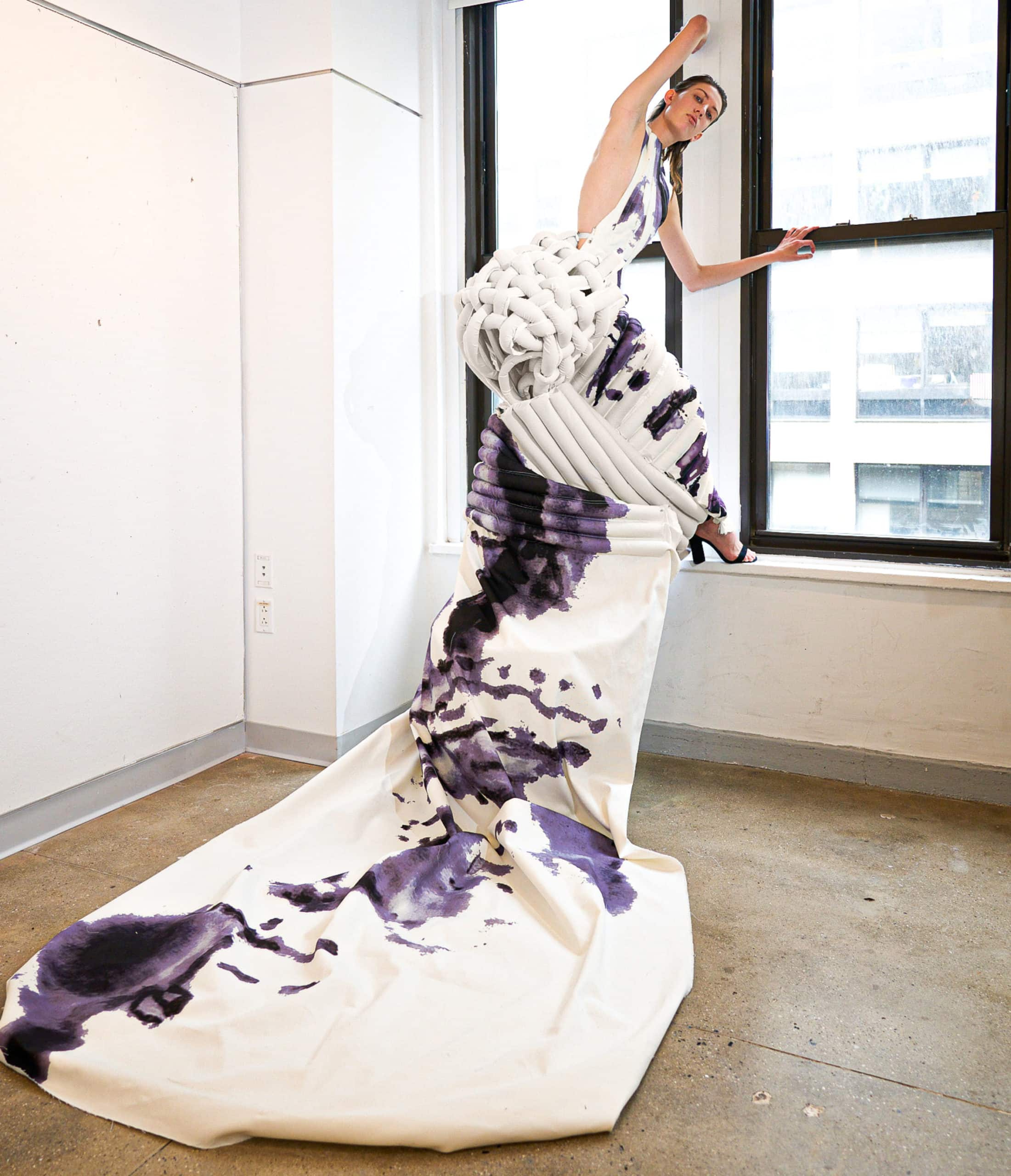 What was your experience with digital print prior to the contest?
Prior to this contest, I had not worked with digital printing, having only screen printing experience. I have worked with CAD and CLO 3D. [This experience led me to] reimagine the different possibilities of my printing process and made me look forward to using all possible resources with digital printing.
How did you choose your fabric?
For this proposal, I worked with cotton twill, a fabric I have worked with in the past due to its structure and hold. With our strike-off samples, I was able to see the actual color outcome of my sketches onto the final fabric, which was quite accurate. With our strike-offs, I was also able to explore the different weights and fabric types available from Mimaki to think forward for other looks for my collection.
Photographer: Keiber Diaz Sosa
What are the benefits of using digital textile printing?
Throughout history we see how print has played an important role in storytelling, filled with so much information and ways of communication that inspires the viewer. The benefit of using digital print [is] promoting a different way of communication, focusing on key factors such as time, efficiency, and worldwide availability. I look forward to combining both traditional artisanal practices with digital printing to execute a collection mixed with both worlds.
Do you plan on using digital print in your future collections?
Storytelling is key for my collections and tend to work with different mediums to achieve a sense of visual communication that promotes both traditional and digital practices. I intend to utilize all available resources provided by Mimaki to achieve a collection that represents me as an artist and storyteller that focuses on key details such as the print and its message.
PHOTO GALLERY
(39 IMAGES)
SPONSORED VIDEO
Printvinyl Scored Print Media
New Printvinyl Scored wide-format print media features an easy-to-remove scored liner for creating decals, product stickers, packaging labels, and more. The precision-scored liner, with a 1.25" spacing on a 60" roll, guarantees a seamless and hassle-free removal process.