MultiCam Apex CNC Routers

Offers durable steel construction for improved routing quality.
MultiCam's Apex Series CNC routers includes the Apex1R and Apex3R with EZ Control operator interface. The Multicam Apex1R servo-driven router with spindle and knife cutting capabilities is designed for smaller shops. A steel frame and gantry with cast gantry supports hinders vibration, and helical racks on each CNC router axis improve precision. A knife system with oscillating and non-oscillating capabilities and linear tool changer with capacity for up to 11 knife and spindle tools comes standard, with optional second knife system available. Engineered for applications such as signmaking, fabrication, and woodworking, the router can finish substrates including plastic, foam, nonferrous metals, composite materials, and wood as thick as 3 in. Additional features include four-zone vacuum work surface, optional MultiVision dynamic digital registration, optional dust collection system, and more. Available in three configurations: 49- x 96-in. model 103, 60- x 120-in. model 204, and 83- x 121-in. model 304.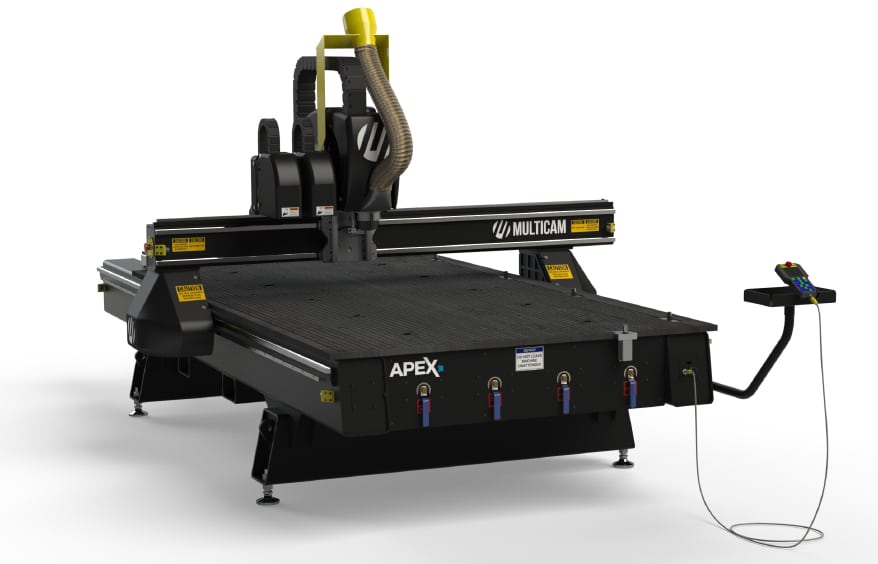 The MultiCam Apex3R CNC router reaches cut speeds as fast as 1950 in./min and features a heavy steel tube frame for durability, reduced vibration, and improved quality. A three-axis motion control system and helical rack-and-pinion design contribute to accuracy and precision. Additional standard features include 25-mm linear ball-bearing profile rails, unlimited file size transfer, brushless digital AC servo drive system, and EZ Suite software. Optional add-ons include vacuum table and pumps, spindle options from 4 HP to 13.3 HP, linear automated tool changer, MultiCam CNC Knife with optional cutting heads, MultiVision Digital Registration System and vision systems for print registration compensation, coolant mist systems for nonferrous metal cutting, dust collection systems with duct work, tangential knife cutters, and more. The routers can finish materials ranging from 4 to 5 in. thick, including plastic, foam, nonferrous metal, composite materials, and wood. Four available configurations include 53- x 100-in. model 103, 63- x 121-in. model 204, 83- x 121-in. model 304, and 104- x 146-in. model 405.
POST CATEGORIES
MANUFACTURER: MultiCam
PRODUCT CATEGORY: Flatbeds + Superwides
Advertisement
SPONSORED VIDEO
Printvinyl Scored Print Media
New Printvinyl Scored wide-format print media features an easy-to-remove scored liner for creating decals, product stickers, packaging labels, and more. The precision-scored liner, with a 1.25" spacing on a 60" roll, guarantees a seamless and hassle-free removal process.