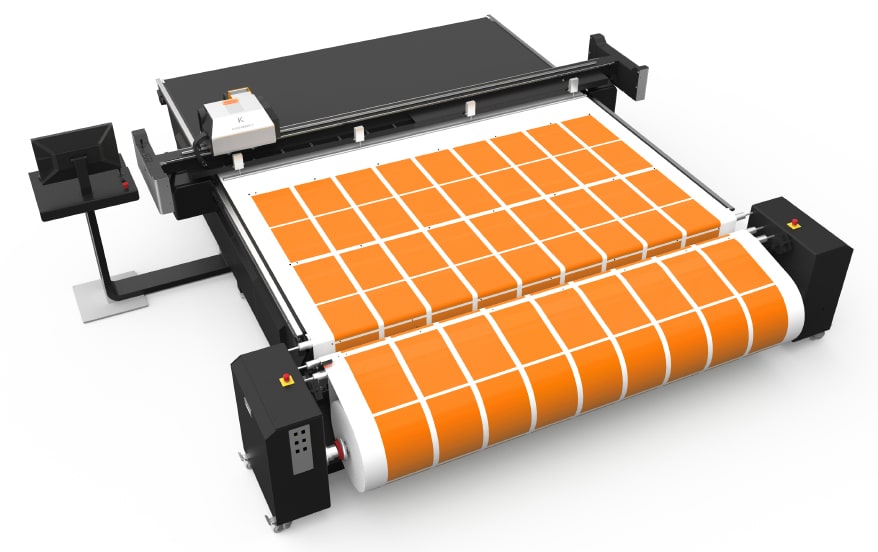 Kongsberg Cutting Tables

Digital finishing equipment for signs, displays, and packaging.
Kongsberg's 126.5- x 126-in. Kongsberg C64 multifunction superwide digital cutting table enables automation for workflow, material handling, and tooling swap processes. With eight vacuum sections and max. speed of 328 ft/min, the digital cutter utilizes an aluminum composite tabletop, rack-and-pinion drive system, and dynamic table mapping for cutting precision and consistency on materials such as paper, textiles, triple-wall corrugated media, fluted board, plastic, aluminum composite, and more. Additional features include feeder and stacker pallet-to-pallet material handling for sheet automation, underside camera with barcode scanning for full registration and correct tooling/production settings, board feeder and motorized roll feeder for soft signage, multi-zone production capabilities, 3kW continuous duty high-performance milling unit, and an assortment of optional tool units. The Kongsberg C series is available in several configurations: 66- x 56-in. C20, 66- x 126-in. C24, 87- x 126-in. C44, 126.5- x 63-in. C60, and 126.5- x 189-in. C66.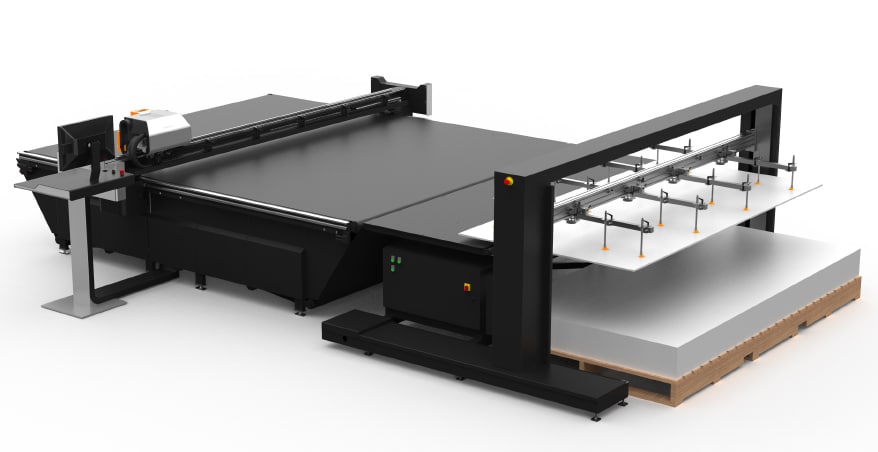 Additionally, the Kongsberg X Series of digital cutting tables offers six configurations: 66- x 50-in. X20, 66- x 86-in. X22, 66- x 126-in. X24, 87- x 126-in. X44, 87- x 189-in. X46, 87- x 258-in. X48, and entry-level, upgradeable X Edge. The flexible finishing tables offer three application kits (short-run packaging, signage and display production, flexo plates, and patches) and can be upgraded with additional units to fit business needs. Available toolheads include the MultiCut-HS/HP for varied materials and applications, FlexiHead for thin and flexible substrates, PowerHead for heavy-duty materials, and Foam Head for foam and thick substrates. Features include print speeds up to 164 ft/min (98 ft/min for X Edge), i-cut Production Console front end, barcode production, the My Job List workflow tool, and multi-zone production capabilities.
POST CATEGORIES
MANUFACTURER: Kongsberg
PRODUCT CATEGORY: Flatbeds + Superwides
Advertisement
SPONSORED VIDEO
Printvinyl Scored Print Media
New Printvinyl Scored wide-format print media features an easy-to-remove scored liner for creating decals, product stickers, packaging labels, and more. The precision-scored liner, with a 1.25" spacing on a 60" roll, guarantees a seamless and hassle-free removal process.