Understanding the Assignment
PSPs are not too cool for school.
PRESCHOOLS, ELEMENTARY SCHOOLS, high schools, colleges, and universities are familiar clients for PSPs across the nation as they have a regular stream of events, sports, competitions, and graduations that need banners, signs, and other spirited graphics. As we saw in this year's Best of Wide Format Awards (bigpicturemag.com/bestofwideformat), some high schools rely on PSPs like Atchley Graphics to create expansive environmental branding experiences for their students. To put it simply, a print shop with exciting offerings can turn a classically "boring" school into a campus straight out of a Disney Channel movie. Check out two in-school installations below.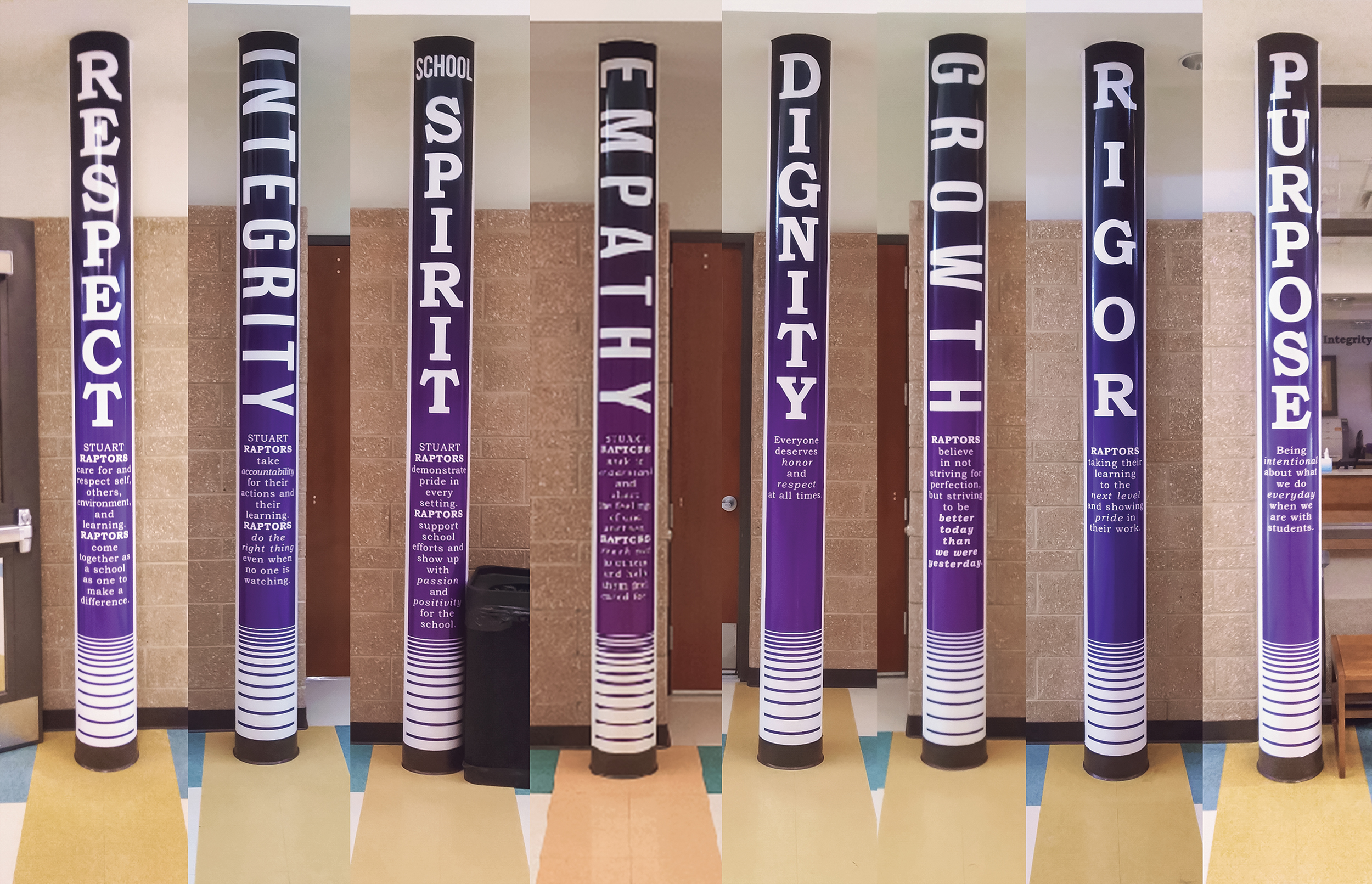 Signarama Brighton

Brighton, Colorado
Stuart Middle School reached out to Signarama Brighton to install inspirational graphics on the pillars in their hallways. They wanted a way to help the kids learn how to be good members of the community on their walks to class while sticking to the school's branded fonts and colors. Signarama Brighton printed these pillar wraps using an Epson Surecolor S80600 roll-to-roll printer onto Avery Dennison MPI 2923 easy apply matte calendared vinyl film with an Avery Dennison DOL 1370 cast luster laminate finish. However, the client didn't want to wrap the entire pillars because their backsides are about four inches from the wall and are rarely seen. "So, we did a 12-inch-wide section that went from floor to ceiling across nine pillars, creating a total of 85.2-square-feet of vinyl. We worked closely with a vendor (Prographics Installers) to get the graphics up," says Dawn Homa, owner, Signarama Brighton. "The client was beyond thrilled with how it transformed the hallway into a warmer, more welcoming space."
Tip: Bring in a vendor to help you with a job you're unfamiliar with. It's better to ensure you get it right the first time, than have to fix it later.
Caboces Print Shop

Olean, New York
Whether it's a school looking to make their hallways pop, a backdrop for virtual presentations, or even a digitally printed plexiglass scoreboard light, Caboces Print Shop has it covered in western New York. The PSP prides itself on servicing the nearby local education establishments with high-quality, customized service, and it's why they do well in the school market. For the illuminated scoreboard install, for example, the school came to Caboces with plexiglass and asked them to make some magic happen. "The client was one of our districts that had an old piece of plexiglass that was scratched up with a piece of printed paper taped to it for their scoreboard," says Arin Cornell, administrative technology coordinator, Caboces Print Shop. "We were able to print directly on the back of a piece of polycarbonate using our HP Latex R2000 printer and slide it into the frame they provided so it wouldn't get scratched and still have the light shine through."
It's that type of dedication that keeps their clients coming back for more. The red backdrop was custom designed for one school's video presentations and ceremonies; it was printed using the same HP Latex printer onto an UltraFlex ProFlex FL 13-ounce matte front-lit banner. The Bulldog hallway graphics were installed using the shop's aforementioned HP onto 1/8-inch clear polycarbonate sheets with an Arlon DPF 510 GT 3.2-mil gloss white vinyl finish.
Tip: Make a brochure with your offerings to show schools how you can spruce up their break rooms. Once you're in the door, you could soon be revamping the football stadium.
PHOTO GALLERY
(7 IMAGES)
Advertisement
SPONSORED VIDEO
Interior Décor and Textile Printing: What Equipment Do You Need?
The First Installment of the new Interior Décor and Textiles Webinar Series, Bridging the Gap Between Commercial Peel-and-Stick Wall Graphics & Professional Home Décor, focuses on the technology used for these applications. Our expert panel of speakers cover topics such as what equipment to purchase, what to look for when purchasing, and the various applications you can offer with the equipment you currently have. Watch the first episode, sponsored by TVF, above.