THE SEEMINGLY EVER-CHANGING
EMPLOYMENT LANDSCAPE REQUIRES
FLEXIBILITY AND INTENTIONALITY.

ove over Millennials. Gen Z is the newest age group to begin entering the workforce. Last I checked, "Z" was the final letter in the alphabet. Given we are out of letters, what does this mean for the next generation's name? Turns out, it's Generation Alpha. I guess we're going with Greek letters moving forward, which could mean the naming of generations and COVID variants could be on an awkward crash course.
If you're like me, it's hard – if not impossible – to hire people today. The combination of the labor shortage and economic growth means you will take Boomers, Gen X, Millennials, or Gen Z – anyone, anyone who is willing to work and contribute. Many experts, much smarter than I, are predicting this labor shortage will be around for years to come. So, what can we do to hire and retain the next generation as well as help fill some of the labor gaps we're experiencing? Let's go ahead and define the "Next Generation" as Millennials and Gen Z. As a 43-year-old, I'm selfishly lumping anyone younger than me into this Next Generation category.
There isn't one definitive authority on generational definitions, but Wikipedia is always an easy, semi-accurate go-to. Here's how it breaks down generations:
Baby Boomers: 1946-1964
Generation X: 1965-1980
Millennials: 1981-1996
Generation Z: 1997-2012
Generation Alpha: 2012 – now
The oldest individual in Generation Alpha is only 9 years old, so let's hold off on hiring that group for now. Instead, we'll discuss Millennials and Generation Z – the Next Generation of employees.
believe generations have more similarities than differences and are more alike than we think. Take the Next Generation for example. Most of these individuals want the following from their employer:
To be given interesting work to do
To be empowered to make decisions
To be rewarded on the basis of their performance
To be given the chance to develop, grow, and advance
To have their opinions and feedback heard
To know how they're doing
To be paid fairly and offered meaningful benefits
To find purpose and meaning in their work
Is this list really that different from Baby Boomers or Gen Xers? Who would not want interesting work, to be empowered, to be rewarded, to be paid fairly, or to have the opportunity to advance and be heard? When it comes to management and engaging employees, best practices apply consistently to all generations.
How is the Next Generation different?
While the Next Generation shares many similarities to other generations, there are a couple of differences that are important to note. If we can understand them and address them, it can have a significant impact on our ability to recruit and retain the Next Generation.
The Next Generation is not afraid to change jobs.

Treat them poorly or disrespect them, and they will be on Indeed, Handshake, LinkedIn, or any other job posting site, sharing their resume within the hour. Over the past year, one in five employees changed jobs. That number jumps to one in four for Millennials and one in three for Gen Zers. Impatience coupled with lots of job opportunities is leading to what some experts have termed "The Great Resignation" – the world in which we are currently living.

The Next Generation wants work with a purpose.

We all want purpose in what we do, but the Next Generation is far less likely to work for only a paycheck. They want a company and their role within the company to mean something and to stand for the greater good. They are passionate about social issues, climate change, civic engagement, and giving back. Companies that embrace and promote this are far more likely to retain the Next Generation.

The Next Generation values different benefits and perks.

Boomers placed a high value on lifestyle perks such as health insurance, paid vacation, and retirement plans. The Next Generation value perks that offer them greater flexibility and benefits related to children and education like student loan repayment, childcare reimbursement, and paid training/continuing education classes. The Next Generation is also far more likely to leave a company for a perk than any Boomers or Gen Xers.

The Next Generation wants flexibility in when and where they work.

According to a recent Gallup survey, 50 percent of the Next Generation say they would switch to a job that allows them to work part-time and 37 percent would switch to a job that allows them to work off-site part of the time. As printers, this is tough to manage because our employees are often required to physically be at the office to run our equipment. So, I'd consider unique options: Four to 10-hour days, job shares, or more flexibility with benefits like purchasing a week of PTO.
Advertisement
How do we get the Next Generation excited about and engaged in the print industry?
Let's face it, print isn't exactly the sexiest industry on the planet. We're not developing flying cars, the latest tech gadget, or the next renewable energy source. We're putting ink down onto a variety of materials and often working on the same types of projects every single day. Don't get me wrong, I love and take a ton a pride in what we do – printers create some amazing things – but we have some work convincing any age group the print industry can make for an exciting career.

ou might be thinking "OK, Brian. I get it. The Next Generation is important. But what do we do about it?" Here are a collection of tips to help you engage:
Dumb Rules – Ask your employees if your rules are unnecessary.

A great question to ask your team members is if you have any dumb rules. No one wants dumb rules to control their actions or behaviors. One of the best ways to disengage the Next Generation is to use the phrases "That's the way we do it around here," "That's how it's always been done," or "In my day, nobody let me get away with that." Make sure those phrases are removed from your team's vocabulary.

Practice Meritocracy – Reward performance over seniority.

The Next Generation can be impatient and are not scared to switch jobs. Make sure you're rewarding employees based on performance. At Olympus, we believe we are a team, not a family. We reward top performers and replace mediocre performers. We treat people fairly, not equally. I believe this resonates with the Next Generation who, at times, can be a tad bit impatient but understand and place value in results. You can recognize tenure – if someone has been with you for 20-plus years, that's a big deal – but you should promote and reward performance. The better employee should get the promotion and the bigger raise regardless of tenure.
Don't Skimp on the Praise.

Growing up in a society of instant gratification, the Next Generation is used to receiving feedback instantly. If someone is doing a good job, tell them exactly that and make sure to do it right now. A little positive reinforcement can go a long way. Even in today's hyper-competitive job market where wages are going up, the number one reason an employee quits is not pay but lack of recognition from their manager.

Benefits – Understand what your employees value.

Ask your team members what benefits they value, ask them if there were any benefits they wish you offered. The Next Generation is not scared to leave for a company that offers better perks. Focus on PTO, flexibility, and freedom over 401ks and fancy titles. Better yet, have a conversation with your team.

Deliver Regular Feedback.

The traditional annual performance review is dead. The Next Generation wants constant feedback on if they're meeting expectations. (It's also particularly important to ensure you have clearly set expectations in the first place). Set up regular check-in meetings (or weekly 1:1s) and be honest. If they're not performing well, tell them. If they're crushing it, tell them.

Treat them as Individuals (and do not call them Millennials or Gen Zers).

The Next Generation values their individuality and don't like to be stereotyped into a large group. Mass personalization is taking off due to the Next Generation's desire to be an individual and be treated differently. Attempt to offer "mass personalization" where you work such as flexible start times, choose your own benefit packages, etc.

Offer Unique Training Opportunities.

The Next Generation has an ardent desire for personal growth and development. Try offering untraditional training opportunities including mentorships, job shadowing, or (this was new to me) peer coaching. Few efforts are more valued by Gen Z than peer coaching programs. It's more effective for a peer to encourage another peer, like they have through years of schooling, than for a supervisor to micromanage.
I am by no means an expert on generations. I do, however, believe if you put a couple of these tips to practice, the Next Generation where you work will be a more engaged group.
One of the best things about the Next Generation is they like to talk about and share their experiences online. They share their job experiences on Glassdoor and talk about their employers on social media. If you can get a little momentum engaging the Next Generation at your company, it could open the floodgates for other motivated individuals to want to join your team. Who wouldn't want to create a desirable place to work?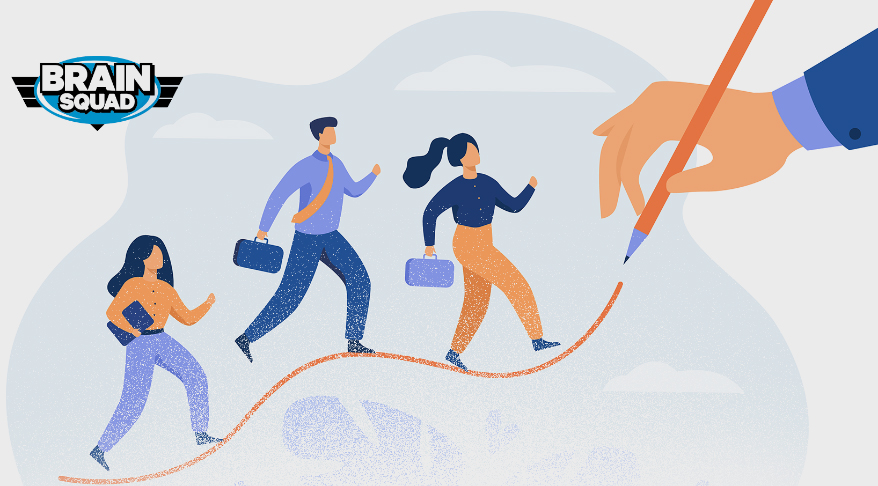 Company Culture
Creating a desired workplace culture is a major part of the hiring and retaining process. It's based on a strongly held and widely shared set of beliefs that are supported by strategy and structure. "Define your culture (be real), articulate your culture (clearly), live your culture (daily), show your employees you care," says Adam. We asked our Brain Squad: "What are your tips for building a better company culture?" Here's what they have to say:
Creating team leadership that is accountable for better company culture. We meet twice a month and discuss how to move the needle forward and to make the company a friendly, open place for all to achieve greatness. —

Christine Walsh, Alpha Graphics, Baltimore, Maryland

Communicate the values clearly to everyone and live them out boldly with passion. —

Drew Veach, CorpColor, Wyoming, Michigan

Nothing beats regular 1-on-1 meetings with staffers for creating and maintaining a culture of accountability and employee appreciation. Making the time for it as teams grow is incredibly difficult, but the ROI makes it worth it. —

Wade Neff, Strategic Factory, Owings Mills, Maryland

Company culture has to start at the top and be lived out each day. — Tim Roe, Outspoken Signs, Marietta, Georgia

We are a flat management model. Staff (team) of six, meeting regularly, and inviting all team members to input in most brainstorming and design charettes. The team is encouraged to be ambassadors for Fresh Artists with both corporate art clients and all art teacher constituents. First thing all applicants are given is our Vision and Values Statement so they understand from the start that this is a mission-driven nonprofit social business. So far, so great. The team understands why they are here and that their actions and energy matters to the children we serve. —

Barbara Chandler Allen, Fresh Artists, Philadelphia, Pennsylvania

Find people who love to both learn and share. We avoid a lot of errors by having design and production teams that are cross trained and have experience in both departments. —

Rob Matthews, M3, Greensboro, North Carolina

We review our company values with all new hires and do the same during quarterly performance reviews. Consistent reminders get tiring for management but are necessary. —

Jim White, Go Graphix, East Longmeadow, Massachusetts

It's mostly about treating customers right and treating employees like internal customers. There needs to be consistency throughout the organization. —

Peter Brunner, Full Sail Graphics & Marketing, Huntington Beach, California

I emphasize on having a clean and safe environment. Both physically and emotionally. —

Diana Herrerra, Associated Photo & Imaging, Hialeah, Florida

Create a team atmosphere. Everyone has a say, everyone has an opinion. —

Kelly Mank, Time4Printing, Windham, Maine

Shared goals, providing the right tools to get the job done, fostering open communication and teamwork. —

Gina Kazmerski, Image360 Woodbury, Woodbury, Minnesota

Work hard, have fun, leave the world a more beautiful place. —

Jon Sherman, Flavor Paper, Brooklyn, New York

All employees have demonstrated above and beyond commitment to our Mission Statement; this is our culture. We are a visual marketing communications company passionate about producing large-format representations of our clients' brands. Our clients seek, and we provide them, a professional business relationship based on trust, competitive pricing, attention to detail, and personal service. We are the best in what we do. Seeing clients be more successful with products we produce provides us a great sense of pride in our workmanship. —

David Kaiser, Digitype Design, Tualatin, Oregon

The best solution provider for all things accessibility and wayfinding related with signage while working on continuous improvements in how we manufacture. Reduce waste and moving toward more sustainable substrates and media that still fulfills the requirements of long-term and short-term needs of the client. We pride ourselves in being a local business, employing a diverse team who all have a vested interest in our community and supporting our local small business colleagues. —

Linda Fong, Fastsigns Oakland; Fastsigns Hayward, Oakland, California

Cultivate the right people who will take care of your business, and don't allow the wrong mindsets to enter your team (hire ever so carefully.) —

Malcolm Gieske, IDWraps.com / Identity Group, Slatington, Pennsylvania

"This is a big topic that we could probably talk about for hours," says Gary Schellerer. Head to bigpicturemag.com/culture to see how ER2 Image Group builds company culture. — Gary Schellerer, ER2 Image Group
Advertisement
SPONSORED VIDEO
Printvinyl Scored Print Media
New Printvinyl Scored wide-format print media features an easy-to-remove scored liner for creating decals, product stickers, packaging labels, and more. The precision-scored liner, with a 1.25" spacing on a 60" roll, guarantees a seamless and hassle-free removal process.