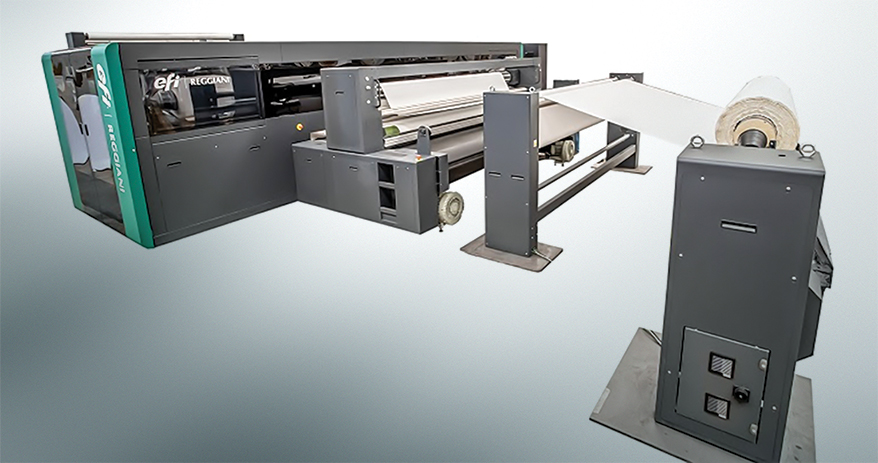 EFI Reggiani Hyper Textile Printer
Engineered to reach print speeds up to 42.7 linear ft/min in two-pass production mode.
EFI has revealed the Reggiani Hyper Scanning Textile Printer, available in widths of 70.9 in., 94.5 in., and 118.1 in. The press is engineered to reach print speeds up to 42.7 linear ft/min in two-pass production mode and is compatible with knitted and woven fabrics including cotton, polyester, polyamide, silk, viscose, blends, wool, and more. Applications include apparel, home textiles, sportswear and footwear, and more. Seventy-two recirculating printheads offer 600-dpi res. and full variable drop size while an auto-calibrating continuous ink recirculation system reduces maintenance, according to the company.
Additional features include:
A double bridge for added stability and accuracy
Integrated environmental sensor for humidity and temperature monitoring
A variety of printing modes capable of imaging solid colors, geometric patterns, fine lines, deep blacks, smooth gradients, and more
Kevlar conveyor belt with embedded magnetic device for adhesive application and longitudinal belt movement control
Ability for integration with Industry 4.0 projects
Fabric and take-up options including an oscillating brace for folding, a small roll winder up to 15.8 in., or a big roll winder up to 63 in.
Industrial dryer with symmetrical ventilation and high-efficiency exhaust capacity
Software with real-time image processing and no image pre-calculation time prior to printing for last-minute design changes.
POST CATEGORIES
MANUFACTURER: EFI
PRODUCT CATEGORY: Wide-Format Printers
APPLICATION CATEGORY:Digital Textile Printing
Advertisement