Decoding the Pay Scale
Understanding average earnings in the wide-format print industry.
DEMAND FOR ATTENTION-GRABBING wide-format applications such as billboards, vehicle wraps, event signage, and exhibition displays continues to surge. Despite substantial growth, the crucial subject of wages within this sector is often overlooked. Given their significant influence on recruitment, talent retention, and overall industry sustainability, average wage rates and trends are essential to understand for employers and employees alike. Hosted by Big Picture magazine/ and Keypoint Intelligence, the 2023 Wide-Format Digital Print Industry Salary Survey provides a comprehensive overview of the current wage landscape and potential areas for growth and improvement.
With 106 study participants, this is a relatively small-scale investigation. Nonetheless, the survey yielded an extensive amount of valuable data. Here, we have categorized the results into the following key areas: demographics, ownership and executive roles, sales roles, design/production roles, and benefits and culture.
DEMOGRAPHICS
Respondents represent a diverse cross-section of wide-format PSPs. Forty percent describe their businesses as commercial printers, followed by 26 percent sign shops and 24 percent wide-format specialists. Rounding out the company profiles were graphic design firms at 4 percent and 7 percent other unique businesses (e.g., fine art printer, school district inplant, photo lab).
Based on reported revenue, most PSPs fell into the small to medium-sized category with an average annual revenue of $2.9 million. The same scale proved true in terms of the number of workers, with an average range of three to six employees, with an additional 22 percent claiming to have 10 to 20 employees.
OWNERSHIP AND
EXECUTIVE ROLES

In this segment, we delve into the compensation structures for individuals in ownership and executive positions within the wide-format print industry. By examining average pay rates and benefits for these roles, we aim to shed light on the rewards associated with leadership positions.
Based on survey responses, the compensation structure for CEOs, presidents, owners, and all executive "C-suite" roles are full-time, salaried positions that earn a minimum of $100k.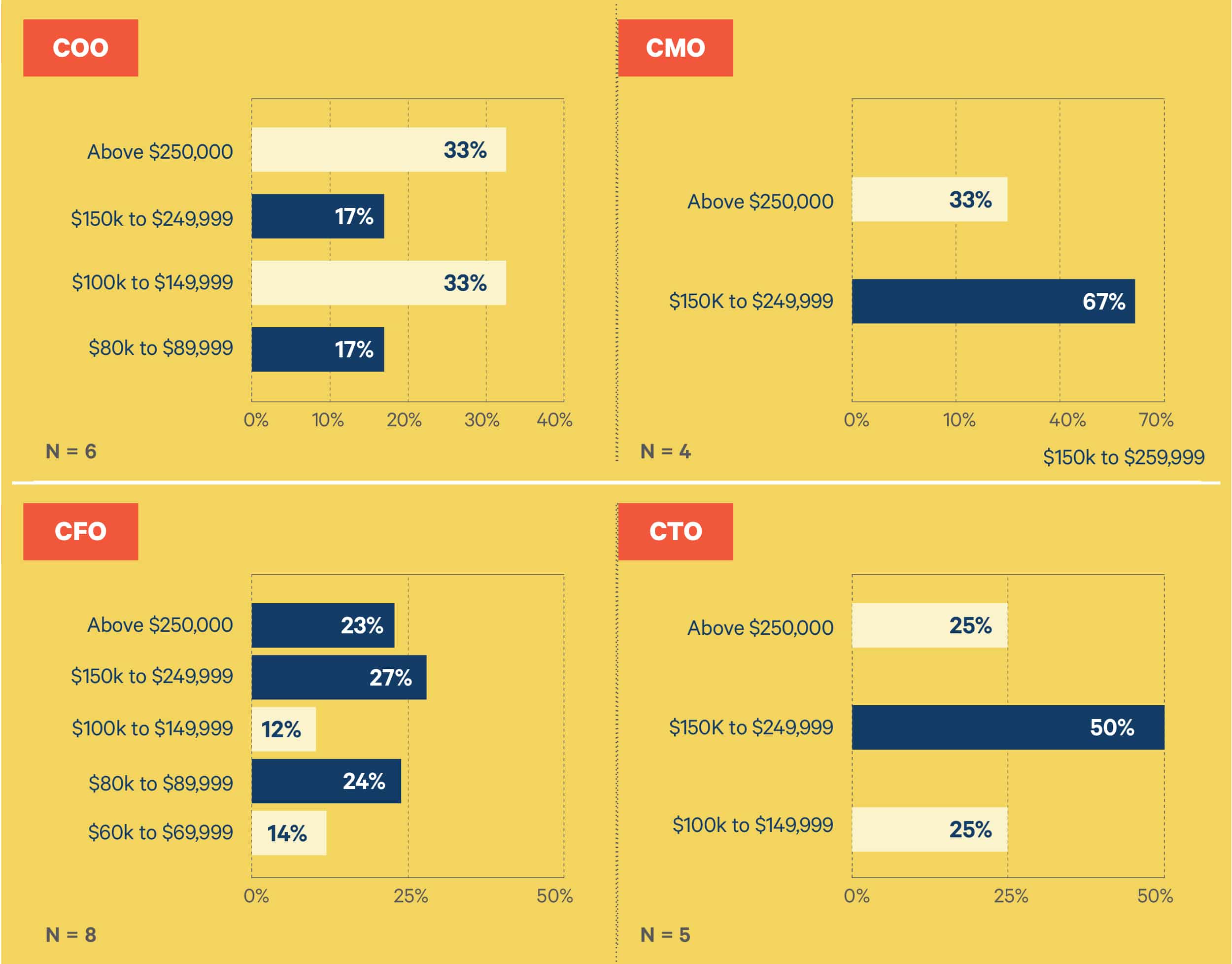 Most annual earnings for CEOs fell into the above $250k range (27 percent), followed by $100k to $150k (20 percent). For those titled president, the top earnings range was $150k to $250k (44 percent) followed by $100k to $150k (22 percent). For those that identified as an owner, 20 percent claimed earnings in the $150k to $250k range followed by 14 percent at $100k to $150k.
For additional C-suite roles, the rates vary. The average chief operations officer (COO) can earn above $250k (33 percent) or between $100k-$150k (also 33 percent). Sixty seven percent of chief marketing officers (CMOs) earn between $150k to $250k. While chief financial officers' (CFO) salaries range widely with 24 percent in the $70k to $80k range, 27 percent at $150k to $250k, and an additional 23 percent above $250k, 50 percent of chief technology officers (CTO) sat strongly in the $150k to $250k annual range.
MANAGEMENT AND
ADMINISTRATIVE ROLES
100% The percentage of full-time hourly employees who make $20 to $24.99 per hour.
Management and administrative roles, including general managers (GMs), human resource (HR) managers, office managers, and accounting/bookkeeping positions, are vital to ensuring the smooth operation and strategic direction of any wide-format print business. Unlike C-suite roles, managerial compensation varies between salary and hourly and is offered as both full and part-time positions.
SALES ROLES
Sales professionals play a critical role in driving wide-format business growth and revenue.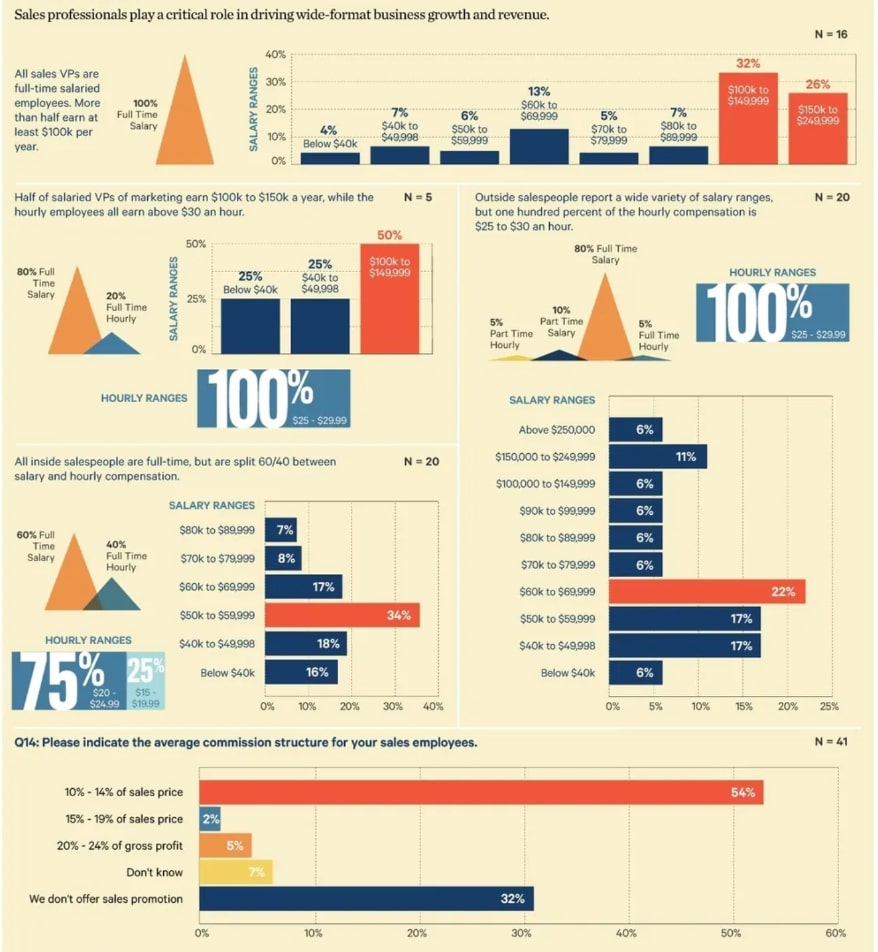 The commission structure is often an integral part of a sales program. It is a motivator for outside salespeople to continue to seek out high-revenue-producing projects.
DESIGN AND PRODUCTION ROLES
Responsible for translating concepts into tangible visual creations, design and production teams are the backbone of the wide-format print industry.

BENEFITS AND CULTURE
Beyond salaries, benefits packages and workplace culture are significant contributors to overall job satisfaction. Perks such as healthcare benefits, retirement plans, and flexible work arrangements can add value to a compensation package.
Sixty percent of PSPs offer insurance benefits to full-time employees, but few cover part-time work.
Nearly half offer 401k plans for full-time employees.
PSPs are almost evenly split on the question of flexible scheduling, with nearly 60 percent offering this perk to some or all employees.
Amid significant growth and rising demand, wages in the wide-format sector should not be overlooked. Our study aims to bridge this gap. By shedding light on average pay rates and compensation trends, we hope to bring attention to this crucial aspect of the wide-format print industry, guide decision-making processes, and promote industry sustainability.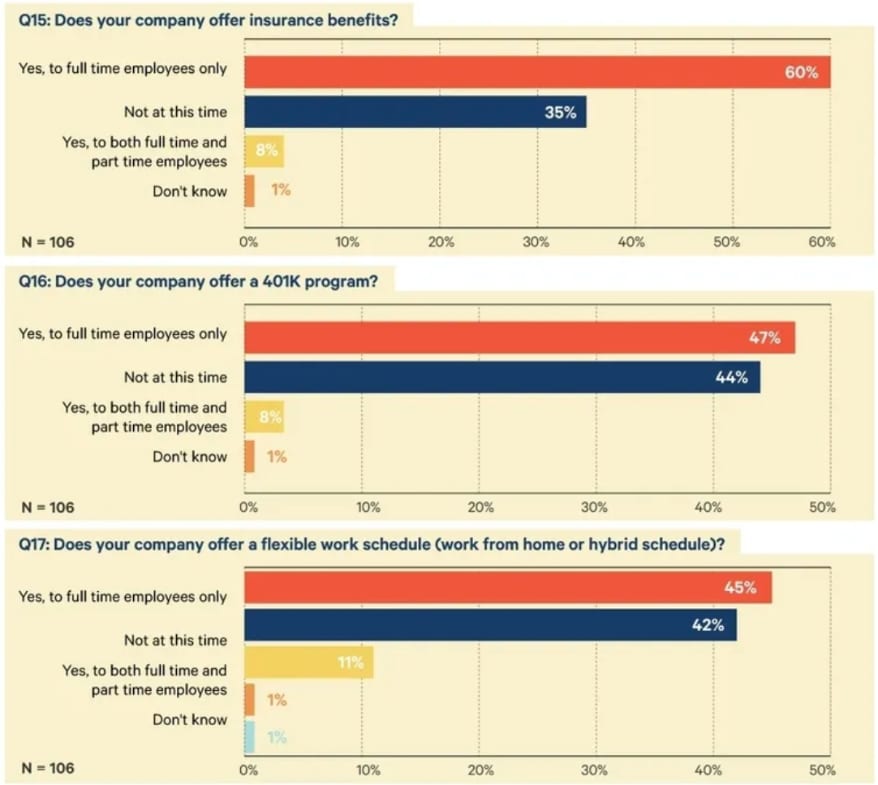 SPONSORED VIDEO
Printvinyl Scored Print Media
New Printvinyl Scored wide-format print media features an easy-to-remove scored liner for creating decals, product stickers, packaging labels, and more. The precision-scored liner, with a 1.25" spacing on a 60" roll, guarantees a seamless and hassle-free removal process.