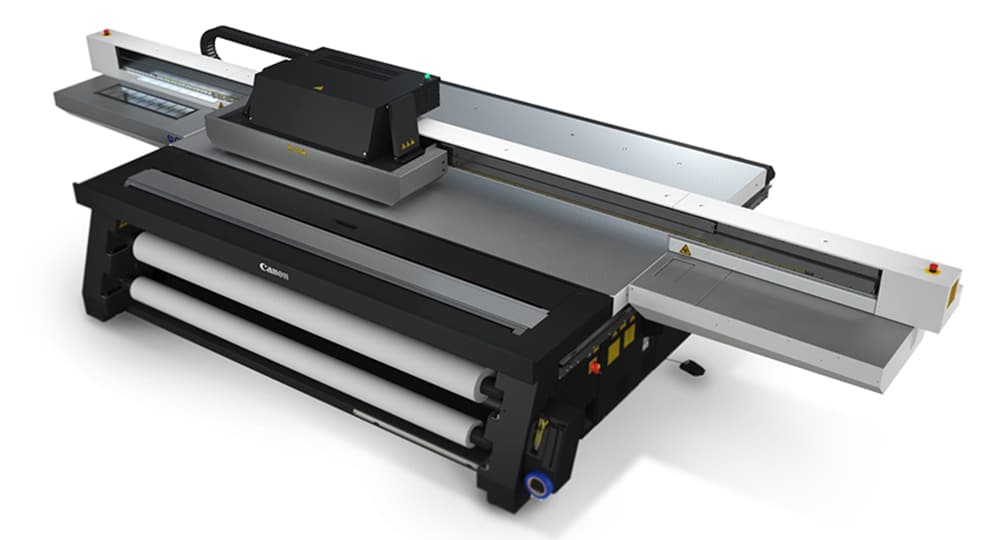 Canon UV-LED Flatbed Printers Arizona 2300 Series
Available in four-, six-, or eight-ink channel configurations.
Canon has released the Arizona 2300 Series of flatbed printers, including three 49 x 98-in. 2300 Series GTF configurations reaching speeds of 958 sq ft/hr and three 121 x 98-in. 2300 Series XTF configurations with speeds up to 1023 sq ft/hr.
The series is designed with Flow technology, a vacuum technique supporting zoneless, multi-origin table layout with easy-to-use, three-sided pneumatic registration pins for added productivity, edge-to-edge and double-sided printing, and ability to print on odd-shaped, heavy, smooth, or precut media up to 2 in. thick including canvas, wood, and glass, the company reports.
Available in four-, six-, or eight-ink channel configurations with support for CMYKcm + white + varnish UL Greenguard Gold-certified IJC357 UV-curable inks. Applications include P-O-P displays, interior décor, fine art, and more.
POST CATEGORIES
MANUFACTURER: Canon USA
PRODUCT CATEGORY: Flatbeds + Superwides
APPLICATION CATEGORY: Retail and Point-of-Purchase; Interior Décor; Art + Photography
Advertisement
SPONSORED VIDEO
Printvinyl Scored Print Media
New Printvinyl Scored wide-format print media features an easy-to-remove scored liner for creating decals, product stickers, packaging labels, and more. The precision-scored liner, with a 1.25" spacing on a 60" roll, guarantees a seamless and hassle-free removal process.