Instagrammable
One niche PSP works to connect consumers with the artists creating their home décor.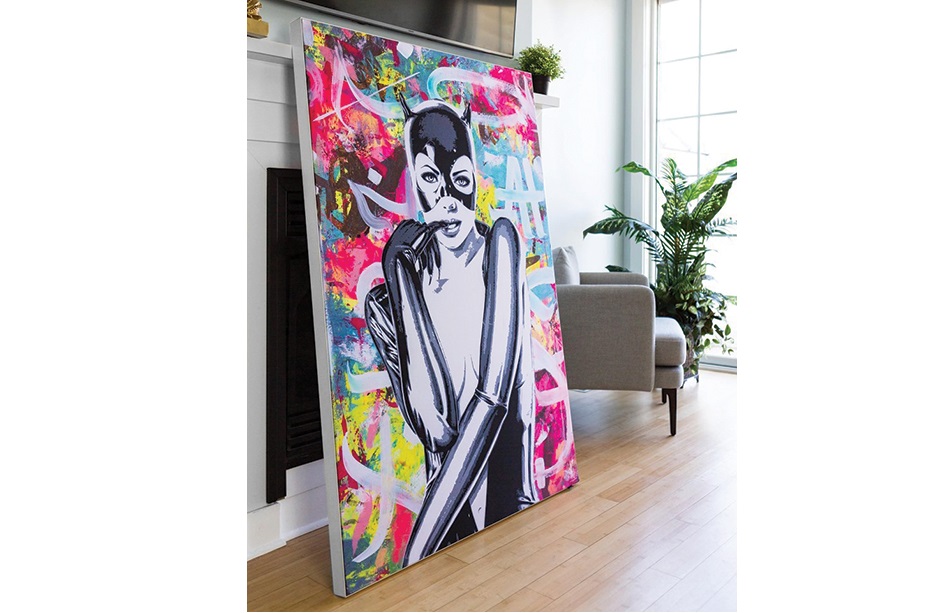 Instagram has changed the way people, brands, and artists use social media. The visual platform is the perfect tool for the booming interior décor industry, where both big names and unknown artists require just a few taps to share their work with potentially millions of users and prospective clients.
Spring Lake, Michigan-based 40 Visuals, a PSP specializing in signage ranging from digitally printed fabric to window graphics for "modern brands and retailers," according to its website, noted growing demand for fabric graphics from commercial clients and saw the potential to expand this offering to Instagrammable wall décor applications for consumers, retailers, and other commercial spaces. After several months of planning and artist acquisitions, the shop launched Big Wall Décor, an offshoot specializing in large-format SEG home décor from Instagram artists, in May 2019. Using 40 Visuals' facilities and equipment, Big Wall Décor has its own dedicated team imaging massive dye sub fabric wall prints on the shop's PrinterEvolution Eos 100 DS. In the handful of months since its inception, the business's Instagram account has already accrued more than 50,000 followers seeking home décor #inspo.
"We saw the potential advantages to using SEG for wall décor," says Nick Ford, Big Wall Décor CEO. "Its durability and ease of installation makes it an ideal form of wall art that can be transported and stored easily, while also making massive sizes affordable." The company's website boasts its SEG prints as a durable and affordable alternative to large canvas and framed posters that can easily scratch, tear, or fade.
SEG can also be a game-changer for consumers who just aren't sure what print will be the perfect element to pull their space together. "Knowing that Big artwork can be changed from the frame at any time relieves the long-term commitment that most fear with buying big wall art," says Ford. "We encourage our customers to 'try on' wall art/artists for a while and switch up the artwork when they need a change." And with an easy-to-navigate online ordering system with options to purchase prints, frames, and/or lightboxes, it's a simple process for users to customize their space.
Big Wall Décor's collection features art from more than 35 artists from around the globe specializing in digital illustration, photography, and painting – all who use social media to connect with worldwide audiences; in fact, Big Wall Décor discovered most of their partner artists on Instagram, who were hand-selected for their ability to enhance their art through technology. "We stand against small, generic wall art," explains Ford. "Without artists, there would be no art, and when you remove the artist from the equation, you are left with a generic image that has no real purpose or meaning. We believe that the artist deserves recognition for their creation, and that viewers can create a deeper connection with the artwork when they know who made it. We want our customers to truly love their artwork by knowing about the artist and being able to engage with them and follow them on social media; in today's age, there's no reason to not have a way to follow your favorite artists."
Though Instagram has its own issues with plagiarism, intellectual property theft, and copycatting, Big Wall Décor places emphasis on giving credit where credit is due. "For every sale made, the artist gets a share. By purchasing wall art from Big Wall Décor, you are rewarding the creative effort that made it," Ford says. "There is a digital signature from the artist on the bottom of each print as a badge to highlight the connection between artist and audience. We encourage our artists and customers to connect on a deeper level."
Advertisement
Between its emphasis on social media connections, unique offerings that directly support artists, and online ordering system, Big Wall Décor could be described as an Instagram user's dream, allowing consumers to carefully curate their home décor with meaningful imagery in the same way they do for their own social media feed.
---
Read more from Big Picture's November/December 2019 Interior Décor issue.