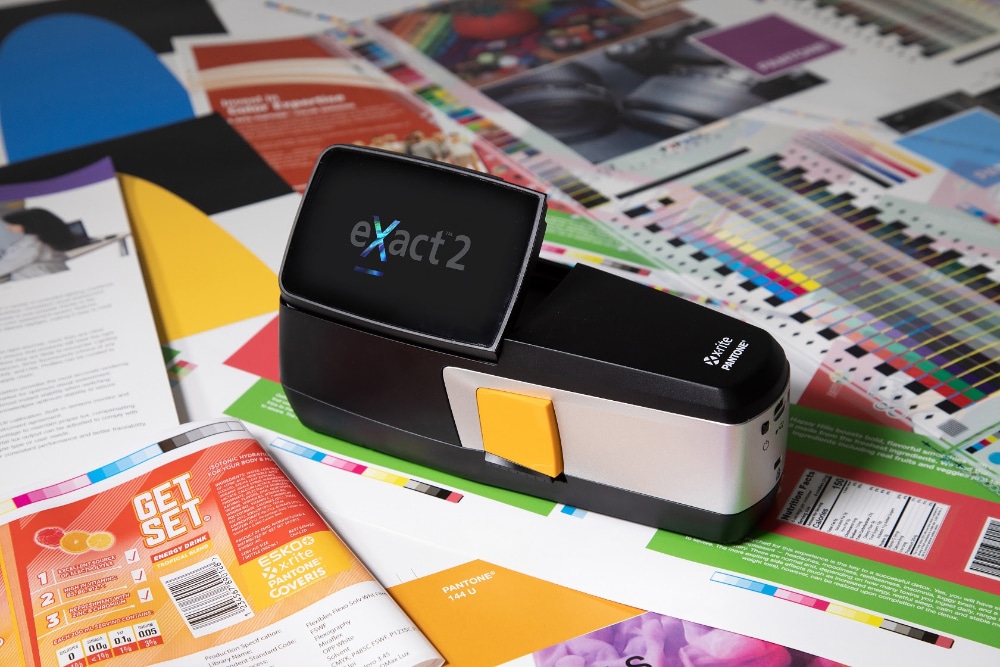 X-Rite Exact 2 Spectrophotometer

Utilizes a high-resolution camera and imaging technology.
X-Rite's eXact 2 non-contact handheld spectrophotometer is engineered to streamline ink, print, and packaging workflows. Featuring Mantis video targeting technology, eXact 2 leverages a high-res camera and touch screen with larger display and adjustable tilt with ability to zoom with Digital Loupe functionality and save color patches for inspection on the device screen. Additional features include a "two taps or less" menu structure for simplified operation and ability to measure wet ink plus non-contact measurements.
The color measurement device connects to software tools including InkFormulation Software, ColorCert Suite for print quality control, PantoneLive digital color libraries, NetProfiler for device optimization, and new X-Rite Link fleet management platform for real-time insight into device performance. Available in three models: eXact 2 for paper, corrugated, and carton board substrates; eXact 2 Xp for film, plastic, foil with white opaque, and other unique substrates; and eXact 2 Plus for advanced paper and flexible film control, plus features for measuring metamerism, opacity, and absolute and relative color strength.
POST CATEGORIES
MANUFACTURER: X-Rite
PRODUCT CATEGORY: Workflow + Software
Advertisement
SPONSORED VIDEO
Printvinyl Scored Print Media
New Printvinyl Scored wide-format print media features an easy-to-remove scored liner for creating decals, product stickers, packaging labels, and more. The precision-scored liner, with a 1.25" spacing on a 60" roll, guarantees a seamless and hassle-free removal process.