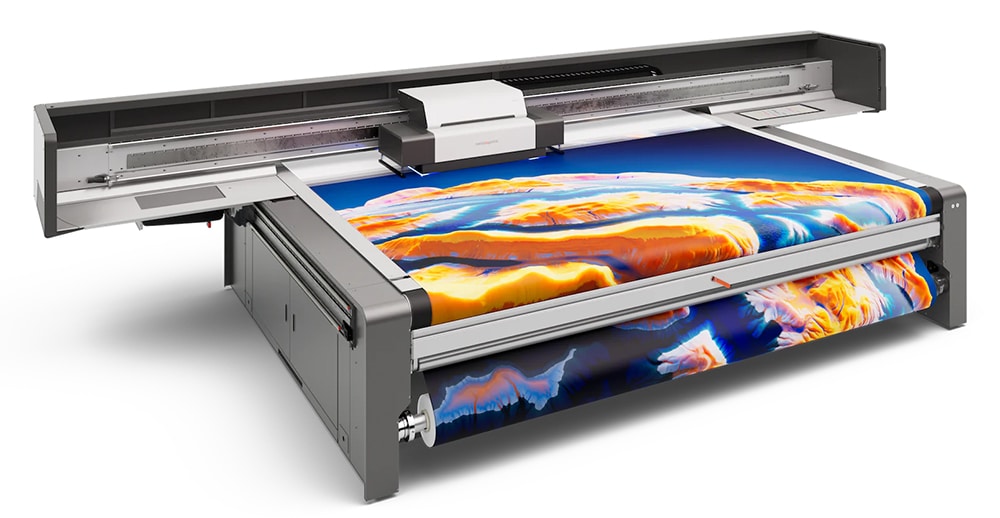 SwissQprint Kudu UV LED Flatbed
The glass option and inks are retrofittable to swissQprint LED printers the company reports.
SwissQprint has revealed the 126 x 79-in. Kudu UV LED flatbed press featuring up to 1350 dpi resolution, print speeds reaching 3229 sq ft/hr, and up to 10 ink channels (CMYK with optional light cyan, light magenta, light black, white, varnish, orange, neon, or primer). The press features Tip Switch vacuum with 260 controllable zones, Lory operator software, and optional roll-to-roll extension with single or dual roll option. Compatible substrates include acrylic, aluminum, composite panels, wood, banners, polyester, polycarbonate, polystyrene, PVC, flexible foam panels, glass, metal, textiles, films, and paperboard.
The company has announced a new direct-to-glass printing extension for flatbed printers, as well. The glass printing option features a pivoting alignment edge with adjustable stops for positioning glass panels on the print bed, air-permeable protective paper for retaining ink printed in the bleed margin, and glass printing ink set with process and light colors, white, and effect varnish. The company reports the glass option and inks are retrofittable to swissQprint LED printers.
POST CATEGORIES
MANUFACTURER: SwissQprint
PRODUCT CATEGORY: Flatbeds + Superwides
Advertisement
SPONSORED VIDEO
Interior Décor and Textile Printing: What Equipment Do You Need?
The First Installment of the new Interior Décor and Textiles Webinar Series, Bridging the Gap Between Commercial Peel-and-Stick Wall Graphics & Professional Home Décor, focuses on the technology used for these applications. Our expert panel of speakers cover topics such as what equipment to purchase, what to look for when purchasing, and the various applications you can offer with the equipment you currently have. Watch the first episode, sponsored by TVF, above.