Odyssey Expo 2023 Coming in May to Milwaukee
The event will bring together leaders in diecutting, diemaking, printing, package design and more.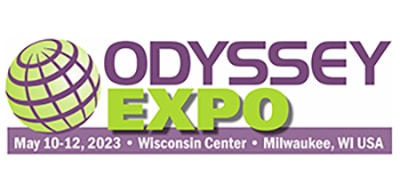 The International Association of Diecutting and Diemaking (IADD) Crystal Lake, IL has announced that Odyssey Expo 2023 will be held May 10-12, 2023, at the Wisconsin Center in Milwaukee. According to a release from the association, industry leaders in the diecutting, diemaking, printing and package design, foiling, embossing, folding carton, corrugated and specialty markets will be featured at the expo.
Exhibitors such as Associated Pacific Machine Corp., AmeriKen Die Supply, Bobst North America Inc., Carton Craft Supply Inc., SDS Automation, Serviform, B&R Moll, ELCEDE GmbH, Essential Products and Marbach America Inc. join many others.
"Attendees will find such great value on the Odyssey Expo exhibit floor," Gino Gualtieri of Central Die Supplies Inc. and immediate past IADD president is quoted in the release. "Attendees benefit from the new technology exhibited and the knowledge base these suppliers share, and then the attendees take that knowledge back to their facilities and strengthen their own businesses. Education is always a priority at Odyssey, with a continued focus on what's new in the industry, informative programs and hands-on teaching."
For more information, visit odysseyexpo.org.
Advertisement
SPONSORED VIDEO
Printvinyl Scored Print Media
New Printvinyl Scored wide-format print media features an easy-to-remove scored liner for creating decals, product stickers, packaging labels, and more. The precision-scored liner, with a 1.25" spacing on a 60" roll, guarantees a seamless and hassle-free removal process.