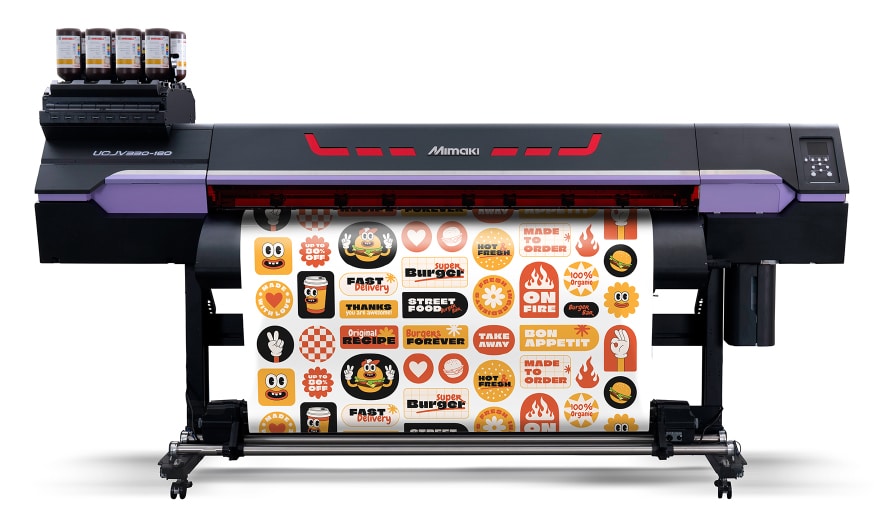 Mimaki UV-LED Roll-Based Presses
Designed with improved operational efficiency.
Mimaki USA has announced two new UV-LED roll-based printers, the UJV100-160Plus UV-LED and the UCJV330 Series of cut-and-print presses.
The entry-level UJV100-160Plus UV-LED is positioned as an energy-efficient printer with a max power consumption of 0.5 kW to reduce power costs and CO2 emissions, according to the company. The press offers the same functions as the original UJV100-160 plus ink saving function to reduce running costs, multi-layer printing function to expand application range, and integration with Mimaki CG-AR series cutting plotters. The 64-in. printer/cutter leverages CMYK + white + clear LUS-170 UV-LED inks.
The UCJV330 Series of cut-and-print UV-LED roll-based printers is designed for signage and graphics applications. Key features include ink ejection technology to reduce color irregularities, 2.5D print and water mark print functions, support for up to five-layer printing, integrated cutting capability, CMYKcm + white + clear LUS-170 UV-LED inks, and instant-dry output for a variety of substrates such as PET, PU (polyurethane) and other resin films, cloth, and paper (including uncoated paper). The series offers two configurations, the 54-in. UCJV330-130 and the 64-in. UCJV330-160, plus production options including an XY Slitter and Media Changer.
POST CATEGORIES
MANUFACTURER: Mimaki USA
PRODUCT CATEGORY: Wide-Format Printers
Advertisement
SPONSORED VIDEO
Printvinyl Scored Print Media
New Printvinyl Scored wide-format print media features an easy-to-remove scored liner for creating decals, product stickers, packaging labels, and more. The precision-scored liner, with a 1.25" spacing on a 60" roll, guarantees a seamless and hassle-free removal process.