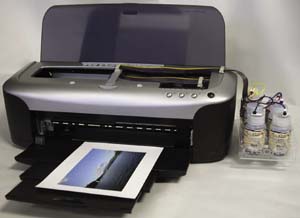 At the Photo Marketing Show in Las Vegas, Lyson rolled out several new products of interest to users of the Epson Stylus Photo 2200 desktop inkjet printer and 24-in. Stylus Pro 7600 and 44-in. 9600 wide-format inkjet printers.
First, Lyson's new Cave Paint? line of wide-gamut pigmented inks is formulated to provide vibrant, durable prints that are water and scratch resistant, compatible with a wide range of media, and suitable for lamination with either heat-activated or pressure-sensitive films.
Owners of the Epson Stylus Photo 2200 can use Lyson's Cave Paint pigmented inks–or other Lyson inksets–with Lyson's new bulk feed attachment for the Stylus Photo 2200. According Lyson, users of their bulk ink system can save up to 70% on ink costs, eliminate the time and hassle associated with changing cartridges, and speed the processing of prints.
Lyson also announced alternative ink cartridges for the Epson 7600 and 9600. According to Tony Martin, president of Lyson, "Now the professional photographer using these models of printers can reproduce the range of colors that he or she scans with an accuracy heretofore unavailable. That the inks are less expensive that those offered by the OEM is, of course, a nice added benefit."
Advertisement
In addition to the new Cave Paint inkset, owners of the Stylus Pro 7600 and 9600 inkjet printers can use Lyson Fotonic dye inks, Lysonic archival dye inks, and Lysonic Quad Black inks. (Lyson Inc.: www.lyson.com)

SPONSORED VIDEO
Interior Décor and Textile Printing: What Equipment Do You Need?
The First Installment of the new Interior Décor and Textiles Webinar Series, Bridging the Gap Between Commercial Peel-and-Stick Wall Graphics & Professional Home Décor, focuses on the technology used for these applications. Our expert panel of speakers cover topics such as what equipment to purchase, what to look for when purchasing, and the various applications you can offer with the equipment you currently have. Watch the first episode, sponsored by TVF, above.