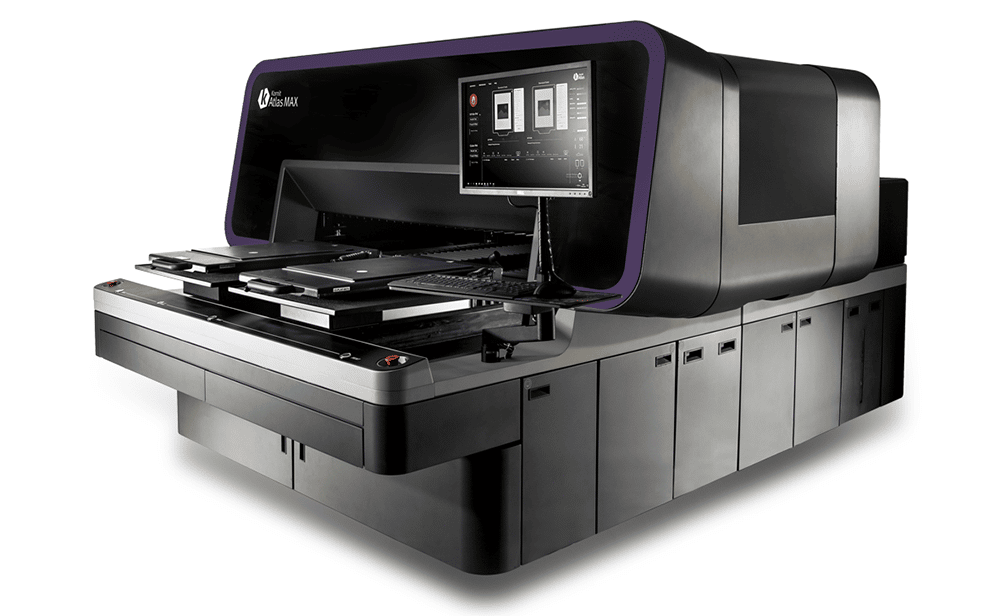 Kornit Atlas Max Poly Press
Engineered for on-demand polyester production reaching speeds of 90 garments/hr.
Kornit has expanded the Atlas Max line with the addition of Kornit Atlas Max Poly printer engineered for on-demand polyester production reaching speeds of 90 garments/hr. Designed to overcome polyester decoration challenges and minimize dye migration with Kornit ProGuard, the press images photorealistic and semi gradient images on dark garments including polyester, cotton, Lycra, and polyester blends for such applications as recreational sportswear, team apparel, and fanwear/branded sports gear. With a print area of 23.5 x 35 in. and CMYK + white + 2 neon ink channels, the press offers features including:
Wash-and-wipe system
Up to 1200 dpi resolution
Q.fix fixation solution for improved durability and cracking elimination
QualiSet autonomous calibration technology
Kornit XDi technology for 3D decorative applications that include threadless embroidery, vinyl, dye sublimation, high-density, and screen-printing effects
Embedded ink recirculation system and integrated humidity system
4-L Neopigment Olympia ink containers. kornit.com
POST CATEGORIES
MANUFACTURER: Kornit Digital
PRODUCT CATEGORY: Wide-Format Printers
SPONSORED VIDEO
Printvinyl Scored Print Media
New Printvinyl Scored wide-format print media features an easy-to-remove scored liner for creating decals, product stickers, packaging labels, and more. The precision-scored liner, with a 1.25" spacing on a 60" roll, guarantees a seamless and hassle-free removal process.