Helping Brand High Energy
Graphics to reflect a fast-paced company.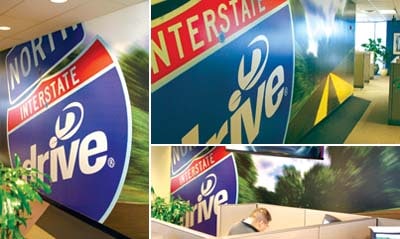 Drive Financial wanted to extend its brand throughout the top two floors of its Dallas headquarters. "Drive is a high energy, fast-paced company, so we came up with a car/driving theme that reflected those ideas," says Mark Platt, Kendall Creative's founder and president. Platt and his design team proposed creating wallcoverings that would convey the sensation of motion, using images that you might see outside a car window.
Production
Photographer Brandon Pascale took hundreds of roadside shots (produced as 2.2-in. transparencies), which Kendall Creative supplemented with stock imagery. The images were manipulated in Photoshop. The final printed panels, measuring 54 in. wide x 9 ft long, showcased roadways, trees, and interstate signs–all complete with the requisite blur to provide the illusion of speed. Texas Graphic Resources used its Nur Salsa printer to output the panels onto InteliCoat Magic GFIOP212 wallcovering media–a one-side coated, latex-saturated, smooth surface paper with a luster finish. Installation was executed by two professional wallpaper hangers.
Comment
"This was a good size for the wallpaper hanger–not too large for them to handle and not too small as to have more seams," says Andre Cangelose, vice-president of Texas Graphic Resource.
Advertisement
The Client
Drive Financial Services, a consumer-finance company
The Players

Design: Kendall Creative

Photography: Brendon Pascale, local photographer

Output: Texas Graphic Resource
Tools

Custom and stock images

Photoshop

Linotype Hell Chromagraph S3500 drum scanner

Nur Salsa printer

InteliCoat Magic GFIOP212 wallcovering media
Contact

Kendall Creative: www.kendallcreative.com

Texas Graphic Resource: 214-630-2800
SPONSORED VIDEO
Printvinyl Scored Print Media
New Printvinyl Scored wide-format print media features an easy-to-remove scored liner for creating decals, product stickers, packaging labels, and more. The precision-scored liner, with a 1.25" spacing on a 60" roll, guarantees a seamless and hassle-free removal process.