AS THE PANDEMIC recedes and people once again congregate indoors, interior designers are increasingly focusing on designing for health, wellness, and well-being. Supporting mental health is paramount, and wall décor is reflecting that goal with patterns that are comforting, welcoming, and reassuring, while still being visually stimulating. Nature-inspired themes, patterns, and color palettes are even more in-demand. Nostalgia is making a comeback, with designers reimagining familiar patterns that hold affection for the past. And walls continue to entertain – whisking occupants on visual journeys, stimulating positive emotional associations, and conjuring one-of-a-kind experiences.
Remote work is here to stay, necessitating more multifunctional spaces with high-performing materials. Providers of wallcoverings and wall décor are documenting cleanability and durability by testing materials against bleach-based cleaners recommended on the EPA's List N of disinfectants. Many wallcovering manufacturers have developed new materials and treatments that enhance cleanability.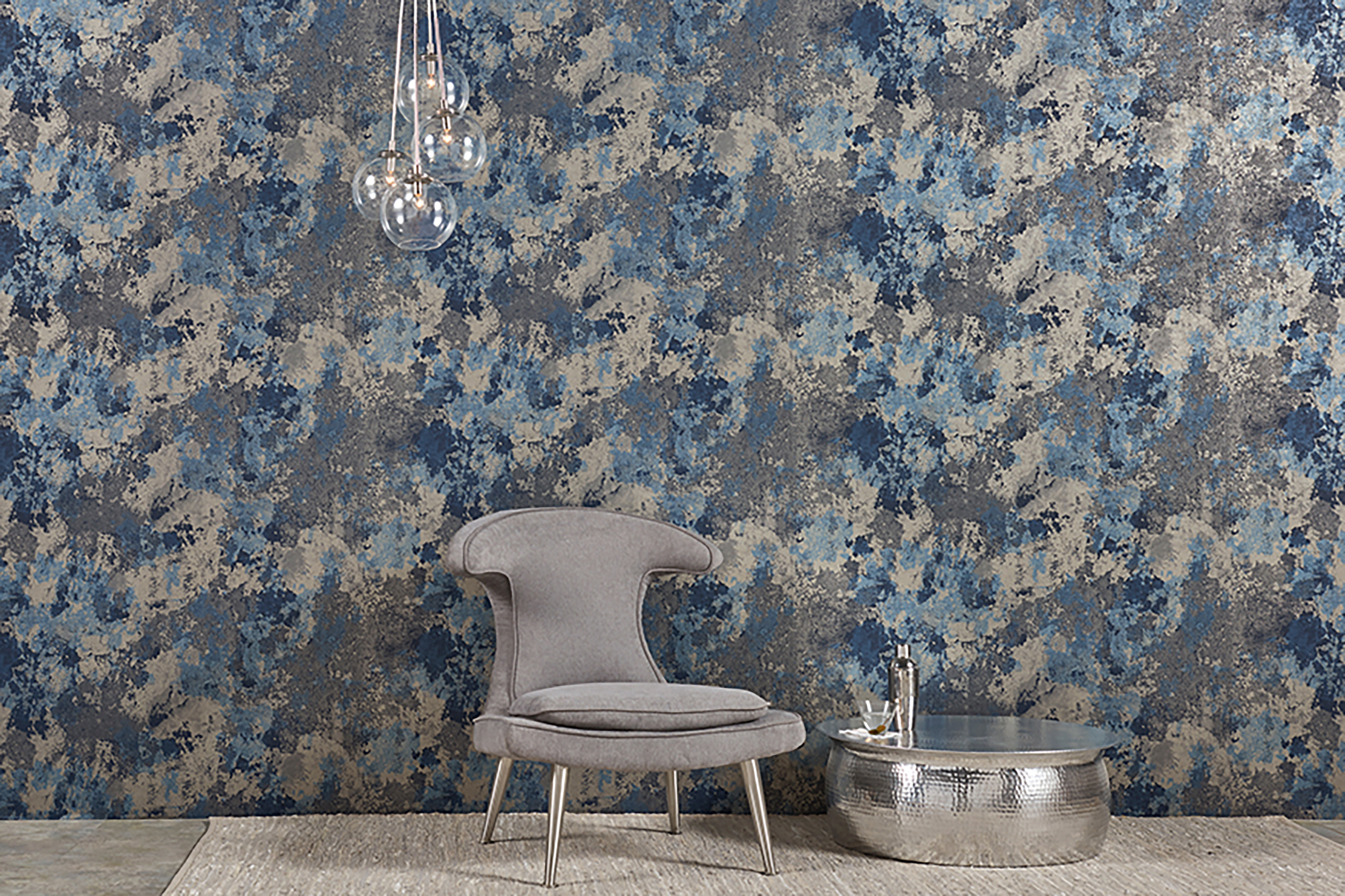 AT ONE WITH NATURE
Biophilic design aims to create strong connections between nature and man-made environments, and has proven benefits, helping office workers be more productive, encouraging children to learn, and helping hospital patients heal. According to MDC, visual connections to nature help to lower blood pressure and heart rate, reduce fatigue, sadness and aggression, and improve mental well-being. This stress reduction can be achieved whether the viewer is experiencing the real outdoors or seeing images of nature depicted on interior surfaces. MDC's nature-inspired patterns include Turn to Stone, which conjures images of mottled stones. The large-scale organic pattern is highlighted with metallic inks.
IF WALLS COULD TALK
Artist Shantell Martin has collaborated with Momentum to translate her thoughts, drawings, and musings into wallcoverings designed to enliven and excite. Designs are unique yet unified by a connecting story – a series of "conversations" between the elements, places and internal questions of her life and of our own. Introspective yet entertaining, these playful images bring a smile to the face.
Advertisement
Advertisement
COSMIC ENERGY
At Astek, designers are playing with a new cyanotype printing technique to create compositions with ethereal qualities. The interplay of light, shadow, and water creates spectral images and evocative textures. The Phantasm murals are full of handmade details in rich shades of cyan blue that bring otherworldly delicacy to interiors.
HEALING IMAGERY
Len-Tex harnesses the look of poured acrylic art to produce an abstract geode pattern. Aislinn features threads of iridescent mylar in color treatments that evoke images of dazzling water, swirling woods, earthy minerals, and glittering geodes. The references to nature create a calming, yet striking visual.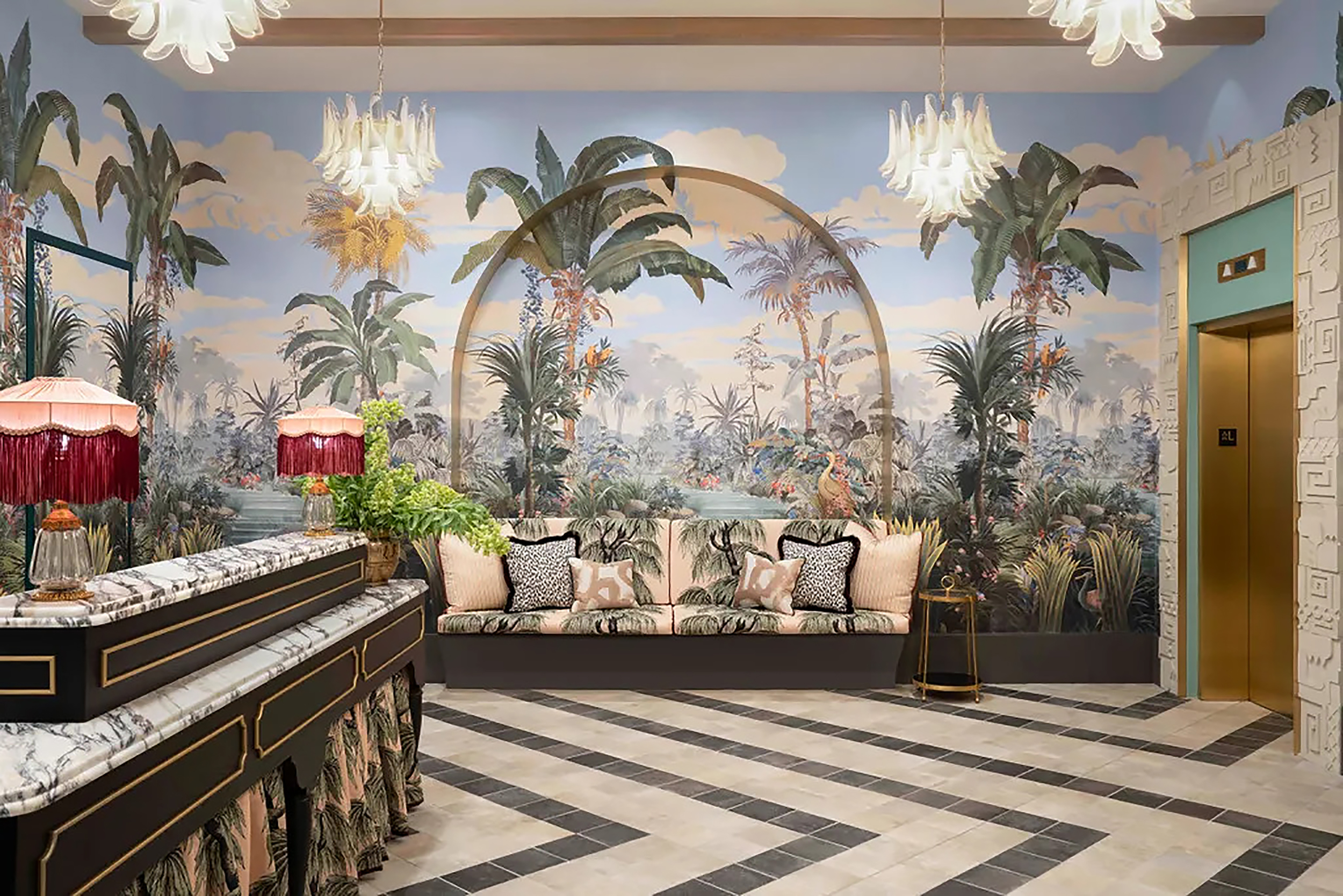 EVOKING EMOTION
Brothers Jason and David Kaen gave up their telecommunications careers to start Bijou, a custom-design wallpaper house with the mission of creating fully bespoke murals for commercial, healthcare, and hospitality interiors. Joining with designers Ken Fulk and Jim Boyd, Bijou put its mission to work at the Goodtime Hotel in Miami. The hotel describes itself as a collection of experiences linked by a commitment to create emotional good. An elaborate garden mural greets visitors as they arrive and provides a hint of the tropical oasis beyond the lobby.
Advertisement
BLAST FROM THE PAST
Wolf-Gordon revisits the past with twists on classic textures such as corduroy. Traditionally used for British country clothing, corduroy gets an updated Art Deco vibe when overlaid with 3D, architectural structures in the Russell Square pattern. The color palette recalls an English Country style with crisp linen hues.
CLEANING WALL DÉCOR
Cleanability continues to be of prime importance to designers who increasingly are giving preference to materials that are bleach-cleanable. Wallcoverings Association member companies routinely test products against disinfectants on the EPA's List N of recommended disinfectants. Member companies post test results for specific products on their websites. The Wallcoverings Association has released an industry Disinfecting Declaration at wallcoverings.org/cleanability.
Advertisement
NEW MATERIALS
Wallcoverings Association members have responded to the pandemic with high-performing materials with increased durability and cleanability. Flex Decorative Wall Protection from Koroseal is a heavy-duty, flexible wallcovering with a protective coating available in a variety of patterns, textures, and colors. All can be easily cleaned and disinfected with bleach solutions outlined in the CDC Guidelines.
Advertisement
LG Hausys has released Benif interior film that can be applied to doors, walls, furniture, and rigid wall panels. The film is coated with adhesive on a vinyl layer that realizes versatile designs suitable for all types of spaces. Easy to install, the material allows for realistic textures and optimal design effects.