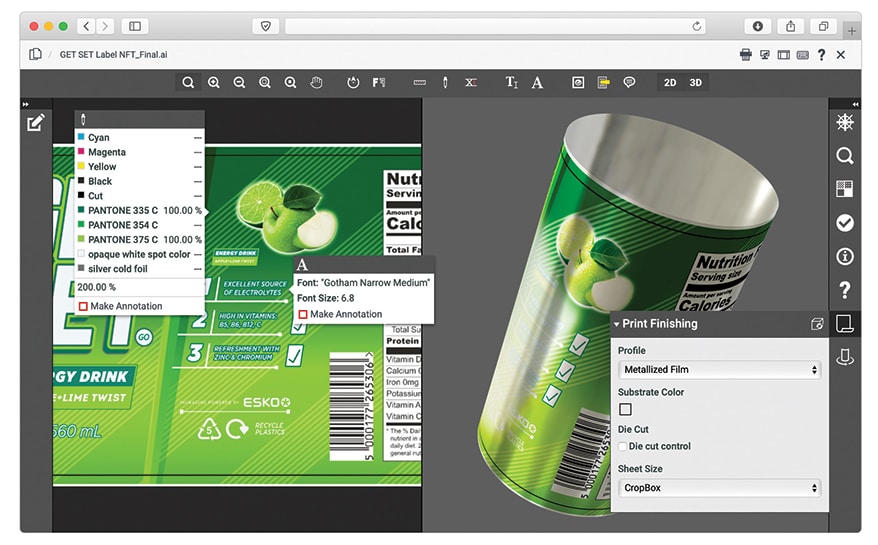 Esko Software Version 23.03
New features for improved ways of working and reduced waste.
Esko has revealed version 23.03 of its packaging software for improving workflows, reducing waste, and optimizing processes. New features include:
Phoenix AI-based tool for streamlining planning and imposition productivity with prepress and production data
Esko Share & Approve gateway connecting prepress tools including ArtPro+ and DeskPack for simple, fast file sharing and centralized annotations
New ArtPro+ features for increased editability
Automation Engine upgraded viewing tools for 3D viewing and CAD files
Studio 3D capabilities and store visualizer export
Usability improvements for WebCenter
POST CATEGORIES
MANUFACTURER: Esko
PRODUCT CATEGORY: Workflow + Software

SPONSORED VIDEO
Printvinyl Scored Print Media
New Printvinyl Scored wide-format print media features an easy-to-remove scored liner for creating decals, product stickers, packaging labels, and more. The precision-scored liner, with a 1.25" spacing on a 60" roll, guarantees a seamless and hassle-free removal process.