Textile Selection Shouldn't Be an Afterthought for Digital Printers
Experimentation can lead to big opportunities for wide-format pros.
IT'S ALWAYS EXCITING when we get our hands on a new project. The creative juices start flowing and, in this business, we're lucky enough to have what feels like a Mary Poppins bag full of tools and techniques to pull from.
The dynamics of printing are layered and complex, but they're also our greatest strength. Daily we deal with the intricacies of our printers, ink, substrates, RIP software, Photoshop, the climate of our print environment, and so on. Each variable impacts the dynamic of our process, production, and end product. So, innovating in just one area can have a monumental effect.
I've noticed that many designers get stuck by not innovating outside of the artwork. The most obvious way for us to innovate – or at least differentiate – is by creating unique and captivating one-of-a-kind artwork for our clients. But creating an art file, no matter how stunning, shouldn't account for the totality of the deliverable.
There's so much more we can offer our clients by experimenting with different variables; I see massive opportunities in substrate exploration. When we talk about art, we often reference the canvas as the blank starting point. It's categorized as a necessary background for the art to live on, but I challenge you to think about it differently. The canvas has the opportunity to work with the artwork, play into the dynamic of the project, and potentially even change or enhance it.
So, when it comes to digital textile printing, why not let the fabric pack the punch?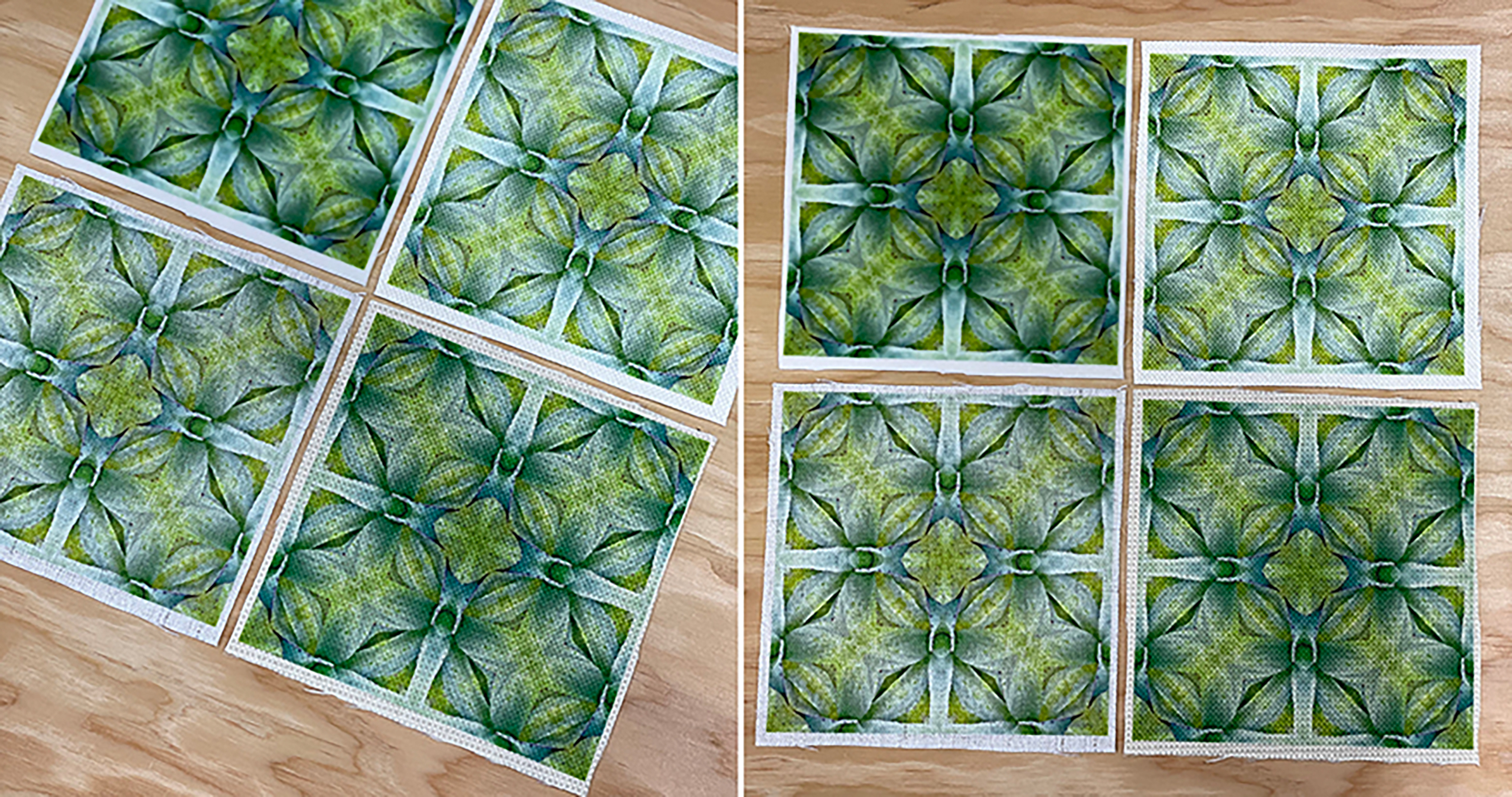 Advertisement
Taking the time to analyze fabric constructions and its textures, colors, and hues with your client can make all the difference for them and for the end product. They're not just asking for fabric options, they're asking "How can my artwork exist?"
Lately in my studio, I've been working with a lot of artists and designers who work in completely different mediums. Whether it's scans of pastel drawings or oil paintings, digital artwork, or photography, the power of digital textile printing technology allows the process to resonate. (Let's also not understate how mind-blowing that is!) Many of these artists are new to working with textiles, their perspectives are fresh, and they're in a discovery phase that's important to their process and our studio's.
In my opinion, centering the conversation on the textile – along with a healthy dose of R&D and test printing – ushers in an additional layer of innovation that's often a missed opportunity. You might be used to seeing the same textiles in your studio day in and day out, but it's important to remember that it's new to your customer – and it can still surprise you, too.
I recently worked with a nature photographer on a series of sand dunes that she shot in Death Valley, California. When we started discussing material, she was immediately drawn to our heavily textured fabrics. It was her belief that the bold constructions with larger yarn sizes would add depth and dimension to her photos. After some test printing, we concluded she was right. However, the depth and dimension achieved ended up competing with the texture of the sand, sending us back to the drawing board.
Alternatively, I worked with another photographer who was on a mission to keep things simple and achieve qualities similar to their prints on rigid substrates. After going through the R&D process with them – and throwing in a few unique colored and textured grounds – they were stunned by the richness and depth that came from printing on warmer, textured fabrics. It took their project into a new direction and has since inspired a whole new collection.
The textile has power. That's true for any substrate we work with. It's a key part of the print dynamic and I encourage you to experiment and innovate in that area. By making textile selection and analysis a bigger part of your conversation and R&D with clients, you create the opportunity to make something brand new – and isn't that what we're all after anyway?
Advertisement
SPONSORED VIDEO
Interior Décor and Textile Printing: What Equipment Do You Need?
The First Installment of the new Interior Décor and Textiles Webinar Series, Bridging the Gap Between Commercial Peel-and-Stick Wall Graphics & Professional Home Décor, focuses on the technology used for these applications. Our expert panel of speakers cover topics such as what equipment to purchase, what to look for when purchasing, and the various applications you can offer with the equipment you currently have. Watch the first episode, sponsored by TVF, above.