Print Shops Tested by Special Projects That Transcend 2D
Experts offer their advice on dimensional installations.
HESE DAYS, MANY PSPs deal with special requests from clients that transcend the 2D realm. What started as a simple graphic might turn into an experiential wall mural with live plants. Or, as we saw with Image Option's "Dopesick" billboard (Wide Angle, page 8), the client could want to try something that's never been done before. Whatever the ask may be, they're anticipating that you'll not only meet, but exceed, their expectations.
ER2 Image Group in Hanover Park, Illinois, knows this well. They've built a great reputation for themselves by completing unusual, and difficult, projects for big clients like Uber. "Bringing dimensional elements into a display opens many possibilities to be unique," says Gary Schellerer, VP, ER2 Image Group. "Our clients come to us wanting to put serious distance between themselves and their competitors. And to do that, we collaborate with them on specific design elements to create a stunning effect to help accomplish that goal. 3D doesn't have to be just about router cutting letters, logos, or printed textures. It can be as unique as your customer can imagine."
Kevin Herbert of Fastsigns St. Charles in Boutte, Louisiana, agrees that you should always try to make "it" happen for a customer. He offers a very logical solution for PSPs who want to produce dimensional signage, but don't have the necessary equipment.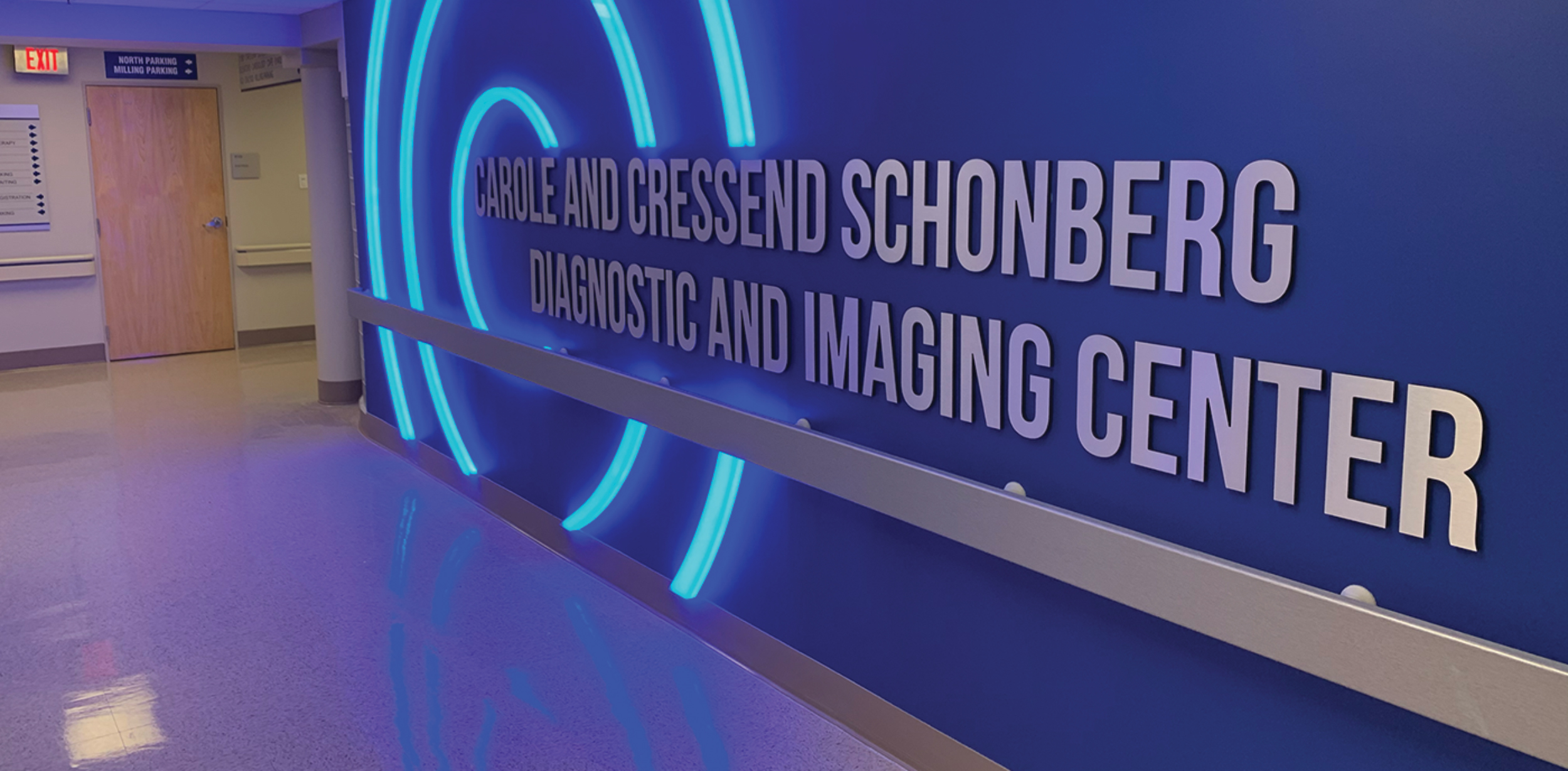 "If you don't have the capabilities to create certain dimensional installations requested by a client, develop strong relationships with outside vendors that can help you," Herbert says. For example, the Carole and Cressen Schonberg Diagnostic and Imaging Center wanted an LED lighting installation from Fastsigns, so Herbert called on an outside vendor to help them get the job done. "We only had two inches of clearance behind the handrail in this job [pictured above]. We needed a fabricator to enclose Blue LED modules inside of a white acrylic housing without being able to see each individual LED module through the acrylic. This took several attempts, but with the outside help, we got it done," he says.
To put it simply, in order to get the best clients, you have to offer the best options. "Retail signage has come a long way in regard to designs that can captivate the customer, display the brand properly, and make a memorable impression," says Drew Veach, VP, Corporate Color. A lot of businesses want dimensional signage for their lobbies to impress visitors and customers. And while this type of request may be intimidating for a PSP, it's achievable with some imagination and skilled work.
"The TerraTrike project was a custom fabricated logo sign to be used by the client in their main headquarters. To achieve a highly creative and custom look, we employed layered metals, acrylic, Printed Sintra, and wood," says Veach. "We created a 'rust' print on the base metal and added layers of wood and acrylic for a unique effect. The printing was accomplished on a Fujifilm Acuity Select UV flatbed printer and cut on our Zünd G3 digital cutter."
I'm sure you're starting to sense a theme here. Dimensional installations can often require extreme ingenuity and pure willpower. This was definitely the case for the aforementioned "Dopesick" installation by Image Options based in Foothill Ranch, California. Hulu wanted giant 3D pills to appear as if they had spilled all over the billboard.
"The 3D art required for production of the pills began with CAD and we sent files as layers to our fabrication and CNC teams. Sign foam was used and was cut in layers on the CNC. They were assembled by glue and included wood mounts embedded in the pills," says Jeff Gray, marketing specialist, Image Options. "The assembled pills were sanded and painted to match specific color call outs on the original print."
It goes without saying that these installations were done by extremely experienced technicians and project leaders, but the client must be willing to collaborate, too. "Our process is to fully understand our client's needs first, then employ a thought-out creative approach in selecting materials that are best fit to achieve the client's goals," says Veach. "Mastering these skills is ongoing as each project presents new challenges and possibilities."
Don't forget, you may need to expand your hiring practices if you're looking to become a dimensional installation powerhouse.
"As we get more involved in architectural office décor elements, we find having a team of carpenters on staff at ER2 Image Group adds such a wealth of knowledge from a new perspective. You can throw anything at them and at least one of them will always come up with a solution," says Schellerer. "We ultimately make our decision to bring each carpenter aboard based on their versatility. They're very deep in terms of their carpentry background, but we love the fact that some can also design, work in our paint booth, and operate our Multicam CNC cutting system to use with all kinds of architectural projects."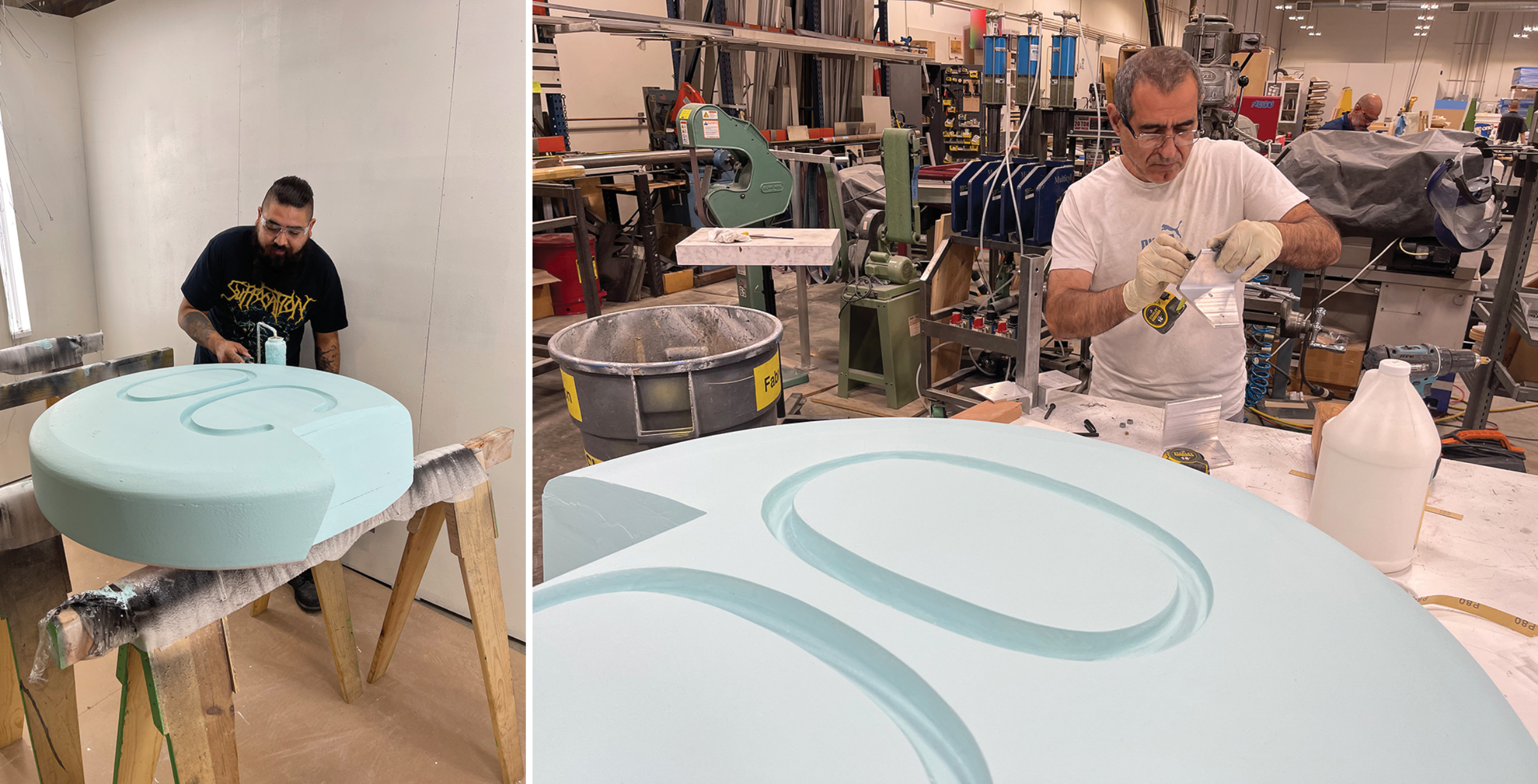 Installing dimensional signage and special 3D projects may seem like a pipe dream for your print shop, but with advice from some of the industry's smartest professionals, what are you waiting for? Get your best crew together and talk about the capabilities you have in-house. If you need outside help, don't be afraid to reach out.
PHOTO GALLERY
(8 IMAGES)
SPONSORED VIDEO
Interior Décor and Textile Printing: What Equipment Do You Need?
The First Installment of the new Interior Décor and Textiles Webinar Series, Bridging the Gap Between Commercial Peel-and-Stick Wall Graphics & Professional Home Décor, focuses on the technology used for these applications. Our expert panel of speakers cover topics such as what equipment to purchase, what to look for when purchasing, and the various applications you can offer with the equipment you currently have. Watch the first episode, sponsored by TVF, above.