Change of Course
How print shops are targeting different markets in order to stay in business during the COVID-19 pandemic.
PRINT SHOPS AROUND the country are being affected by COVID-19 in many different ways depending on location, "essential business" designations, and lack of client requests. We spoke to five Editorial Advisory Board members from across the US to get a behind-the-scenes look at how they're adapting to the current situation.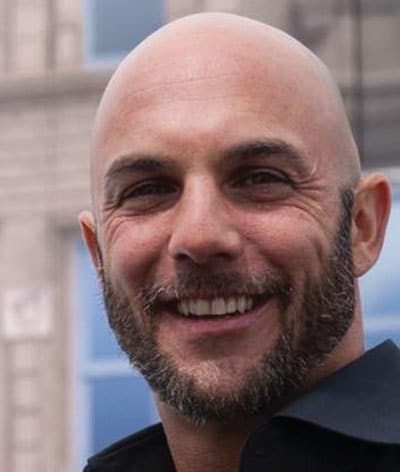 Reed Silberman 
Founder/CEO, Ink Monstr, Denver, Colorado
Is your shop deemed essential?
Yes! We are not only making face masks for all types of essential businesses and hospitals, we are also supporting essential businesses, such as restaurants, to help them promote their delivery and curbside pickup.
Can you take me through the process of turning your business into 90 percent mask making?
We had to essentially restructure the entire company. It's basically like starting a whole new business literally overnight. We had to create the fit patterns, select the proper material, and then be able to source the materials in quantity and take delivery before everything was on back order or ran out completely. At the same time, we had to ramp up our workforce. We essentially went from three to four in-house seamstresses to 20 to 30 seamstresses either working in-house or remotely. Simultaneously, we were creating a marketing and social media roll out plan to get the word out. We then needed to be able to keep up with production and produce units faster than we could have ever imagined. We have been making face masks for a month now. We have streamlined our production line and can now handle mass production.
Do you have any regular business?
Our vinyl business has pretty much come to a screeching halt. Luckily, we work with a lot of construction companies and essential businesses, so we still have several large vinyl projects moving forward. We have some very nice building wraps and interior commercial projects that are still moving forward.
Advertisement
What are the some pro tips for a shop that is looking to convert their business in a similar fashion during this pandemic?
Be creative! Utilize the tools you have to shift and produce products that meet the current needs. It's all about perspective and keeping a positive attitude to gain the clarity and vision you need to focus your energy in the right direction. Whatever product you decide to make, do it with passion, commitment, and integrity!
What other markets have you seen grow?
The people who are doing well are the ones who have adapted and converted their businesses to meet the current market demands. I have seen distilleries making hand sanitizer, fabrication shops making plastic face shields, and I even know several parachute manufacturers mass producing face masks, as well. I think any drive-thrus or walk-up coffee and food establishments have been able to weather the storm. They have low overhead and still can service the general public.
Is there light at the end of the tunnel?
There is always a light at the end of the tunnel. Night always turns into day, winter into spring, and nothing is permanent. This too shall pass. Ink Monstr will be wherever this paths leads us. Face masks will not be going anywhere anytime soon. We will do what we always do. We have a passion for what we do and we will always find a way to help our clients build their brands while simultaneously building the Ink Monstr brand name. We have always been known for our creativity and artistic style, and we will always be true to our identity and our loyal customers.
Brian Hite
Principal/Co-founder, Image Options, Lake Forest, California
Is your shop deemed essential?
Image Options (IO) is deemed essential because of the PPE (personal protective equipment) we began to produce when the businesses were instructed to close. We had a request from a hospital group to produce face shields. Immediately after that we had a request from a plastic supplier for additional shields, but ended up selling the quantity they asked for because of delays from their clients. In addition to face shields, IO began producing sneeze guards for grocery, quick-serve restaurants, banks, etc. All due to relationships. We also set up a digital store front to sell PPE.
Do you have any regular business?
Because IO is a licensed contractor in California and other states, we are exempt from closing on certain projects and are allowed to keep working on the buildings.
Advertisement
What are your tips for shops wanting to add PPE production?
The main tip for getting into PPE is making sure you can get the supplies for production followed by having a solid sales channel with the relationships or contacts to market and sell the production. Next, it would be what to produce as a product. Follow all the federal and local rules and regulations to make sure you can operate and on what materials. Follow all the social distancing, disinfecting, and process rules to operate – again, follow all rules and guidelines. Transitioning from wide-format printing for events and tradeshows to this product-based work is an adjustment. With the number of companies that have begun producing and the current declining demand, you may be late to the party.
Is there light at the end of the tunnel?
That is difficult to say. For our business that has a significant amount of event and tradeshow work, I believe that market vertical will be slow to recover. Facebook and Google both have said more of their events will be virtual and the in-person events will not begin again until mid-2021. If a vaccine is developed or there is enough herd immunity, some companies will begin sooner.
Where do you see your business in three, six, and nine months?
I see business being down from forecast by 40 percent through the balance of the year. The decision-making process, scheduling of venues, and the ability of companies to react and plan combined with the lack of willingness of potential attendees to travel is going to impact all business of that nature.
Jon Sherman
Founder/Creative Director, Flavor Paper, Brooklyn, New York
Is your shop deemed essential?
No. We're in the epicenter and under mandatory shutdown right now, which is crippling us as a small business. Funny enough, people are trapped at home and excited about making wallpaper decisions, so our sample orders and limited DIY offerings are doing quite well – we just can't get in to ship!
Advertisement
You're still gaining business despite being shut down. How are you communicating this with your customers? Any upsets on delayed orders?
Generally, we have updated language on our website, invoices, etc., but the main way we are handling it is through direct contact with clients. So many jobs have shifted where and when deliveries can be made, we literally have to check in on each and every job to clarify, especially with the new rules UPS has in place. A few have been upset, but for the most part people are very understanding, as they should be.
Where do you see your business in three, six, and nine months?
Well, isn't that the million dollar or negative 200 thousand dollar question?! I wish I knew! I think I would be more certain of the outcome if we were a PSP, but wallpaper might have a different recovery scenario as so many of our projects are hospitality focused and the entire industry is up in the air right now. It will bounce back, undoubtedly, the question is "how quickly?"
My guess is in three months we will just be getting back to normal work weeks with a full staff and demand will still be down significantly. Six months: I am hopeful we will be trucking ahead at full steam with a renewed interest in exciting environments that do not resemble home. Nine months: the new normal has fully taken over and we are all moving forward with a new political norm.
Brian Adam
President/Owner, Olympus Group, Milwaukee 
Is your shop deemed essential?
Yes. Olympus Group has begun producing PPE for the medical community. We have an internal goal of producing 300,000 face shields (at cost – time and materials only) for the hospital networks in Milwaukee (Froedtert, Children's, Aurora, and Ascension-Col. St Mary's). Our Milwaukee facility is primarily focused on producing this product and we are near capacity, but if you know of anyone with needs, please let us know (ogsupply@olympusgrp.com) as we have a network of friends also servicing this market and want to do our part to get as much PPE into the hands of medical professionals as possible.
Do you have any regular business?
Yes. Certain markets have dried up (sports teams, events, tradeshows), but we still have a bit of P-O-P, restaurant (QSRs), and US flag work.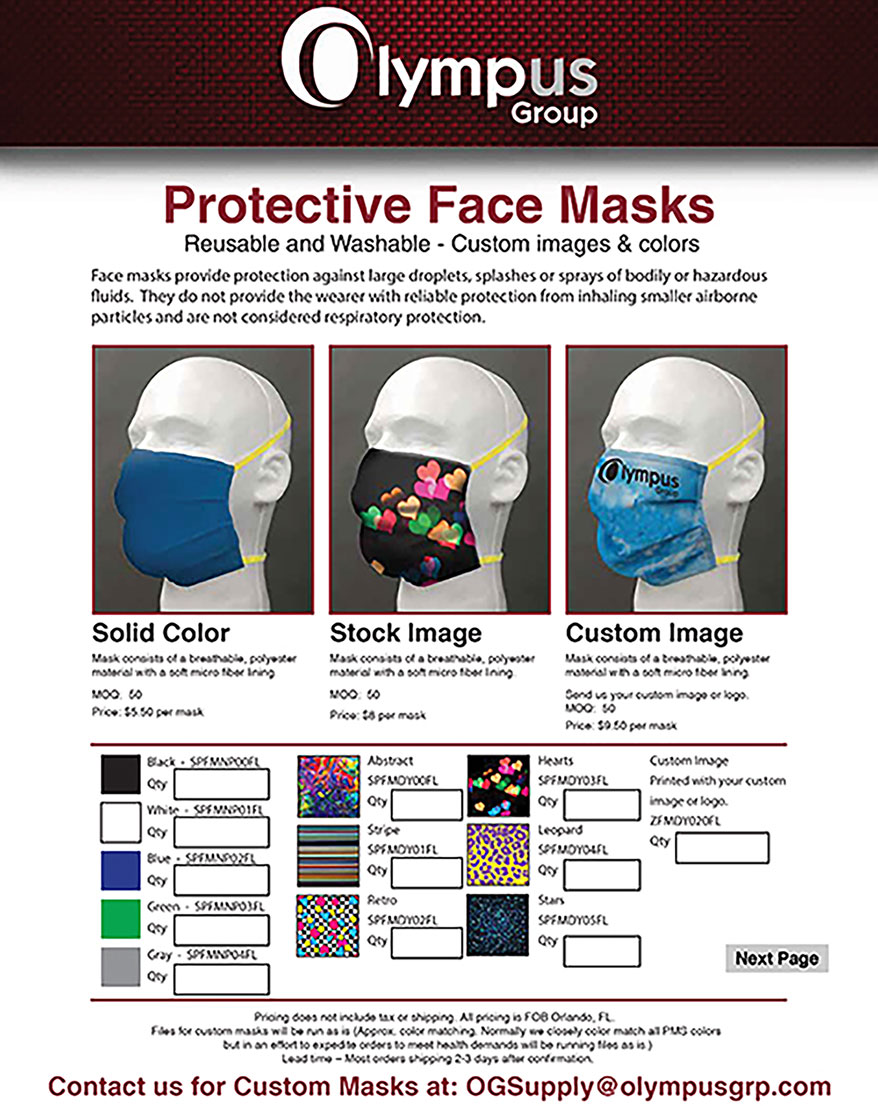 What are the some pro tips for a shop that is looking to convert their business in a similar fashion during this pandemic?
Respond fast and tweak/engineer on the fly. Needs are changing quickly and we believe being fast to market and then being able to tweak/engineer on the fly is critical to success.
What other markets have you seen grow?
None of our markets; all have shrunk substantially.
Is there light at the end of the tunnel? Where do you see your business in three, six, and nine months?
We believe there are two major triggers. (1) Non-essential businesses reopen. This is happening now and represents a large opportunity for PSPs with a wide variety of graphics. (2) End of social distancing – everything opens back up at full capacity. My fear is this doesn't happen until we have thorough testing, better treatment, and/or a vaccine. This means we might have to wait until 2021 until we are comfortable with large events. I believe we are headed toward a pretty severe economic downturn through the rest of 2020.
Ryan Clark
President, Direct Edge Media, Anaheim, California
Is your shop deemed essential?
Yes, we are deemed essential by the state as we are directly assisting other essential businesses. We have done work for restaurants, banks, and healthcare that all require our services.
Can you take me through the process of producing PPE vs printed materials?
We were able to quickly design and produce a face shield using our Zünd cutting tables. The bigger issue was finding material as the acrylic/PETG has been put to use for all PPE needs across the country. We reached out to one of our suppliers, Piedmont Plastics, and teamed up to make and donate the face shields to our local children's hospital.
Do you have any regular business?
Although it is down, we have not seen a complete loss of regular business. Many of our retail clients are needing COVID-19/safety-related marketing materials.
What are the some pro tips for a shop that is looking to convert their business in a similar fashion during this pandemic?
This has created some new markets and products that will be needed going forward. Working on these might be able to keep you busy while we wait for regular business to resume. It has also been a great marketing strategy to reach out and let people know we are open and can help.
What other markets have you seen grow?
The food service/beverage industries is one example of a market that has grown for us. People will always need to eat and we have been fortunate to provide service for them.
Is there light at the end of the tunnel? Where do you see your business in 3, 6, 9 months?
We believe the country will bounce back and our industry will follow. We have been controlling our costs and getting prepared for the world to get back to work within the next few months. Anyone can guess as to when, but we are definitely looking at an interesting 2020.
SPONSORED VIDEO
Sponsored by Big Picture Magazine
Women in Wraps Session
Women in Wraps Panel Session hosted by Big Picture Editor-in-Chief, Adrienne Palmer during ISA's Virtual Wrap Experience.