Meet the 2021 Women in Wide Format Winners: Kristin Lanzarone
A self-taught wrapping pro, she's helping raise the next wave of installers.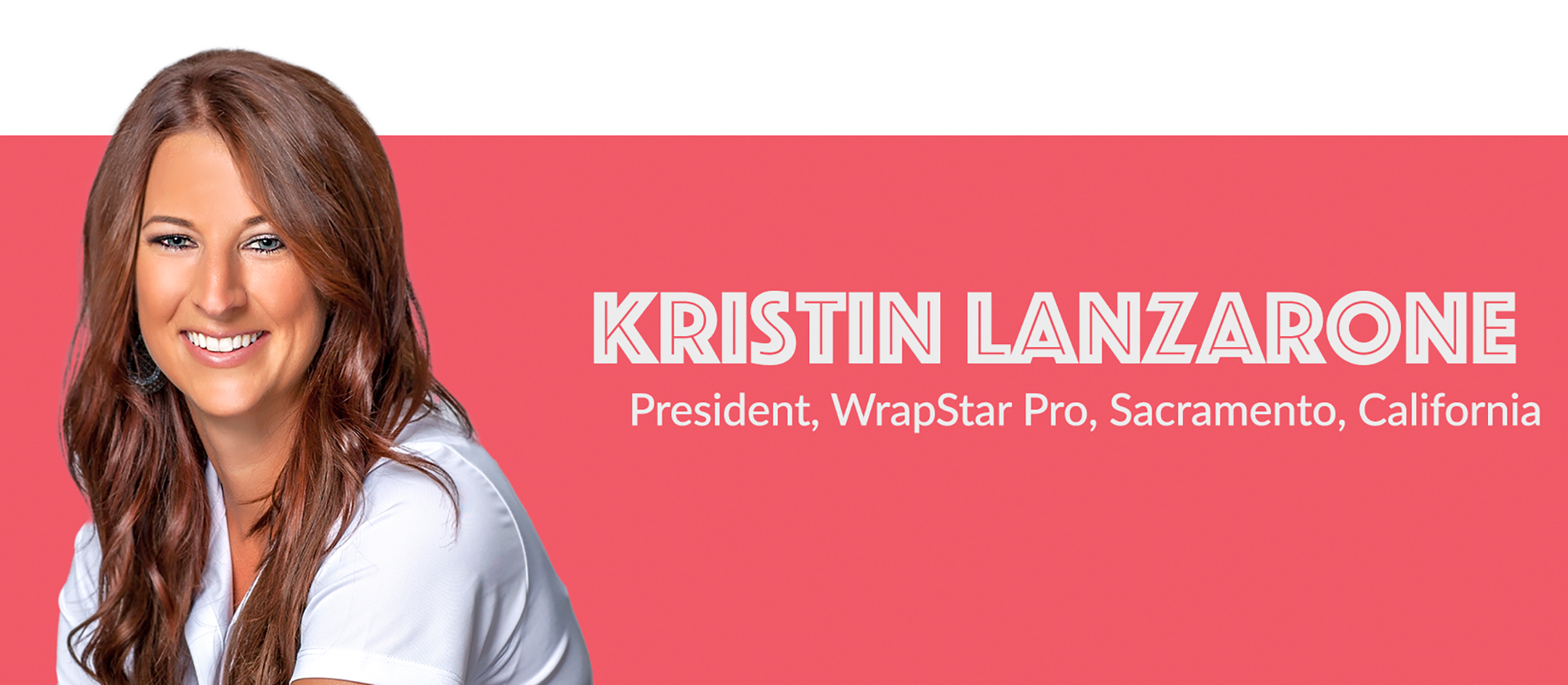 AP: You've earned the Master Certified Installer badge from PDAA and you are launching a new addition to WrapStar Pro as a training facility and certification program for grassroot installers. Why is training important to you and how has it shaped your career?
KL: If you're coming into the industry as a self-taught installer and printer, training and certifications are crucial for growth as well as quality of performance. I was fortunate to begin in the wide-format and installation industry through motorsports wraps. The racing world taught me a lot by studying how vinyl works.
My goal for WrapStar Pro is to be a universal training hub on the West Coast. Our new facility can bring on all types of training programs from vehicle fleet and color change wraps to architectural and retail graphics to paint protection applications. Here on the West Coast, we have a massive installer shortage. It's extremely hard to find a good quality installer that doesn't have bad habits. I have too many inquiries from individuals who want to be hired as installers but have no experience. So, I'll be launching the WrapStar Pro Grassroots Training and Certification program. This program is solely for the grassroots level installers and will focus on the everyday commercial fleet challenges and retail graphics. It's a win-win for the new installers and for the wrap shops who are in high demand for installers.
Training is extremely important, whether it's for application or for printing. Our industry is forever changing and new technology is always forming. I encourage all installers to go out and get the training and get as many certifications they can get.
AP: Your nomination form states: "As a one-woman show doing it all from sales, design, print, production and installs, your level of professionalism, communication, and understanding the importance of one's brand, brand consistency, and color management has led you to many opportunities and large contracts." Why is understanding all facets of the business paramount to running a successful business?
KL: Understanding all facets of the business helps you successfully comprehend the importance of one's operation and brand. I run a successful business through knowledge, critical elements of success, business ethics, and client expectation.
Knowledge is strived from experience as well as accepting challenges for what it is. Knowledge helps a business thrive on many levels; you can't grow with a narrow mindset. Being self-taught and having an open mindset allowed me to grow personally and professionally.  Another form of knowledge is derived from training, education, conferences, and attending tradeshows to learn about new products and equipment. This knowledge adds credibility to one's business which will then lead down the path for a successful business. I cannot preach how critical it is to gain industry knowledge, which is why I want to be involved as much as I can within the wide-format and application industry.
AP: It also states, "Kristin is forever proving to the industry that women can own and operate a wide-format printing and install business in a male-dominated industry, all while still balancing a single mom life." What does it mean to be a woman in the wide-format digital printing industry?
KL: I've seen a level of support, respect, and recognition throughout the wide-format industry, even from what I call the bro-culture: a male-dominated community of individuals linked by a common trade. I value, respect, and look up to many male individuals within the industry. This is how I stay motivated to challenge myself and continue to grow every day because I can do the same. What I have witnessed is that the industry advocates for and supports females. Outside of work, females carry those extra roles of being moms and managing their families. The duty of being a mom adds another level of responsibility alongside their careers. Don't get me started on how the pandemic added levels of frustration and some crazy challenges managing everything. Juggling responsibilities all while still being able to perform the duties is where the level of respect comes in, and I am thankful that our industry accepts and respects us females.
PHOTO GALLERY
(20 IMAGES)