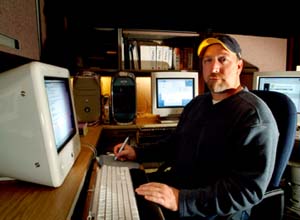 One of the goals of the Smithsonian Institution in Washington, DC, is to document advancements in American technology. To support these objectives, the Institution's Office of Imaging and Photographic Services must make wise choices about which digital-imaging technologies to use and how and when to use them.
The 22-employee Office of Imaging and Photographic Services is the in-house photography studio and image repository at the Smithsonian's three major museums: the National Air & Space Museum, the National Museum of American History, and the National Museum of Natural History. The Office's 11 full-time photographers shoot dozens of rolls of film each day. They document objects housed in museum collections, shoot photos of museum exhibits, and provide public-relations and event-photography services.
Some of the event-related photographs are captured digitally, but most of the object photography and exhibit-related work is still done on film. As John Jones, Chief of Image and Photographic Collections, explains, "We're not as concerned about how quickly things get done today, but how long the images will last–not just five or ten years from now, but 100 years from now." In the Institution's cold-storage vault, Jones says, "We know how to store an image on film for 100 years. With a digital image, we just don't know. There's a lot of established science behind film, but continuing changes in computer systems, file formats, and storage media could make it difficult to retrieve color-accurate digital images 100 years from now." The other drawback to using digital photography for all of the Office's work is the significant amount of time and computing power it would require for each photographer to sort through and evaluate the hundreds of images that can be easily be captured digitally. With film, the staff's photographers typically get rolls of film processed in the Office's in-house lab in a day or so, and then sort through the slides visually–quickly tossing out the slides that aren't worth keeping.
Nevertheless the office shoots more and more images digitally. This past year's Smithsonian Folklife Festival, "The Silk Road", was shot entirely with digital cameras. Hundreds of images a day were shot over the two-week festival. Each day the images were edited, numbered, and posted as Web galleries for use by the designers of daily Web articles on the festival (http://www.silkroadproject.org/smithsonian/index.html). "Having the ability to process, catalog, and retrieve digital images in a streamlined fashion, really gives us an edge with time-sensitive material."
In its cold-storage vault, the Smithsonian's Office of Imaging and Photographic Services currently stores more than 2 million pieces of film. As images are requested for various research projects or publications, the selected images are scanned on Imacon Flextight scanners and archived in a FileMaker Pro database. The Office uses a Fuji Pictrography photo imager as its primary means of outputting requested photos. A couple of Hewlett-Packard Designjet 2500 wide-format inkjet printers and desktop printers are also available as needed.
Although FileMaker Pro 6 is currently being used as a front-end to the Office's digital image archives, Jones began using early versions of the software eight or nine years ago to log orders, maintain customer information, and manage the Office's film library.
When the Office of Image and Photographic Services was established in the 1960s, each photographer's daily work was recorded in paper logs. The only way to retrieve a certain image was to go back through the paper logs and attempt to match film roll numbers with notes recorded in the log about what the photographer was shooting. The FileMaker database provides a way to track down what photos were shot on which date. It also provides a method of linking researchers requesting certain photographs with the Smithsonian curators who can explain the content of the image in more detail.
"Our photographers often don't have detailed knowledge about the objects they're shooting," explains Jones. "For example, we might have records that simply indicate it's a photo of a chair." One benefit of the database is that it connects the photos to specific subject experts so our photographers no longer have to worry about gathering detailed descriptions. Museum curators can now edit the description of their image files directly through the Web-enabled database application from any browser on the network. Each set of images can be assigned a unique password to allow the curator to access and modify only those records for which they are the authority.
To streamline a lot of the database maintenance work, Jones takes advantage of FileMaker's tight integration with AppleScript: "It automates a lot of the data entry work that otherwise would have to be done by hand."
Photographers shooting hundreds of images each day now deposit them into folders in servers distributed around the Smithsonian campus. Jones has set up AppleScripts to download all images from different servers, check the file names to make sure the photographers didn't create naming problems, and then sorts out the photos that will go into online and offline archives. AppleScripts have also been established to instruct Photoshop to create previews for Web uses and parse out images into CD-size folders for subsequent burning numbered images onto CDs. Another AppleScript then uploads the images to the Web server and image archive and updates the FileMaker tables with detailed information on the files.
Images requested via the Web go through a Lasso engine–a middleware product between the Web server and FileMaker. Lasso poses the query to FileMaker, retrieves the correct info and formats, and returns to the Web server, which hands it off to the Web browser.
In the image archives, the Office of Image and Photographic Collections keeps three copies of each image–the original scan file, a work file that has undergone basic cropping, color correction, and dust removal, and a print file in which the image has been prepped for a specific printer.
Growing the database is still a work in progress. Of the 2 million images the Office has captured over the past 40 years or so, currently about 45,000 images are stored online and accessible through the database. Another 55,000 images are stored offline on CDs, and there are about 150,000 records in the database.
Jones admits that if it were financially feasible to scan and digitize all of the 2 million images currently in storage, the process would undoubtedly uncover some photos that are real gems. But linking each image to the authoritative sources who could definitively describe what's depicted in each image would be a monumental task.
Currently, Jones is refining the image database to leverage the new XML capabilities in FileMaker Pro 6 that will make it possible to repurpose data and share it with other information systems at the Smithsonian. One such project is to connect the database with wireless information-gathering devices that can be taken into exhibit preparation areas for data collection. XML will then be used to parse and update the main data repositories.
Although Jones has a master's degree in photography, the fact that so much of his work is now computer-related has not gone unnoticed. During a recent organizational restructuring, Jones' own job was reclassified as a computer specialist and he was given a new title: Chief Imaging Technologist. Although he does more programming than most photographers do, Jones isn't entirely comfortable with his new title because he believes that using computers has now become an integral part of photography.
"Photography has seen tremendous change in the past decade," he notes. "Our task has been to carefully integrate new technologies with conventional photography in a way that protects and preserves the legacy material while providing maximum compatibility and longevity going forward. This has meant bringing new skills and ways of working to the traditionally conservative museum environment. While making this transition has taken considerable effort, and often involved forging new systems, the long-term benefit is more control of our collections, better data management, and greater access for the public to the Smithsonian's rich holdings."
The Office of Imaging and Photographic Services is a part of the Smithsonian Institution–the world's largest museum complex comprising 16 museums, 7 research centers, and maintaining collections of over 142 million historical objects, specimens, and works of art (www.si.edu).

SPONSORED VIDEO
Printvinyl Scored Print Media
New Printvinyl Scored wide-format print media features an easy-to-remove scored liner for creating decals, product stickers, packaging labels, and more. The precision-scored liner, with a 1.25" spacing on a 60" roll, guarantees a seamless and hassle-free removal process.