He Sold His Company, and Now He Works at His Daughter's
Industry consultant Michael Sanders' most important rule is to put family first.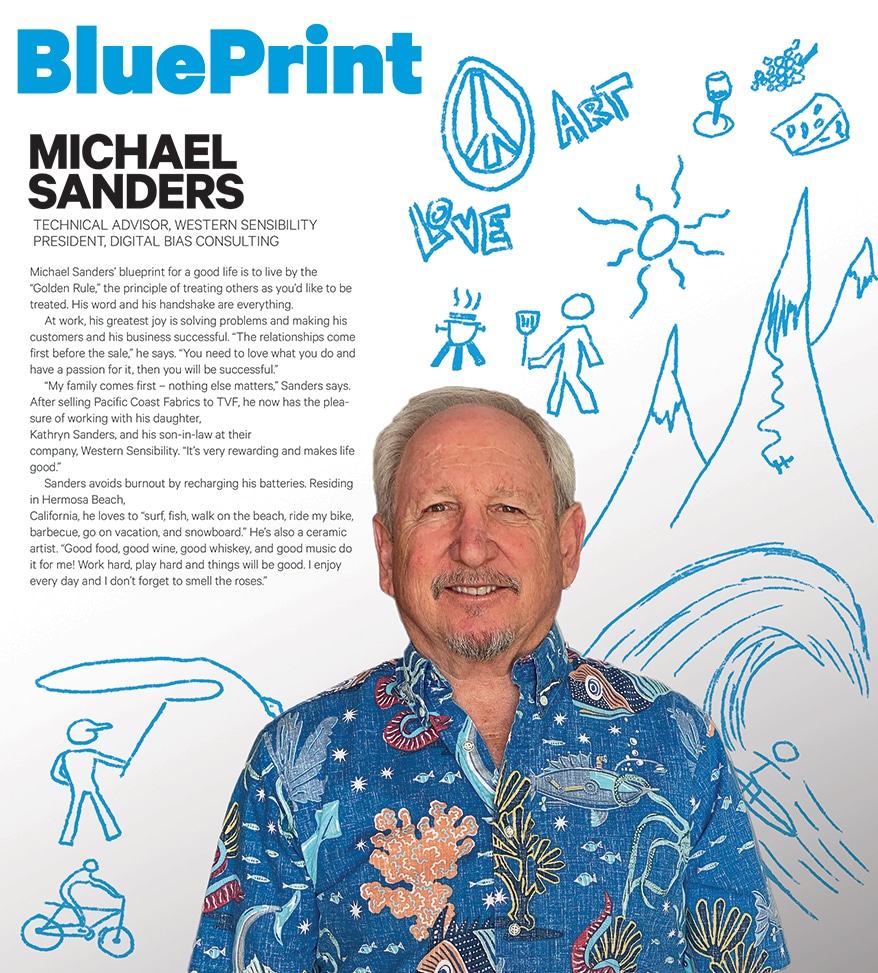 Michael Sanders

Technical Advisor, Western Sensibility | President, Digital Bias Consulting
Michael Sanders' blueprint for a good life is to live by the "Golden Rule," the principle of treating others as you'd like to be treated. His word and his handshake are everything.
At work, his greatest joy is solving problems and making his customers and his business successful. "The relationships come first before the sale," he says. "You need to love what you do and have a passion for it, then you will be successful."
"My family comes first – nothing else matters," Sanders says. After selling Pacific Coast Fabrics to TVF, he now has the pleasure of working with his daughter, Kathryn Sanders, and his son-in-law at their company, Western Sensibility. "It's very rewarding and makes life good."
Sanders avoids burnout by recharging his batteries. Residing in Hermosa Beach, California, he loves to "surf, fish, walk on the beach, ride my bike, barbecue, go on vacation, and snowboard." He's also a ceramic artist. "Good food, good wine, good whiskey, and good music do it for me! Work hard, play hard and things will be good. I enjoy every day and I don't forget to smell the roses."
Advertisement
SPONSORED VIDEO
Printvinyl Scored Print Media
New Printvinyl Scored wide-format print media features an easy-to-remove scored liner for creating decals, product stickers, packaging labels, and more. The precision-scored liner, with a 1.25" spacing on a 60" roll, guarantees a seamless and hassle-free removal process.