Window of Opportunity
The windows of any building can work as extremely effective branding tools.
WINDOW GRAPHICS HAVE been grabbing the attention of passersby for decades. They're one of the most powerful branding strategies a small business, museum, or restaurant can install. Here, one owner noticed an opportunity in a niche market and ran with it, achieving great success, while another powerhouse decided their own building needed a makeover.

DCG One

Seattle, Washington
DCG One, one of the largest privately-held marketing service providers on the West Coast, needed an update to the exterior of its building. They decided to take advantage of their large windows, which span roughly 50 feet. DCG One's lead designer from the packaging and retail department designed a mid-century themed window graphic pattern, and they got to work. Using Mactac B-free Frosted window film, the graphics were plotter cut on a Summa T140 vinyl cutter and installed on both the inside and outside of the windows to provide a multidimensional look.
Tip: Always be thinking about ways to spruce up your office building. You want the customer to be impressed with the branding at your place of business. You're the expert!
Advertisement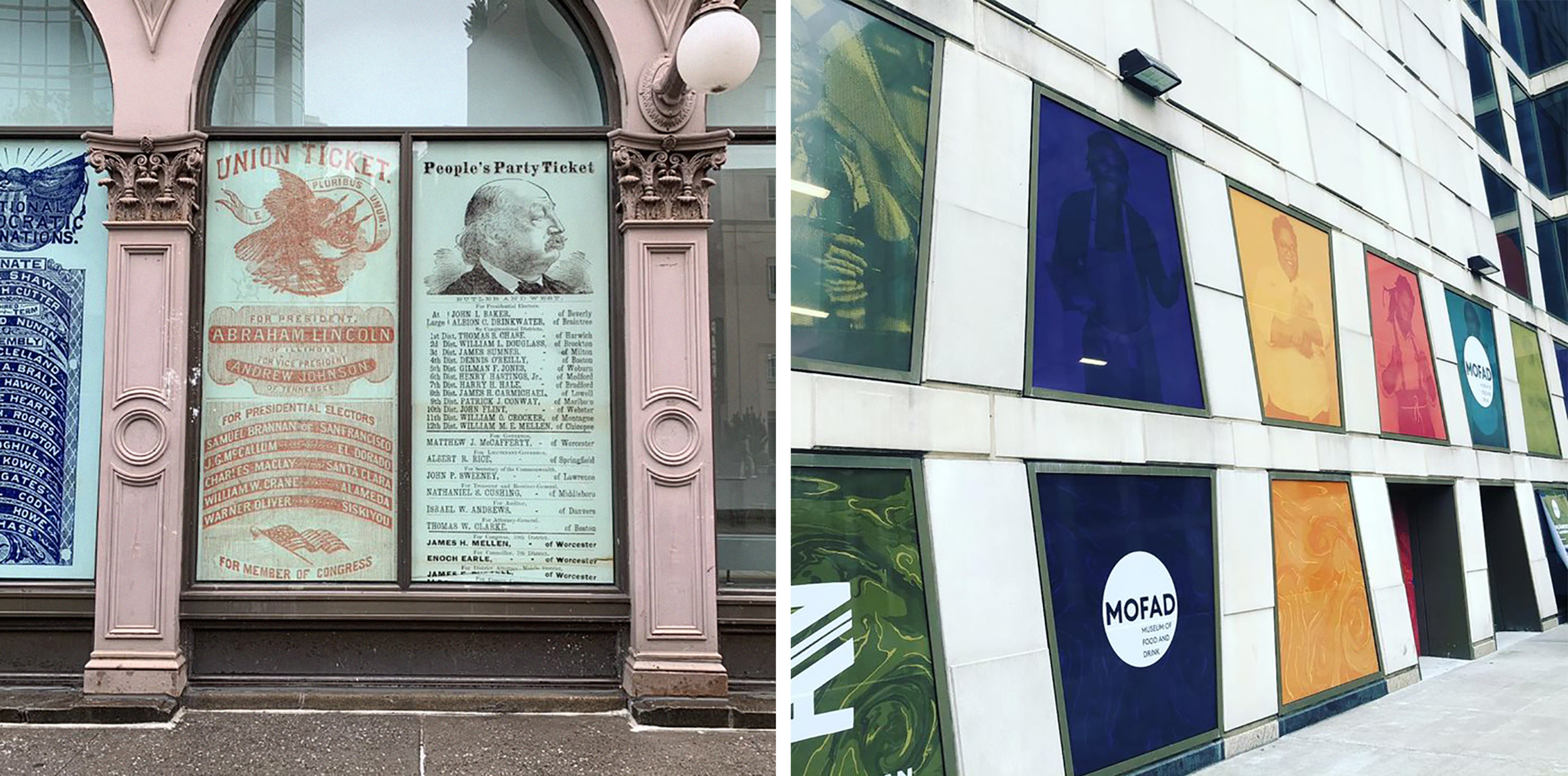 Full Point Graphics

Brooklyn, New York
As an accomplished artist, Hiroshi Kumagai recognizes how museums and cultural organizations find themselves in a difficult position as they need high-quality prints that don't break the bank. So, when he opened Full Point Graphics in Brooklyn, New York, in 2011, he focused on serving that market. He wanted to print affordable, yet exquisite works of art without sacrificing quality.
"Of course, we do retail, restaurant, and other types of signage as well, but our 'bread and butter' is museum graphics exhibition planning. That's what we are known for. As an artist, I understand that many museums and cultural organizations have issues finding good print vendors because their standards are extremely high and many sign shops are either unable or unwilling to bring their production to that level. In addition, meeting client demands for such high-quality output can be very expensive," says Kumagai. "I was working out of my spare bedroom and living room way back when I started, which helped me to keep costs down. Because I was already familiar with the standards museums and cultural institutions set for their graphics work, I decided to open a business that catered to this specific type of clientele."
Kumagai and his team at Full Point installed the graphics at the Museum of Food and Drink to draw visitors in, and hung throwback political posters in popular Brooklyn buildings to encourage voters in the most recent election. To complete these jobs, Kumagai used a Roland DG TrueVIS VG2-540 54-inch wide-format printer/cutter and printed onto General Formulations GF 207 Clear Static Cling.
Tip: Never hesitate to investigate a market you're interested in; you'll be surprised at the opportunities that arise. Kumagai saw a market entry point for a print shop when he was working as an artist.
Advertisement
SPONSORED VIDEO
Printvinyl Scored Print Media
New Printvinyl Scored wide-format print media features an easy-to-remove scored liner for creating decals, product stickers, packaging labels, and more. The precision-scored liner, with a 1.25" spacing on a 60" roll, guarantees a seamless and hassle-free removal process.