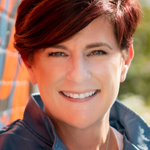 Christine Walsh | Alpha Graphics
President/CEO
If you've toured through the latest exhibit at the American Visionary Art Museum in Baltimore or read the walls of the Smithsonian Museums, or just admired great artwork at a local, hip Brewing Company, then you're already familiar with Alpha Graphics' work.
Christine Walsh purchased Alpha Graphics a little over 14 years ago. But over the past 48 years, this Baltimore design, graphics, and printing company has made a name for itself by creating top-notch custom prints of all shapes and sizes – ranging from business cards to cardboard cutouts of the "Will & Grace" cast – for local and national clients.
Christine Walsh, the president and CEO of Alpha Graphics created a brand that is
nationally recognized and caters to high-profile clients. Their production work has been featured on shows such as Castle Rock, 13 Reasons, and House of Cards to name a few.
Christine is also an alumni of the Goldman Sachs 10K Small Business program, Roger Williams CVS Leadership Program and is a recipient of the Big Picture magazine Women in Wide Format Awards.
Advertisement
Christine is also the founder of Baltimore Cake & Whiskey. Baltimore Cake and Whiskey hobnobs are fresh, authentic takes on networking. Gathering together Baltimore's strong community of women in business to eat cake, drink whiskey, and talk shop. BmoreCakenWhiskey Facebook page is available for all to join.