Inside Look
Scott Filipiak, creative director of Rainier Industries, shares his insight on the interior décor market.
AS 2020 DRAWS TO a close, many industries anticipate what lies ahead in 2021. Whether you're a print industry professional like myself who is utilizing this time to reinvent your career, or a print shop owner, we've had no choice but to pivot. Since the market crash of 2008, I don't recall a time when economic and job uncertainty was so prevalent. On a positive note, the technology and digital tools that existed prior to the pandemic-era have proven to provide everything we need to stay connected and collaborate from wherever, whenever. I've decided to leverage the tools I'm speaking of, namely social media and Zoom video conference. I connected with Scott Filipiak, creative director at Rainier Industries through a LinkedIn post asking industry peers to share their knowledge in the decorative print segment.
We scheduled a virtual interview where Scott walked me through Rainier's impressive facility and demonstrated his latest decorative multi-function magnetic wall product. Think high-quality art content printed on matte finish magnetic media that can be layered over dry erase. How exactly is a 124-year-old company still thriving and innovating through a global pandemic? Read our exchange below to learn more.
When did Rainier Industries add digital printing to its services and how has the technology changed the business? Is customization a valuable service to your clients?
Rainier Industries added digital printing to our offerings in the late 1980s when the Seattle Supersonics called us looking for a banner. Since then, digital printing and custom fabrication has become our largest division. We are constantly looking for what's next in the industry – whether that's offering HAPTIC printing on nearly all of our substrates, incorporating high speed laser etching to our prints, or whatever is next.
Customization is key with our customers – our team can help take an existing idea and tweak it for your needs, or design something completely new.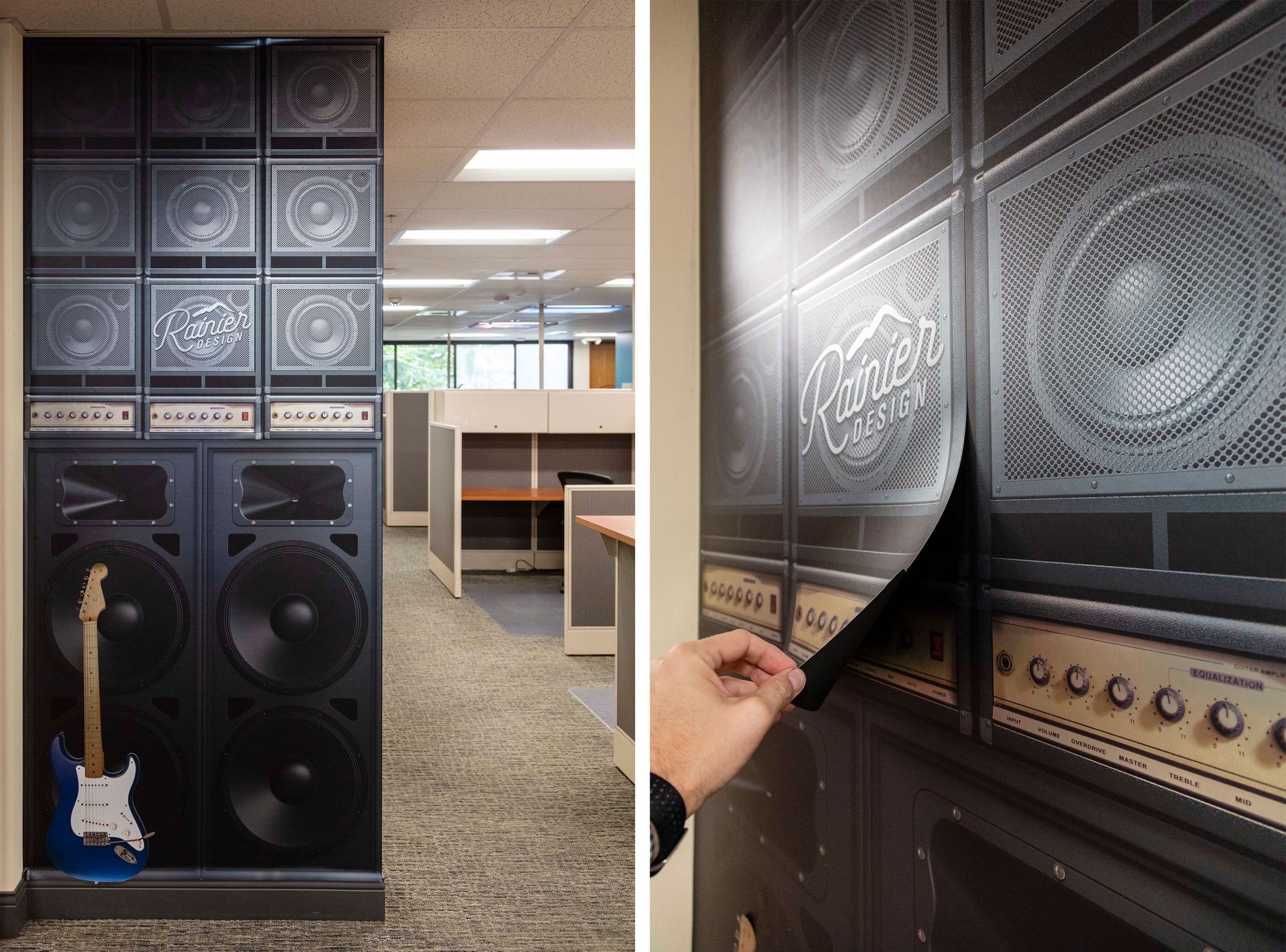 Advertisement
What products do you currently offer to your interior décor customer base?
This is always a fun question to answer. At Rainier, creating new products and solutions is deeply embedded in our DNA. We are one of the largest printers of digital wallcovering in the US offering both traditional adhesive applications or a low-tack removable option. We offer everything from framed prints, stretched canvas, paper-blocks, prints on acrylic, glass, wood, or metals to full wayfinding and branded environments. No project is too small or too large, whether it's social distancing floor decals or a completely custom-designed environment at the Olympics. We're here to help customers tell a story and evoke an emotion.
What new applications are being requested by clients, especially due to the impact of COVID-19, and what new trends are you seeing?
We pivoted quickly to start designing custom-branded social distancing signage and acrylic shields, which have been huge the last few months. Some customers want clear germ guards for their teams to feel safe, where others have asked for printed options.
Rainier Industries has robust capabilities including wide- and grand-format UV hybrid printers, dye sublimation, finishing, and wood and metal fabrication departments. What creative design challenges are you able to overcome by having technology in-house?
We often get to work on projects that mix a lot of different materials that sometimes all end up on the same wall together. Color matching murals that span from wallcovering to SEG and then to direct print on reclaimed wood was quite challenging given the different reflective properties of each material.
Advertisement
You also design and print décor applications for colleges, hospitality, and corporate environments. Does your approach or value proposition drastically differ?
Great question! While these branded environments and customers are all very different, we approach all our projects in the same way – we deliver the best print products.
What about strict fire ratings, indoor air quality certifications, building codes, and environmental standards specified by contractors and designers? Should there be more education and awareness in the wide-format print industry about third-party testing and new commercial standards?
Yes, commercial wallcoverings do have strict fire ratings. In most cases an ASTM-E84 Class A certification is required. This is often simply referred to as Class A ratings. Failing to meet this certification can become a very costly mistake if the fire marshal shows up after install and demands to see the certification.
Air quality is more project specific. Buildings that are trying to obtain LEED certification will want to see VOC information, which comes from the ink manufacturer. There are very few inks that are actually VOC free. At Rainier, not only is our ink 100-percent VOC free, but was also the very first UV ink [Nordic] Swan Certified. It is also GreenGuard certified, all of which talks to the environmentally friendly printing process. Yes, more environmental impact education and awareness should definitely be on all of our minds.
Environmental consciousness is important to the A&D community and for companies and print shops looking to maintain competitive advantage. How is Rainier Industries addressing these concerns?
Advertisement
We are always looking for ways to eliminate waste and produce projects in the most efficient way possible. We have been recognized as a low-waste leader in our community for the last 10-plus years – something we are very proud of. We have tried to go even as far as to reduce the amount of materials we send to the job site by investing in a specialty box maker. We custom make boxes and shipping crates to match the size of the materials we are sending out so that they travel safer and there's less to clean up on the job site when projects are being installed.
What about new developments from Rainier Industries – How will the company continue to evolve?
We are always on the lookout for what is next and continue to develop products that push boundaries within the industry – similar to the framed magnetic receptive prints we showed you.
PHOTO GALLERY
(3 IMAGES)