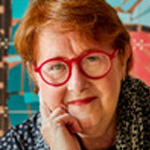 Barbara Chandler Allen | Fresh Artists
Founder/President
Barbara is enjoying her "encore" career as founder and president of Fresh Artists, an innovative nonprofit empowering children through their art and philanthropy. Fresh Artists was created as an antidote to outrage at the extreme slashes in arts funding predominately impacting the most vulnerable children in our public schools. The design of Fresh Artists is ground-breaking and ground-leveling: engage and empower vulnerable children to join in a philanthropic partnership with major corporations to fill empty art room supply shelves in our poorest public schools. Corporations make donations to Fresh Artists and they receive reproductions of children's art as thank-you gifts. It's a unique circle with the child as catalytic giver fulfilling a real business need while raising funds for future art-making in underfunded schools.
After college, she fell in love with the world of fine art museums. After a career in collections management at the Extension Exhibitions Department of the Cleveland Museum of Art, as registrar of the Peabody Museum of Archaeology and Ethnology at Harvard University, and finally registrar of the Philadelphia Museum of Art, she took a 90-degree turn to stay home for 20 years and raise two design-driven boys. The drive to create visual noise called her to liturgical design with her work regularly part of the worship and major events of the Washington National Cathedral and New York's Cathedral of St. John the Divine. Ms. Allen served on the Parents' Council of the Rhode Island School of Design.
Allen has served as a private consultant in the area of creative strategies, design, and development with clients including the School Reform Commission of the School District of Philadelphia and Miami's award-winning Design and Architecture Senior High (DASH). She was the founding executive director of the Philadelphia chapter of Cradles to Crayons, a non-profit providing essential critical goods to homeless children, and served as the first director of development for the Charter High School for Architecture + Design (CHAD). She was the founding executive director of the Designing Futures Foundation, a private educational foundation with a focus on creative, urban youngsters.
Barbara mentored young people for more than 35 years at the Philadelphia Flower Show and designed the innovative educational "Artists at Work" program, which has run for 27 years at Woodmere Art Museum introducing almost 19,000 second graders to careers in art, craft, and design. She has served on the board of Woodmere Art Museum, The Women's Resource Center in Scranton, and the Charter High School for Architecture + Design as well as a member of the Philadelphia Museum of Art's Craft Show committee. She was a board member of the Village of Arts and Humanities in North Philadelphia, is an alumnus of the FBI's Community Academy, and a member of Leadership Philadelphia's Class of 2006. She was featured in Daniel Pink's 2005 bestseller, A Whole New Mind, about her innovative work in educational reform.
Advertisement
Barbara was named a 2010 Purpose Prize winner, an honor for social entrepreneurs over 60 who are using their experience and passion to take on society's biggest challenges. The Purpose Prize is a program of Civic Ventures and is funded by The Atlantic Philanthropies and the John Templeton Foundation. Fresh Artists won the coveted Knight Arts Challenge Philadelphia enabling the establishment of Fresh Artists Print Studio, engaging teens in the printing and fabrication of their signature large-format digital reproductions for corporate interiors. They won a second Knight Foundation grant to create Cool Jobs, a pop-up career expo introducing at-risk seventh graders to real jobs in the creative economy. Barbara did a TEDx talk on empowering children through philanthropy, gave an Ignite talk at the 2014 Purpose Prize/Encore.org conference, and was a panelist at the Princeton Alumni Forum on Innovations in Civic Engagement. Fresh Artists received Adobe System's "Show Your Impact Award" for innovation in digital design for social action and the 2011 "Great Friend to Kids Award" from Philadelphia's Please Touch Museum. Fresh Artists has twice been among the 10 finalists in the Peter Drucker Award for Nonprofit Innovation, and is the recipient of the 2013 SAPPI Award for Design that Matters. Fresh Artists series of six family heirloom Memory Games won the Oppenheim Best Toy of the Year Award and were featured by Oprah in O Magazine. She received the "Outstanding Friend to Art Teachers Award" from the Pennsylvania Art Teachers' Association in 2019. Barbara received the 2020 Women in Wide Format Award from the large format digital print industry publication, Big Picture.
Jane Pauley profiled Barbara and Fresh Artists for the Today Show feature, "Life Re-imagined", and has joined Jane on the AARP speaking tour presenting ideas for engaging retirement careers. She was featured in Jane's NY Times bestseller, Your Life Calling.
Fresh Artists is an entrepreneurial concept developed in response to Barbara's passion for and commitment to providing equitable educational access to America's disadvantaged youngsters.