After a Loud Workweek, This Print Exec Finds Comfort in the Quiet
Kristi Duvall of The Boxmaker also finds refuge in the outdoors.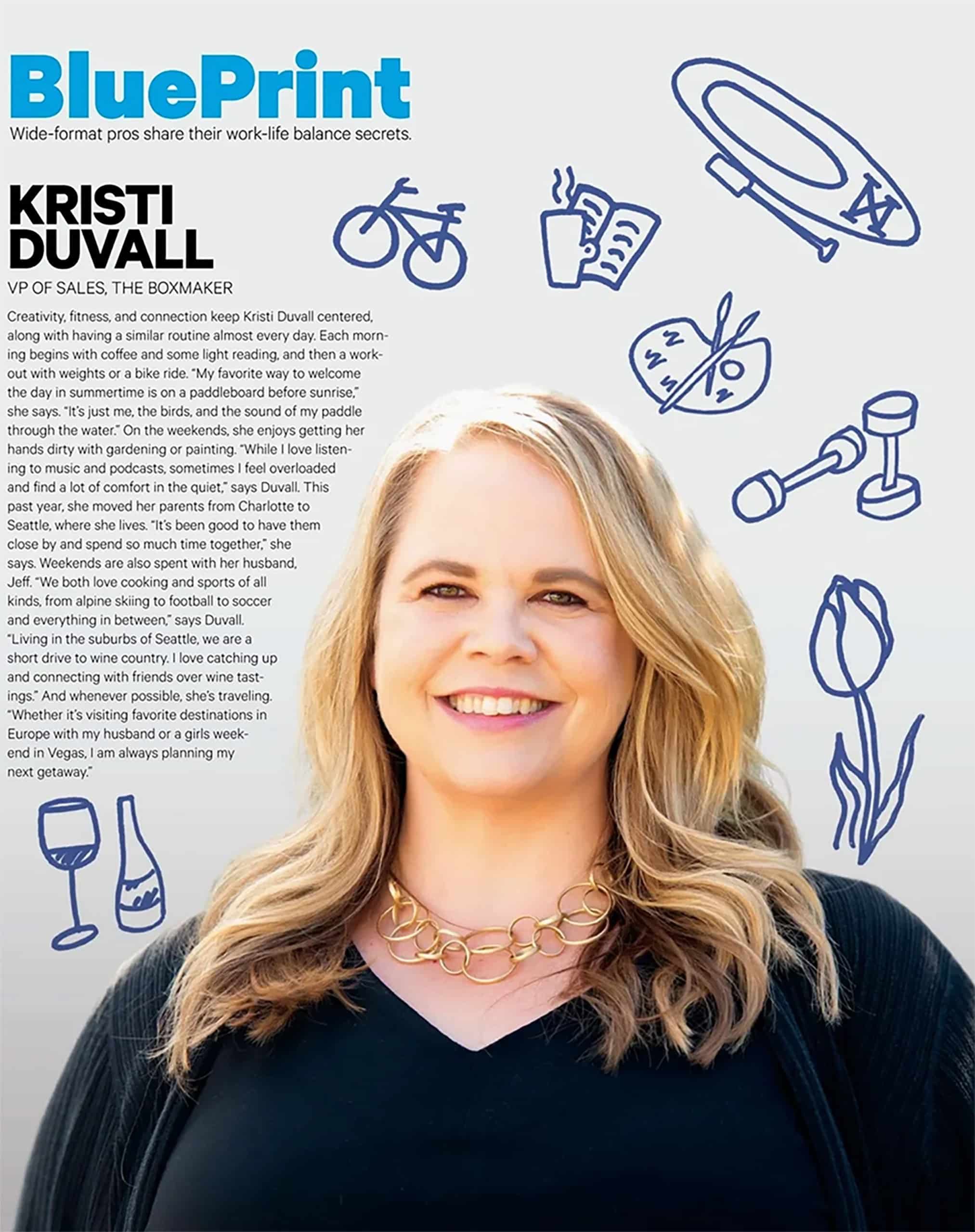 Kristi Duvall

VP of Sales, The BoxMaker
Creativity, fitness, and connection keep Kristi Duvall centered, along with having a similar routine almost every day. Each morning begins with coffee and some light reading, and then a workout with weights or a bike ride. "My favorite way to welcome the day in summertime is on a paddleboard before sunrise," she says. "It's just me, the birds, and the sound of my paddle through the water." On the weekends, she enjoys getting her hands dirty with gardening or painting. "While I love listening to music and podcasts, sometimes I feel overloaded and find a lot of comfort in the quiet," says Duvall. This past year, she moved her parents from Charlotte to Seattle, where she lives. "It's been good to have them close by and spend so much time together," she says. Weekends are also spent with her husband, Jeff. "We both love cooking and sports of all kinds, from alpine skiing to football to soccer and everything in between," says Duvall.
"Living in the suburbs of Seattle, we are a short drive to wine country. I love catching up and connecting with friends over wine tastings." And whenever possible, she's traveling. "Whether it's visiting favorite destinations in Europe with my husband or a girls weekend in Vegas, I am always planning my next getaway."
SPONSORED VIDEO
Printvinyl Scored Print Media
New Printvinyl Scored wide-format print media features an easy-to-remove scored liner for creating decals, product stickers, packaging labels, and more. The precision-scored liner, with a 1.25" spacing on a 60" roll, guarantees a seamless and hassle-free removal process.