The Main Event
PSPs turn venues into experiences using event signage.
EVENT SIGNAGE CAN really set the scene for an exciting moment. A big concert, huge game, or even a nice gathering can all be elevated by encapsulating graphics. That's where you come in and transform an arena into a branded experience, or even a parking lot into a VIP hangout. As a shop owner, you have the power to take your local businesses, teams, and bands' events to the next level. Make sure they know that!
Mandel Graphic Solutions

Milwaukee, Wisconsin
Mandel Graphic Solutions in Milwaukee, Wisconsin, installed printed fabric towers at an event promoting Harley Davidson's CVO Limited motorcycle. They even created a welcoming parking lot entrance for all of the pre-existing Harley owners who were attending the event. To print the project, Mandel Graphic Solutions used a Panthera S4 3.2 dye sublimation printer and Klieverik GTC101-3500 Dye Sublimation Fixation Calender onto TVF's 3-ounce Flag Elite media.
Tip: Consider soft signage for outdoor events that require quick and easy install and tear down.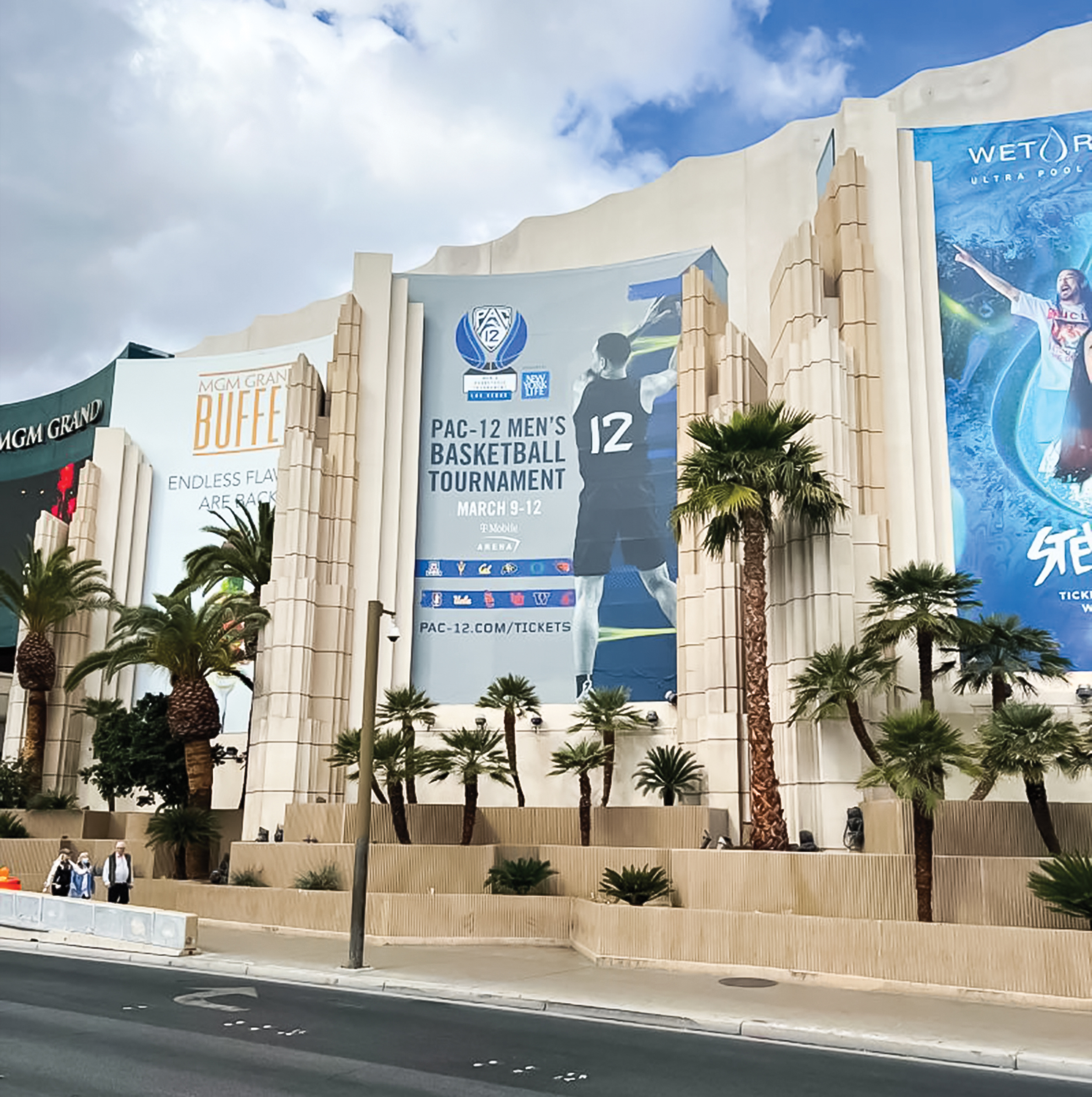 Screaming Images

Las Vegas, Nevada
Screaming Images in Las Vegas is known for making their mark on Sin City, and they did it once again, promoting the Pacific-12 NCAA Conference (PAC-12) Tournament. The PAC-12 conference contains legendary basketball programs like UCLA and Arizona. Screaming Images had to make sure the installation was as excellent as the conference itself. To print the banner, Screaming Images used an EFI Vutek GS 5000 printer onto 3M IJ35C Scotchcal Graphic Film.
Tip: You can't go wrong with a massive banner. Check the pulse of the big companies in your area and see if they're looking to up their branding game.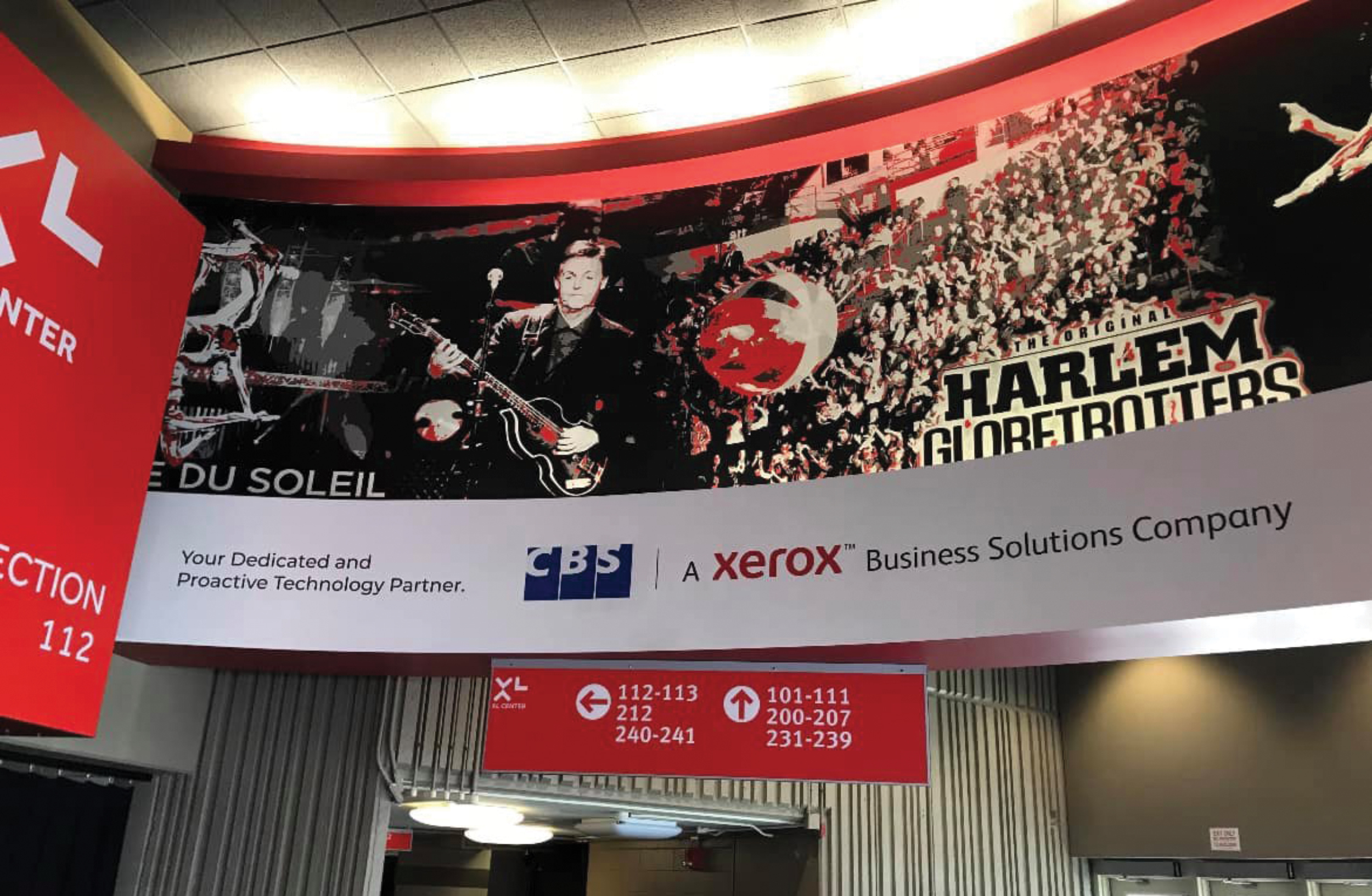 Go Graphix

Longmeadow, Massachusetts
Go Graphix in Longmeadow, Massachusetts, adorned the XL Center in Hartford, Connecticut, with dynamic graphics to promote the arena's upcoming events. Among the attractions were Cirque du Soleil, Paul McCartney, The Harlem Globetrotters, and more. The XL Center wanted to display these events to everyone entering the building. To print the project, Go Graphix used an HP Latex 570 printer and 3M IJ180CV3 Graphic Film with 3M Scotchcal Luster overlaminate 8519.
Tip: Make the most of the client's space. Go Graphix was able to install this design so well that it looks like it has always been there.
PHOTO GALLERY
(8 IMAGES)
Advertisement
SPONSORED VIDEO
Printvinyl Scored Print Media
New Printvinyl Scored wide-format print media features an easy-to-remove scored liner for creating decals, product stickers, packaging labels, and more. The precision-scored liner, with a 1.25" spacing on a 60" roll, guarantees a seamless and hassle-free removal process.